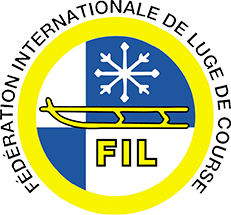 From PyeongChang, KOR
In the first luge World Cup race held on ice in PyeongChang, Tatyana Ivanova edged Natalie Geisenberger for gold.
The Russian came into her second heat in third place, but put down a track record 46.792 run to put the pressure on Germans Geisenberger and Julia Taubitz ahead of her. Neither German could match the Russian's pace, and at the end of Geisenberger's second run, Ivanova had won by a mere .046.
The win was Ivanova's first non-sprint gold medal of the year, and her fifth medal in as many races.
Geisenberger held on for a silver medal, while Taubitz finished with a bronze medal. Their teammate, Tatjana Hüfner never could match the pace of the medalists, finishing fourth.
Geisenberger's silver medal helped her clinch the overall World Cup points title. Hüfner can only score up to 100 points in Altenberg, and Geisenberger's lead sits at a comfortable 102.
Austrain Birgit Platzer finished fifth, falling back from fourth in the first heat, while Canadian Kimberley McRae jumped from tenth after the first heat up to sixth.
2014 Olympic medalist Erin Hamlin led the way for the United States on the newest Olympic track in tenth, three spots ahead of Summer Britcher. Both Britcher and teammate Emily Sweeney struggled on the bottom half of the track, with Sweeney finishing 21st.
Canadian Alex Gough finished 14th, while teammate Brooke Apshkrum failed to finish her second run.
Results:
| | | | | | | | | |
| --- | --- | --- | --- | --- | --- | --- | --- | --- |
| Pos | Name | Nation | Bib | Start 1 | Start 2 | Run 1 | Run 2 | Total |
| 1 | Tatyana Ivanova | RUS | 21 | 4.332 | 4.347 | 46.856 | 46.792 | 1:33.648 |
| 2 | Natalie Geisenberger | GER | 24 | 4.319 | 4.328 | 46.795 | 46.899 | 1:33.694 |
| 3 | Julia Taubitz | GER | 12 | 4.360 | 4.358 | 46.825 | 47.085 | 1:33.910 |
| 4 | Tatjana Hüfner | GER | 22 | 4.318 | 4.304 | 47.116 | 47.091 | 1:34.207 |
| 5 | Birgit Platzer | AUT | 13 | 4.388 | 4.386 | 47.059 | 47.178 | 1:34.237 |
| 6 | Kimberley McRae | CAN | 19 | 4.357 | 4.370 | 47.332 | 46.953 | 1:34.285 |
| 7 | Ulla Zirne | LAT | 9 | 4.461 | 4.450 | 47.306 | 47.114 | 1:34.420 |
| 8 | Dajana Eitberger | GER | 11 | 4.369 | 4.385 | 47.541 | 47.143 | 1:34.684 |
| 9 | Martina Kocher | SUI | 15 | 4.382 | 4.374 | 47.268 | 47.437 | 1:34.705 |
| 10 | Erin Hamlin | USA | 23 | 4.380 | 4.387 | 47.461 | 47.262 | 1:34.723 |
| 11 | Eliza Cauce | LAT | 17 | 4.374 | 4.376 | 47.380 | 47.378 | 1:34.758 |
| 12 | Ekaterina Baturina | RUS | 3 | 4.364 | 4.375 | 47.210 | 47.582 | 1:34.792 |
| 13 | Summer Britcher | USA | 14 | 4.348 | 4.389 | 47.403 | 47.422 | 1:34.825 |
| 14 | Alex Gough | CAN | 18 | 4.312 | 4.320 | 47.905 | 46.921 | 1:34.826 |
| 15 | Raluca Stramaturaru | ROU | 2 | 4.432 | 4.410 | 47.283 | 47.778 | 1:35.061 |
| 16 | Madeleine Egle | AUT | 6 | 4.41 | 4.394 | 47.377 | 47.753 | 1:35.130 |
| 17 | Ekaterina Katnikova | RUS | 10 | 4.411 | 4.391 | 47.477 | 48.348 | 1:35.825 |
| 18 | Ewa Kuls | POL | 1 | 4.384 | 4.420 | 48.336 | 47.867 | 1:36.203 |
| 19 | Victoria Demchenko | RUS | 4 | 4.396 | 4.409 | 48.495 | 47.909 | 1:36.404 |
| 20 | Andrea Vötter | ITA | 7 | 4.406 | 4.403 | 48.315 | 48.769 | 1:37.084 |
| 21 | Emily Sweeney | USA | 16 | 4.388 | 4.403 | 49.447 | 48.089 | 1:37.536 |
| 22 | Miriam Kastlunger | AUT | 20 | 4.426 | 4.419 | 48.084 | 49.641 | 1:37.725 |
| DNF | Brooke Apshkrum | CAN | 8 | 4.398 | 4.378 | 47.519 | DNF | |
| DNF | Kendija Aparjode | LAT | 5 | 4.416 | | DNF | | |