Ken's thoughts and observations from the 2018 Olympic Games
Feb. 24, 2018 – So for the first time since the day before Opening Ceremonies, I found myself in Gangneung and Pyeongchang with nothing to do. That's right, two days of no competitive runs at the Alpensia Sliding Center meant time to actually go out and see some things!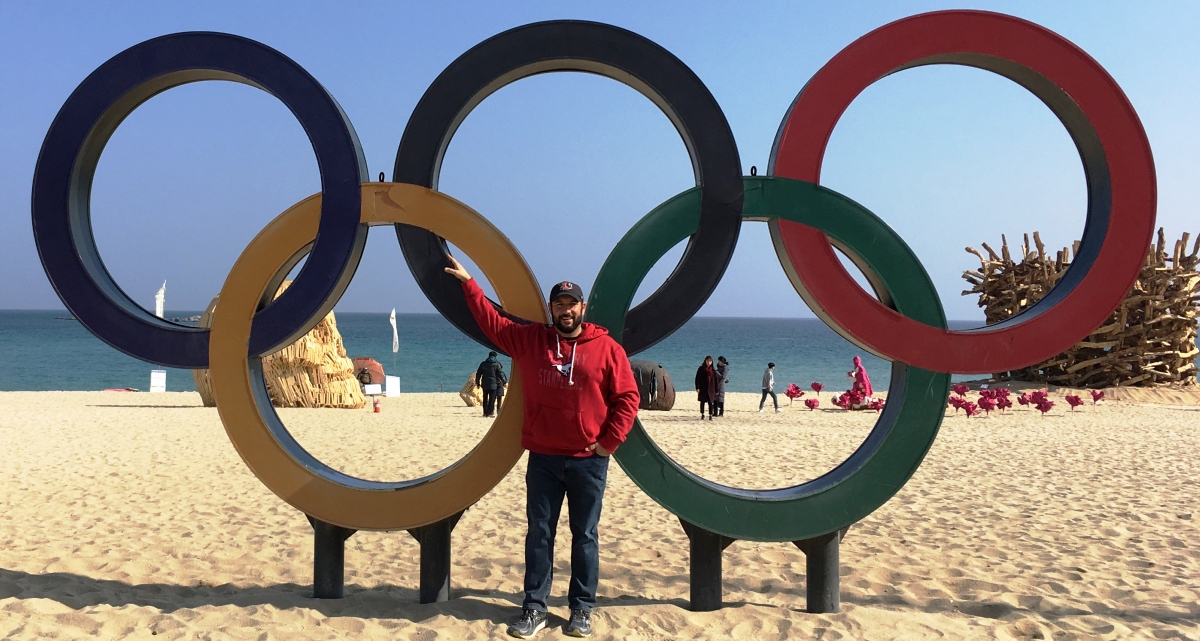 The Organizing Committee for PyeongChang Olympics put together some tours for media, of which there were a few I was looking at. There were a few options, including a trip to the DMZ and a coastal tour, but the one I chose was a "retreat in nature". It was far more fantastic than it sounds.
We kicked things off with a half hour bus ride up sort of near PyeongChang to The Institute of Traditional Korean Cuisine. The Institute is built with traditional Korean architecture, and there's plenty of "old way of doing things" to see. On top of just the food, there's all of the ways to prep it, and all of it is on display.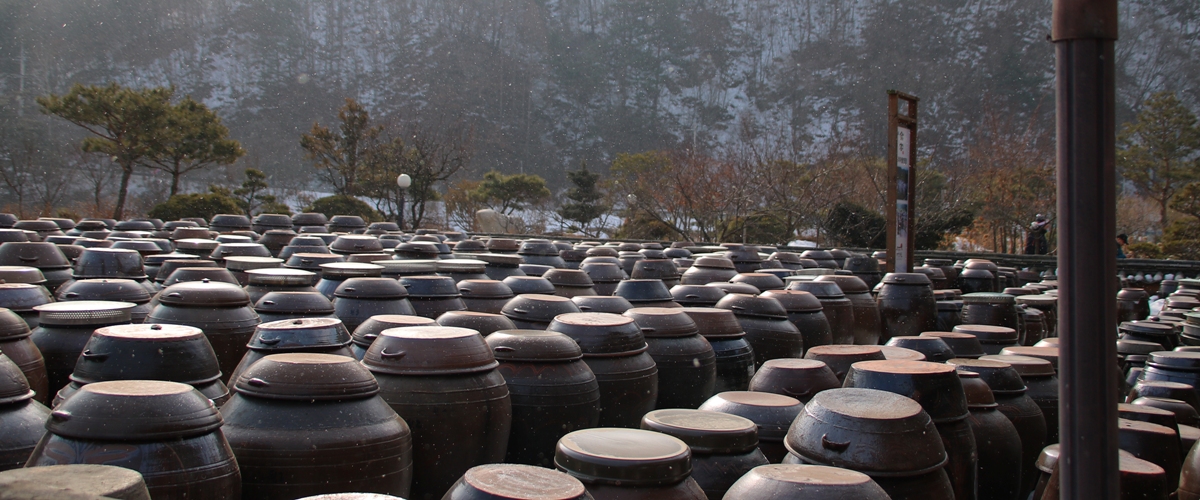 What our tour group got to do involved creating traditional Korean rice cakes. When you think a rice cake, you likely think about the pre-packaged thing from Quaker Oats (your national rice cake company may vary). This couldn't be further from what that is. These are called "injeolmi", and are usually served at special occasions. The traditional method of making them involves pounding a pile of rice with a mallet until it's basically a pile of gooey rice (trust me, it doesn't look as bad as that reads) and then rolling it in a soy bean paste. In olden times, that paste would have been made by drying the press soy beans and then grinding them down to a powder. Then you simply roll the rice into the powder and ta-da, chop them up and ta-da! Little rice cakes.
After rice cake making time, we all moved over for bibimbop. It was, as expected, delicious.
From there it was over to Woljeongsa Temple. The temple was founded in the mid-600s, and features a stone pagoda called the "Nine-Storey Pagoda" that was built sometime in the 1,000s. It was one of the few things remaining after the original buildings were burned down during the Korean war, and is listed as Korean National Treasure No. 48 (just ahead of Daeungjeon Hall, for those of you keeping score at home).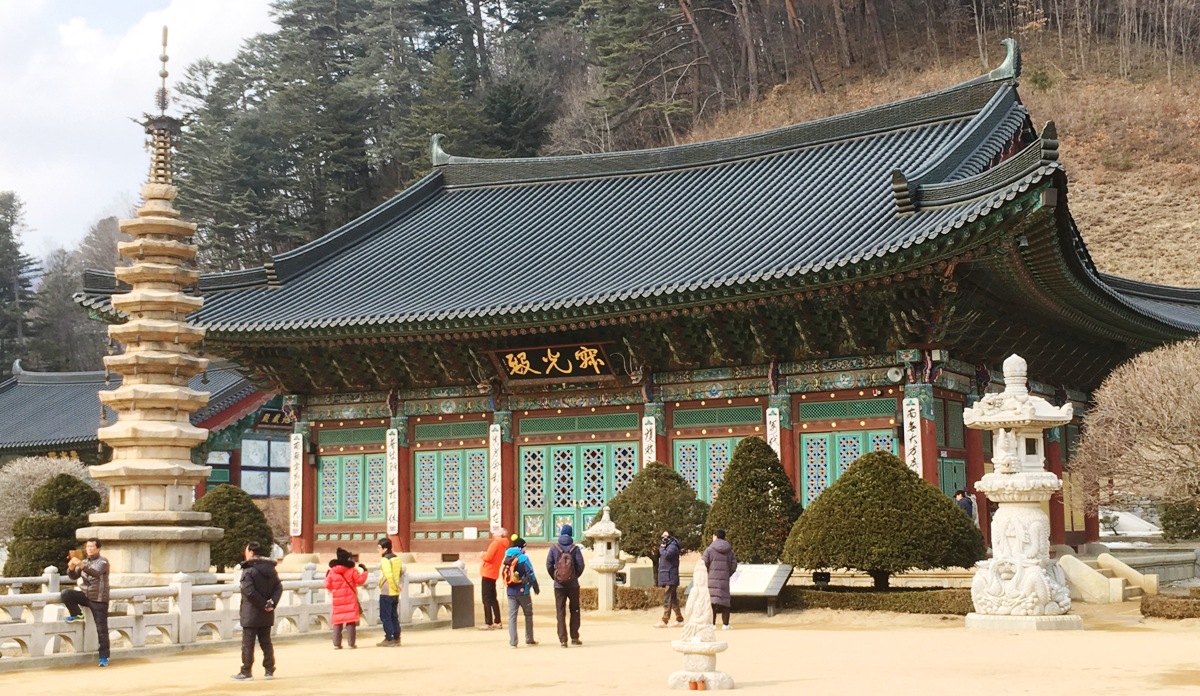 After a nature walk up a path and touring the grounds, we were invited into a tea ceremony with one of the monks. We kicked things off with five minute of meditation, and I learned something very important about myself: I don't have the core strength to hold a quarter-lotus for five minutes. Not even close.
Time with the monk was pretty great. She explained all about how one becomes a Buddhist monk there, and how those studying spend 11 hours a day meditating (their cores must be amazing). At the end she went person to person thanking them for being there and placing a band of beads on each person's wrist as a gift.
To perfectly balance out getting my zen on with Jjogye Buddhist monks, I headed over to the Gangneung Ice Arena for the final night of short track speed skating.
For starters, this was the first event venue that didn't rhyme with "riding renter" I'd been able to visit since getting to the Olympics two weeks ago, so that in itself made things pretty exciting. Second, it was a short track speed skating event in South Korea, and the Koreans love their short track. The place was sold out, and was going absolutely nuts for quarter-final races. Every time a Korean athlete would consider making a move, a roar would come up from the crowd. It was honestly the loudest crowd I've ever heard in an arena setting off that size.
The one shocking thing about the short track event was that no Koreans won. Usually there's at least some contending, but in this case the only event of the three (Men's 500m, Women's 1,000m, and Men's 5,000m Relay) where the South Koreans kept it close was the 500m, and even then they lost to Wu Dajing of China, who set a new world record.
Friday I decided I was going to get to Gyeongpo Beach. You see, I'd made two other attempts to get to the beach here, in which there's a rather sizable art installation as part of the Fire Art Festa 2018. On the first try, I was told that I would have to walk to the city bus depot, and take an hour and a half bus ride for the six miles it takes to get to the beach. So that was a no-go. The next time, I was told I should get on one of the TC buses and ride that around. You can guess how well that went (not very).
So this Friday, I wasn't feeling abundantly confident in my ability to get to the beach. But then it happened: Someone actually pointed me in the direction of the taxi service that the volunteers have seemed really reluctant to call, and ₩7,000 later I was at the beach.

The wait was worth it. The art installations there were really interesting, and all made out of mostly wood. Every Friday night they have a big fire-based performance on the beach, as well. At the end, the various sculptures will be set ablaze to return everything to the earth. It's all rather delightfully artsy.
After a light lunch of bulgogi and rice, it was time to head up to the Alpensia Biathlon Center. As many of you know, biathlon is probably my favorite Olympic sport to watch that I don't cover during the season. The chances to attend an event in person are pretty slim in the United States, so I was thrilled to have a free night to scoot over to the biathlon center for the men's 4 x 7.5km relay, which was the last biathlon event of the Olympics.
The weather held up really nicely, and there was a bit of snow falling just before the event. Sadly, the snow didn't hold up, but the wind gusting at random times did seem to affect the event a little bit.
I was able to "upgrade" my credential to get into the shooting range area, just behind the coaches. It gave a really unique perspective of the event. While in the range, I had a chance to chat with Kyle ripley and Gene Edworthy of the Calgary 2026 Olympic & Paralympic Bid and put in my small two cents on Calgary hosting the Games. Calgary is the Olympics where I really fell in love with bobsledding and the Olympic movement as a whole. Needless to say, I'm strongly on Team Calgary 2026. We'll talk more about Calgary 2026 over the summer.
The biathlon event was really well attended, and had to be near a sellout. The crowd was heavily European, which gave it a little more of a "World Cup" feel. As it wasn't a home event for any particular nation, you didn't get that moment where the whole venue falls silent while their home athlete pulls up to shoot. That said, it was an electric crowd, and it really made for a special event and a great way to round out the biathlon program at the Olympics.
So that was how I spent two full days off. Saturday and Sunday mark the remainder of my Olympics with the four-man bobsled program, and a quick stop at the speed skating mass start.
Feb. 19 – So it's been a bit since I've been able to put together a blog post for this trip. To be honest, it's not for a lack of excitement or anything like that. There's been plenty: Luge races were exciting, Alex Gough and Canada won medals in women's luge and the Team Relay, Dom Parsons won the first bronze medal for Great Britain in 70 years in men's skeleton, and lots of Germans won a bunch of stuff.
I'll talk about all of that some other time, but for now we're going to talk about buses.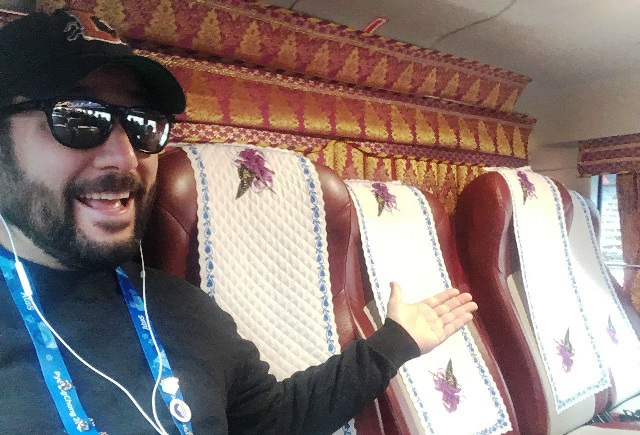 Yes, buses.
When you're media at the Olympics, there's apparently a substantial amount of time you spend riding around on buses. I'm staying in the coastal cluster, about 35 minutes or so from the mountain cluster. Thankfully there's a shuttle right to the Main Press Center (MPC) from outside of my apartment, and it's not a bad ride up. The views are beautiful, and you get a really great view of the mountains you're climbing on the way up.
Once you get to the MPC you then have to hop on another shuttle to get to your venue. Now, on my first day here I tried to get on a shuttle, was told some wrong information (then more wrong information) and ended up on what I call the bus to nowhere. What I wanted was the TM3 shuttle. What I was told I needed was the TC3 bus, which for starters doesn't go in a loop. It just stops at a parking lot for a half hour and then you go back the way you came.
Good times.
So that was an ordeal. But over course of the last week and a half I've finally gotten the hang of most of the bus system, just in time for the Olympics to be over soon. There's quite the "hub-and-spoke" system to get you basically everywhere you need to go in a semi-timely manner. Sometimes the buses have been late, one time they didn't show up to the sliding track, but given the sheer size of the Games I'm still rather impressed with the ability to get people around.

Probably my favorite part of the bus system here is the decor. When you're in the United States, Canada, or wherever, you think about buses as just being big and kind of boring. Not here. Nearly every bus is decked out with curtains, various neon lights, and some delightfully tacky seats. Some even have some really well-done cabinetry. I get that most of these buses are private that are being leased by the Olympics to be shuttles, but it's fascinating to me that it's sort of the way buses just are.
So, for one more week I'll ride back to my apartment at night under the gentle glow of obnoxious neon lights with a bright red and gold curtain brushing up against my face. It might not be the classiest way to travel, but the folks who own these buses sure try to make it feel fancy.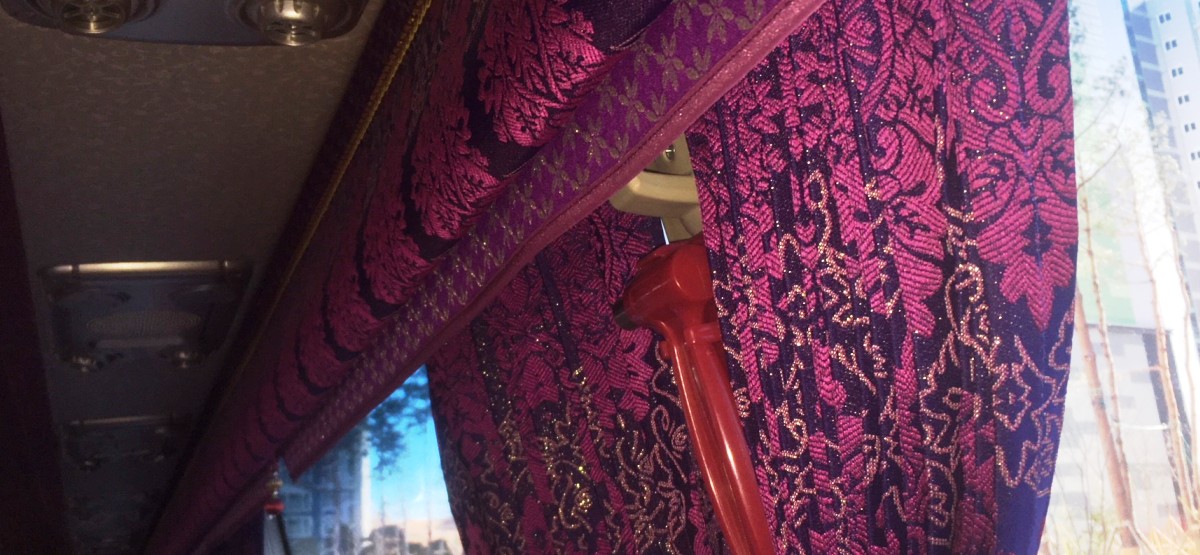 Feb. 12, 2018 – I've re-written this post from scratch probably a half-dozen times, trying to find the right words to say how I felt last night. Personally, I didn't win anything. I wasn't on the track, I didn't get anything for being here, and honestly I couldn't even get a shuttle ride from the track (we'll talk about that some other time).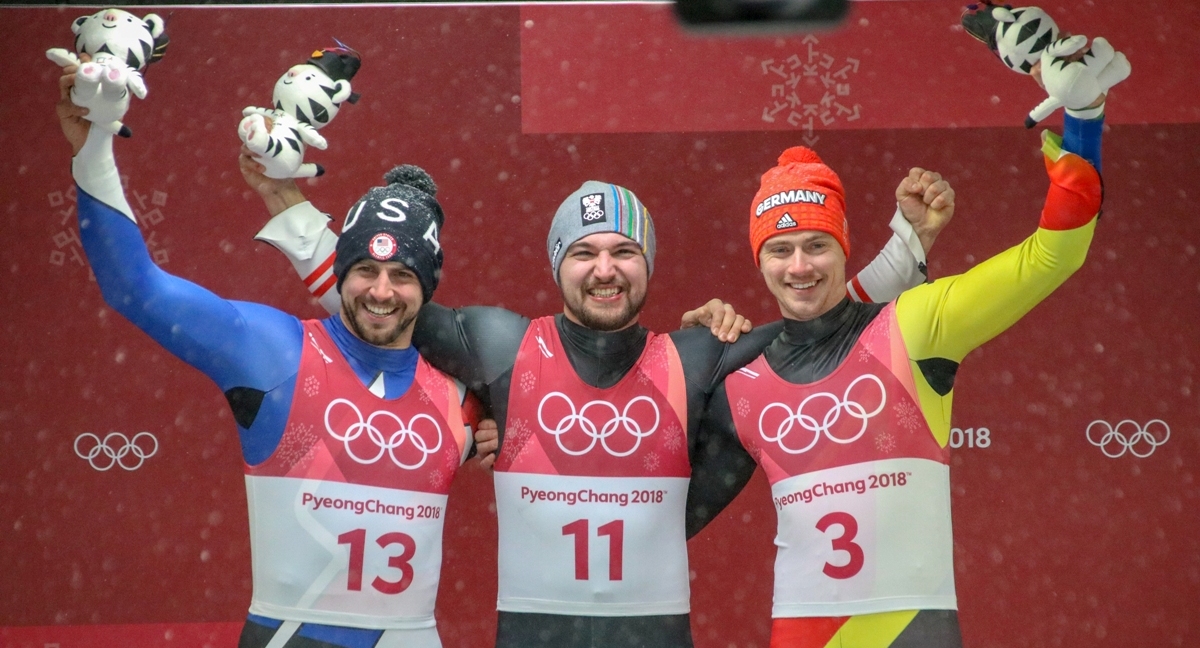 But the feelings I had watching Chris Mazdzer, a guy who is (or at least should be) beloved by all and has had by all accounts a brutal 2017/2018 campaign, make history as an American luge athlete were pretty heavy. Never has the United States men's luge athlete won a medal in the Olympics, nor has anyone in singles luge won anything higher than bronze (Erin Hamlin 2014). It was a huge day for a great person, for a national luge team and for a lot of people who'd worked so hard to help Mazdzer get where he was.
And I was here for it. And it was amazing.
The crowd was electric, and especially the roar when Mazdzer came across the line is something I can promise I'll never forget.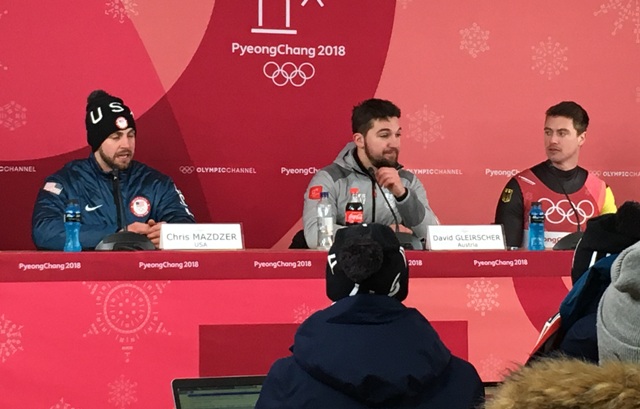 The looks on the faces of Mazdzer, gold medalist David Gleirscher and bronze medalist Johannes Ludwig in the post-race press conference were enough to warm the coldest of hearts. Mazdzer recounted how after Lillehammer he felt just completely lost. He fell back on some sliding friends for help, and things turned around. Then here in Pyeongchang everything fell his way. He was sure he had it when he got to the top for his final run, but still had to make a clean run to win a medal.
It was something Felix Loch couldn't do, and it's why Gleirscher was sitting next to Chris Mazdzer still in disbelief.
Gleirscher called it a fairy-tale, coming from making the Olympic team for Austria by the skin of his teeth and never having won anything to speak of to being the first gold medalist in these Olympics for Austria.
Then there was Johannes Ludwig of Germany. His teammate, the guy who was supposed to win gold in this event, made a mistake nobody expected. Not even Ludwig. Mazdzer commented that Ludwig looked at his now fellow-medalists with a look of disbelief (one we all had, if we're being honest). In part it was that he'd won a medal, but in part it was that Loch had botched the 9-to-10 transition and cost himself probably a half second of time.
So seeing those three guys win medals in front of family and friends, all of whom for some reason or other during the season had every reason this season to think there's no way this would happen, was enough to get me all emotional.
And we're just going into our third day of competition on the mountain. There's a long way to go, and a lot of stories to be told, but we're off to an incredible start.
Feb. 10, 2018 – Generally speaking, this whole trip has been relatively surreal. I remember my first time in a NASCAR garage to cover a race for a website I worked for back in the day, and that was a pretty crazy moment. Lots of life-long dreams being realized there, getting to work in a sport that I love and be in the middle of all of the action. I vividly remember standing in the middle of a track where heroes of my childhood raced and having a hard time believing it was real. I'm 100% fortunate for those opportunities, and all of the things afterward that they've brought.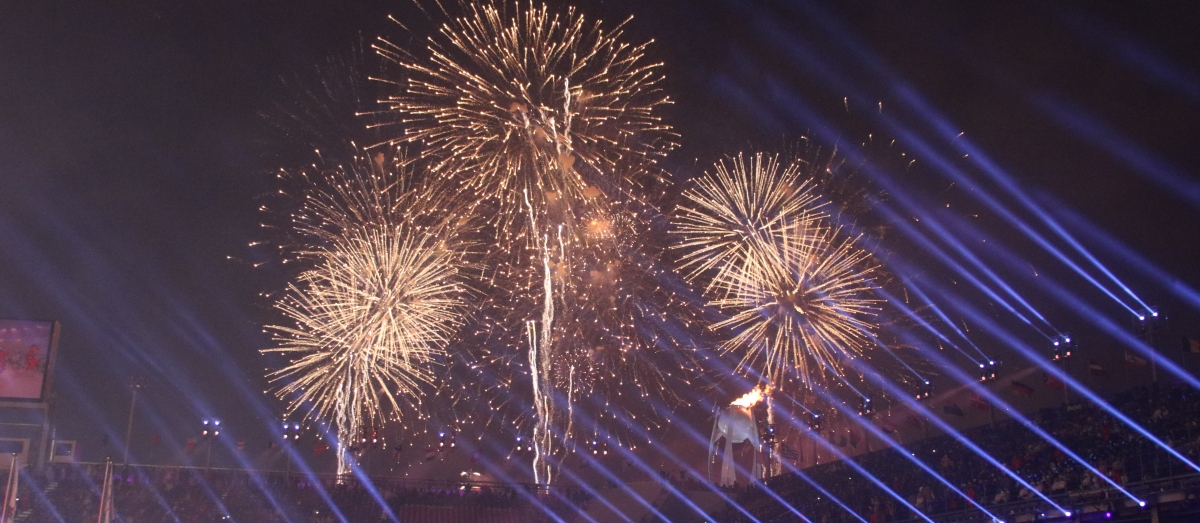 Growing up I loved the Olympics, and during the '88 Games I remember watching them almost start to finish during our winter break in elementary school. I was hooked. It's essentially how I got into sliding sports, and in general has been why I've always loved the Olympics.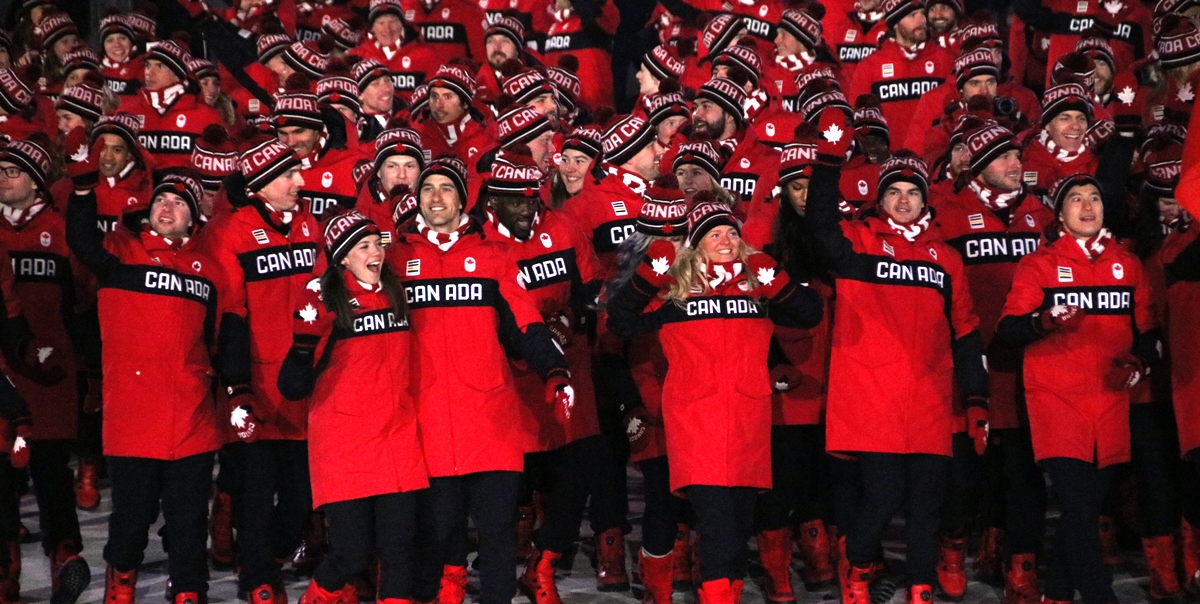 So fast forward to last night's Opening Ceremonies. Again, something that I'd always wanted to see live, and something I wasn't sure a few years back I'd ever get to experience in person. Not only was I able to, but media were seated essentially across the stadium from the athletes in the lower bowl, and that ended up putting me about six rows back from the action. Basically, it was the NASCAR thing again, but you know, more Olympic-y.
The thing I didn't expect was how emotional I'd feel watching people who I've come to know relatively well over the years of running this website reach their life-long dreams. Seeing the faces of athletes who were marching in their first Parade of Nations, and even those who were on their third or fourth, was worth this entire trip alone. Being here in person to see Lizzy Yarnold, Erin Hamlin, and other sliding sport athletes carry their nation's flag into the stadium got me "right in the feels" (as the kids say). Going through photos later kind of did the same. Despite not having a photographer credential for the Olympics, my spot in the Olympic Stadium was plenty good enough to get some pretty good photos.
On top of all that with the athletes, I was fortunate enough to sit with some of the folks from Team USA. Seeing them react to Hamlin and the USA squad come into the stadium was something really special, too. It really was a great feeling.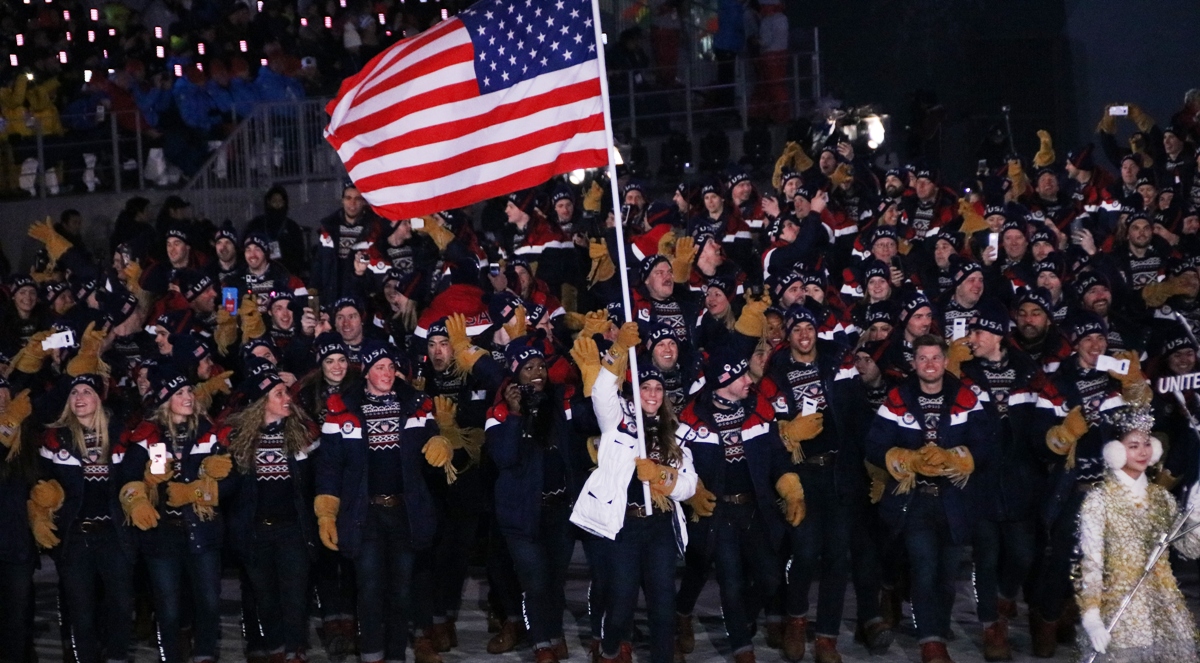 On top of everything else, seeing a united Korea marching under one flag was something special in itself. Earlier in the event (prior to what you'd see on TV), there was a great taekwondo exhibition with a united Korean team. The North Korean cheerleaders (I'm sure you've heard of them) were going nuts for every single thing happening on the stage. It was a little goofy, but at the same time it was great to see something uniting everyone under the Olympic flag. Then, seeing the whole crowd stand up and cheer for that team together was something I legitimately won't ever forget.
The excitement of the show was great. Lots of fireworks, more K-Pop than you can handle, and all of the general theatrics made it a great show. Much like a Cirque du Soleil show there's probably something to be said for sitting further back and being able to see the whole thing as it's designed, but being up close was something that made the seat snob in me rather thrilled.
The Olympics have started, and now it's off to the Olympic Sliding Center for the next two weeks to watch some really great people make history.
To view the full photo album from the Opening Ceremonies, click here: Photo Album
Feb. 9, 2018 – So there was a time during the opening ceremonies (or maybe the closing ceremonies?) of the 2014 Sochi Olympics where I was chatting with radio legend Paul Varga, and I said something along the lines of "You know, one day I'm going to go to the Olympics to cover everything from there." I figured it was a bit of a stretch for a bit, but if I did enough work with this little website and showed that I was serious about covering these sports that perhaps one day I could sit track-side somewhere and write about the sports I love.
I honestly didn't think it would be here at PyeongChang 2018. But here I am.
The process to get here was long, I submitted my information to the USOC in the fall of 2016, and heard back on October 31st. Now, for those who know me pretty well, you know that October 2016 was a pretty brutal month: My little buddy Deacon had to be put down, and then a week later I broke my face playing softball. So at the very least, the very last day of October was pretty awesome.
Over the course of the next year and four months there's been a ton of forms to be filled out, information to be sent, deposits to be paid and flights to be booked. And for someone who's not been to an event of this magnitude, it's a whole lot to take in, and a lot to wrap your head around.
So fast forward to February 6, 2018: Go time. I said goodbye to Lauren, Tiki dog, Speedy the turtle and the greatest city in the world (Durham, NC), and hopped on a plane for Atlanta. After a brief few hours in Atlanta, it was onto a 14 1/2 hour flight from ATL to ICN. Previous to this, my longest flight was RDU to Las Vegas. So I was in pretty uncharted territory as far as my personal experience goes.
The flight wasn't awful. When I say "wasn't awful", I mean that in a "as bad as I figured a 14+ hour flight could be" kind of way. No turbulence, the guy in the middle seat was relatively skinny and slept most of the way, and we got to Incheon in one piece. Really, the only gripe was the fact we got there a smidge early, and someone was in our gate.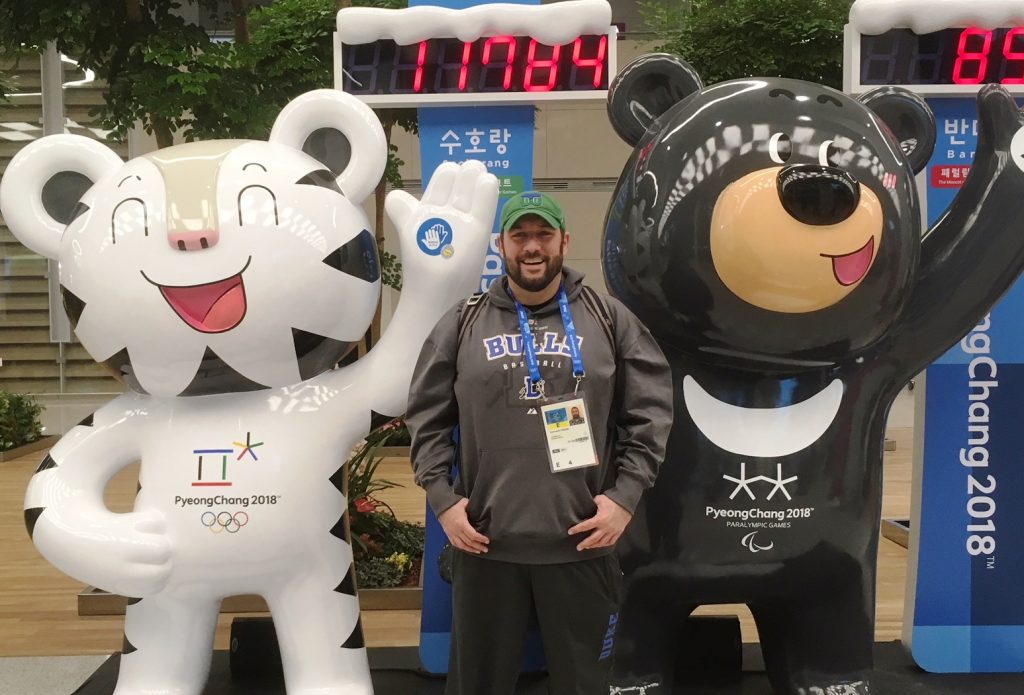 Once landed, there was a little bit of Olympic processing, and a bunch of figuring out where to go. The good news is that the PyeongChang 2018 organizers had a small army of help out there to flag down anyone with an Olympic credential to make sure they knew where they were going. To be honest, this was one of my larger concerns: Getting to the airport and having not the slightest idea where to go. Problem averted.
A quick two hour KTX train ride later (they gave you two seats, one for you and one for your bag) and I was all settled into a rather "quaint" room. I'm sharing a three bedroom apartment with a great photographer named Jeff Cable (www.jeffcable.com) and right now nobody else. We'll see how that pans out going forward.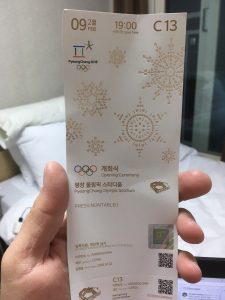 That brings us to Thursday. Things kicked off pretty awesome: Had a nice breakfast, chatted with WRAL's Kathryn Brown for a bit, and hopped on a shuttle bus up to the Main Press Center. The MPC is huge, and takes up three buildings. It's where many of the teams hold larger press conferences, and it takes up three buildings. While there, I grabbed my opening ceremonies ticket and went on my way. Right about here is where the wheels fell off on my otherwise fantastic trip thus far.
The information I was given to get to the sliding center was, for lack of a better term, "wrong". I ended up on a bus just kind of riding around the Olympic venues for an hour, which was cool to experience, but also didn't really help with me getting to the sliding center. So, with any luck, I'll get there on Saturday. Thankfully, Shelley Rudman and Linda Davis both hit me up and are already pros of handling the whole shuttle situation. Come to find out, the folks at the help desk were REALLY wrong. But, now we know.
Today is the opening ceremonies, and I have a ticket. So no matter what, this trip is already a success. Every event after this is just gravy. You'll see a host of sliding sport athletes carrying their nation's flag (including Lizzy Yarnold and Erin Hamlin). More importantly, you're going to see a lot of athletes fulfill an Olympic dream, which is  pretty fantastic.
So, here goes nothing. I'm at the Olympics, and it's pretty awesome.