From Königssee, GER
There was no clearer favorite coming into the IBSF World Championships than Martins Dukurs. Among the dozens upon dozens of things that the Latvian is known for, finishing sixth in a World Cup event after flipping on his sled is one of them. With World Championships being held on the same ice in which that happened, everyone had to figure the winner of four of the last five IBSF World Championships was the man to beat.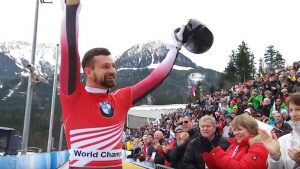 Dukurs failed to disappoint, though he did make things slightly more interesting. Dukurs dominated the first day of competition, but his third run was only the fourth quickest, allowing Nikita Tregybov, Alexander Tretiakov and Axel Jungk all to make ground on him.
On the fourth run, Dukurs once again didn't have the quickest run, but his advantage was more than enough to best the field to win his third consecutive World Championship, and his fifth overall.
Axel Jungk set the quickest time in the final run to leapfrog both Tregybov and Tretiakov to take silver, while Tregybov held off his Russian teammate for bronze.
Tretiakov finished just outside of the medals in fourth, while Alexander Gassner and Christopher Grotheer helped put all three German sleds in the top six with their fifth and sixth place finishes.
Matt Antoine led the way for the United States. While he never was really in contention for a medal, Antoine held off charges from Tomass Dukurs and Dominic Parsons to stay in seventh place throughout the four runs of the World Championships. Antoine's teammate, John Daly, made his return to the world stage with a 17th place finish. Since making his comeback to international competition, he had fallen down to 19th after the first day of sliding before rallying back to finish 17th. His teammate, Nathan Crumpton, finished one spot behind him in 18th.
There was lots of consistency for the Canadians. Dave Greszczyszyn finished tenth, having hovered around the top ten all weekend. Teammate Barrett Martineau finished 13th, also having hung around that position all weekend. Kevin Boyer finished just outside of the top 20 in 22nd to round out the Canadian effort.
All three British sliders had a good showing in the second day of men's skeleton. Dom Parsons finished eighth, just behind Antoine. Jack Thomas fell out of the top 20 after his second run, but rallied back with two very quick runs in the second day to move up to 16th. Jeremy Rice finished 19th in his first World Championships.
Results:
| | | | | | | | | |
| --- | --- | --- | --- | --- | --- | --- | --- | --- |
| Pos | Name | Nation | Bib | Run 1 | Run 2 | Run 3 | Run 4 | Total |
| 1 | Martins Dukurs | LAT | 13 | 50.99 | 50.96 | 50.60 | 50.93 | 3:23.48 |
| 2 | Axel Jungk | GER | 8 | 51.68 | 51.13 | 50.50 | 50.54 | 3:23.85 |
| 3 | Nikita Tregybov | RUS | 15 | 51.42 | 51.29 | 50.41 | 50.90 | 3:24.02 |
| 4 | Alexander Tretiakov | RUS | 9 | 51.50 | 51.35 | 50.41 | 50.95 | 3:24.21 |
| 5 | Alexander Gassner | GER | 10 | 51.45 | 51.47 | 50.78 | 50.75 | 3:24.45 |
| 6 | Christopher Grotheer | GER | 6 | 51.71 | 51.63 | 50.83 | 51.25 | 3:25.42 |
| 7 | Matthew Antoine | USA | 7 | 51.77 | 52.03 | 51.07 | 51.23 | 3:26.10 |
| 8 | Dominic Parsons | GBR | 12 | 52.05 | 51.83 | 51.15 | 51.18 | 3:26.21 |
| 9 | Mattia Gaspari | ITA | 28 | 52.35 | 52.17 | 51.21 | 51.35 | 3:27.08 |
| 10 | Dave Greszczyszyn | CAN | 25 | 52.22 | 52.16 | 51.50 | 51.30 | 3:27.18 |
| 11 | Rhys Thornbury | NZL | 17 | 52.59 | 52.23 | 51.01 | 51.39 | 3:27.22 |
| 12 | Tomass Dukurs | LAT | 14 | 51.98 | 51.88 | 51.79 | 51.58 | 3:27.23 |
| 13 | Barrett Martineau | CAN | 16 | 52.27 | 52.47 | 51.37 | 51.49 | 3:27.60 |
| 14 | Pavel Kulikov | RUS | 23 | 52.44 | 52.38 | 51.40 | 51.59 | 3:27.81 |
| 15 | Matthias Guggenberger | AUT | 3 | 52.55 | 52.14 | 51.48 | 51.91 | 3:28.08 |
| 16 | Jack Thomas | GBR | 24 | 52.65 | 52.76 | 51.49 | 51.26 | 3:28.16 |
| 17 | John Daly | USA | 22 | 52.45 | 52.61 | 51.73 | 51.38 | 3:28.17 |
| 18 | Nathan Crumpton | USA | 11 | 52.29 | 52.52 | 51.75 | 51.97 | 3:28.53 |
| 19 | Jeremy Rice | GBR | 20 | 52.52 | 52.33 | 51.91 | 51.85 | 3:28.61 |
| 20 | Ander Mirambell | ESP | 19 | 52.25 | 52.57 | 52.04 | 51.86 | 3:28.72 |
| 21 | Wenqiang Geng | CHN | 29 | 52.82 | 52.48 | 51.65 | | 2:36.95 |
| 22 | Kevin Boyer | CAN | 5 | 52.94 | 52.61 | 51.60 | | 2:37.15 |
| 23 | Marco Rohrer | SUI | 21 | 52.86 | 53.16 | 51.67 | | 2:37.69 |
| 24 | Vladyslav Heraskevych | UKR | 32 | 53.10 | 52.91 | 51.81 | | 2:37.82 |
| 25 | Joseph Luke Cecchini | ITA | 2 | 52.95 | 52.71 | 52.21 | | 2:37.87 |
| 26 | Egor Veselov | RUS | 18 | 52.96 | 52.65 | 52.38 | | 2:38.03 |
| 27 | Riet Graf | SUI | 31 | 53.32 | 52.69 | 52.12 | | 2:38.13 |
| 28 | Rasmus Ottosson | SWE | 34 | 53.37 | 52.93 | 52.06 | | 2:38.36 |
| 29 | Alexander Auer | AUT | 26 | 52.94 | 53.51 | 51.95 | | 2:38.40 |
| 30 | Dorin Velicu | ROU | 1 | 53.00 | 53.40 | 52.15 | | 2:38.55 |
| 31 | Hiroatsu Takahashi | JPN | 27 | 53.55 | 53.18 | 52.09 | | 2:38.82 |
| 32 | Alex Hanssen | NOR | 30 | 53.01 | 52.77 | 53.12 | | 2:38.90 |
| 33 | Hansin Lee | KOR | 33 | 53.28 | 53.75 | 52.68 | | 2:39.71 |
| 34 | Philipp Mölter | CZE | 35 | 53.59 | 53.69 | 52.44 | | 2:39.72 |
| 35 | AJ Edelman | ISR | 37 | 54.18 | 53.88 | 52.29 | | 2:40.35 |
| 36 | Brendan Doyle | IRL | 39 | 55.43 | 53.44 | 52.74 | | 2:41.61 |
| 37 | Dean Timmings | AUS | 36 | 54.24 | 54.11 | 53.50 | | 2:41.85 |
| 38 | Anthony Watson | JAM | 42 | 54.55 | 53.68 | 53.77 | | 2:42.00 |
| 39 | Chun-Hung Chiang | TPE | 4 | 54.79 | 54.38 | 53.88 | | 2:43.05 |
| 40 | Michal Jakobczyk | POL | 43 | 54.71 | 54.85 | 53.68 | | 2:43.24 |
| 41 | Jeff Bauer | LUX | 38 | 55.36 | 55.00 | 54.25 | | 2:44.61 |
| 42 | Marin Bangiev | BUL | 41 | 57.10 | 54.89 | 54.21 | | 2:46.20 |
| 43 | Denis Lorenčič | SLO | 44 | 56.25 | 55.82 | 54.94 | | 2:47.01 |
| 44 | Akwasi Frimpong | GHA | 40 | 57.14 | 55.50 | 55.65 | | 2:48.29 |