From Winterberg, GER
(Dec. 9, 2017) It's been a while since a German sled had won gold in women's bobsled. Despite major pressure from the Americans, they struck gold for the first time in 22 races.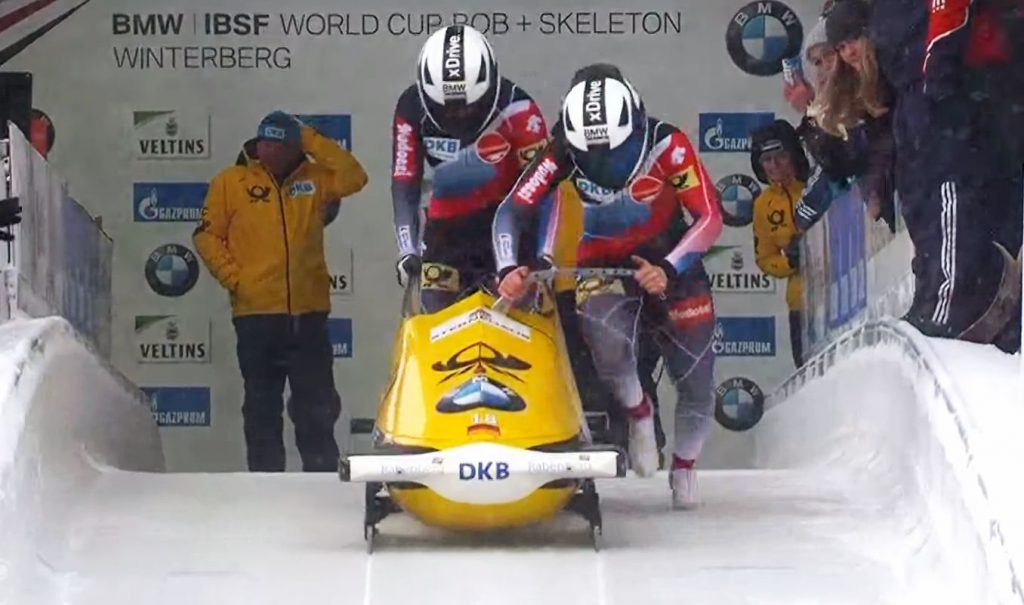 Stephanie Schneider has had a tough year and a half in bobsled. She's crashed and broken a collar bone, then crashed again in her comeback, once again breaking the collarbone. At the start of the 2017/2018 season she began to shine, starting the season off in Lake Placid with a bronze medal and finishing fourth in Park City. Now, back in Germany, she got to the top of the podium.
With Elana Meyers Taylor breathing down her neck, Schneider and brakewoman Lisa Buckwitz managed the second-fastest push of the race. While the second run for the German wasn't necessarily clean, it was fast enough to hold the defending World Champion back to win gold.
To Meyers Taylor's credit, nobody would have blamed her for not having a great weekend in Winterberg. None of the American sleds showed up until 24 hours before race time thanks to an issue in customs. In turn, the American teams (as well as some Canadians) all had to train using borrowed equipment and it showed in the first run with Meyers Taylor coming into the second heat tied for sixth and Jamie Greubel Poser in eighth.
Both Meyers Taylor and Greubel Poser had second run starts that were significantly faster than their first, and those starts coupled with some great drives moved both Americans up positions, with Meyers Taylor finishing second.
Mariama Jamanka of Germany finished third, just .02 behind Meyers Taylor. Jamanka's second run was bumpier as it went on, culminating with a crash at the finish line to fall back from second place.
Two-time Olympic champion Kaillie Humphries finished just .04 out of the medals in fourth, while Austrian Kati Beierl finished with a World Cup career-best finish of fifth. Greubel Poser finished sixth, up from eighth place in the first run.
Alysia Rissling finished 16th for Canada, suffering the same customs issues as the Americans. Christine de Bruin just missed the cut in 21st. Brittany Reinbolt finished 19th in the third American sled.
Former American pilot Jazmine Fenlator-Victorian finished seventh for Jamaica, which was the best finish ever for a Jamaican sled in the IBSF World Cup.
Results:
| | | | | | | | | |
| --- | --- | --- | --- | --- | --- | --- | --- | --- |
| Pos | Names | Nation | Bib | Start 1 | Start 2 | Run 1 | Run 2 | Total |
| 1 | Schneider / Buckwitz | GER | 11 | 5.67 | 5.58 | 57.61 | 57.29 | 1:54.90 |
| 2 | Meyers Taylor / Gibbs | USA | 10 | 5.68 | 5.50 | 57.88 | 57.28 | 1:55.16 |
| 3 | Jamanka / Drazek | GER | 12 | 5.65 | 5.62 | 57.72 | 57.46 | 1:55.18 |
| 4 | Humphries / Lotholz | CAN | 8 | 5.69 | 5.65 | 57.73 | 57.49 | 1:55.22 |
| 5 | Beierl / Onasanya | AUT | 18 | 5.67 | 5.65 | 57.74 | 57.53 | 1:55.27 |
| 6 | Greubel Poser / Evans | USA | 6 | 5.68 | 5.59 | 57.94 | 57.43 | 1:55.37 |
| 7 | Fenlator-Victorian / Russell | JAM | 22 | 5.73 | 5.71 | 57.86 | 57.57 | 1:55.43 |
| 8 | Köhler / Nolte | GER | 14 | 5.75 | 5.69 | 57.88 | 57.58 | 1:55.46 |
| 9 | Willemsen / Aerts | BEL | 17 | 5.80 | 5.78 | 57.97 | 57.78 | 1:55.75 |
| 10 | Vannieuwenhuyse / Vercruyssen | BEL | 21 | 5.81 | 5.83 | 58.04 | 58.07 | 1:56.11 |
| 11 | Grecu / Puiu | ROU | 23 | 5.72 | 5.82 | 58.09 | 58.07 | 1:56.16 |
| 12 | Hafner / E. Rebsamen | SUI | 19 | 5.83 | 5.82 | 58.13 | 58.05 | 1:56.18 |
| 13 | Rodionova / Kocherzhova | RUS | 16 | 5.81 | 5.76 | 58.25 | 57.99 | 1:56.24 |
| 14 | Hengster / Dekker | AUT | 15 | 5.87 | 5.86 | 58.31 | 58.03 | 1:56.34 |
| 15 | Constantin / Iusco | ROU | 20 | 5.86 | 5.94 | 58.15 | 58.21 | 1:56.36 |
| 16 | Rissling / Moyse | CAN | 5 | 5.81 | 5.78 | 58.40 | 58.09 | 1:56.49 |
| 17 | Sergeeva / Shokshueva | RUS | 13 | 5.81 | 5.81 | 58.34 | 58.25 | 1:56.59 |
| 18 | Fontanive / Strebel | SUI | 2 | 5.81 | 5.82 | 58.48 | 58.17 | 1:56.65 |
| 19 | Reinbolt / Ajoku | USA | 4 | 5.78 | 5.89 | 58.41 | 58.46 | 1:56.87 |
| 20 | McNeill / Moore | GBR | 7 | 5.89 | 5.95 | 58.55 | 58.72 | 1:57.27 |
| 21 | de Bruin / Appiah | CAN | 9 | 5.81 | | 58.70 | | |
| 22 | Oshigiri / Morimoto | JPN | 3 | 5.91 | | 58.91 | | |
| 23 | Asazu / Kawasaki | JPN | 1 | 6.05 | | 59.16 | | |