From Igls, AUT
(Dec. 17, 2017) Johannes Lochner came from behind in an always-tight four-man race in Igls to take gold in the last race before the new year.
The German pilot was just .08 behind his teammate Francesco Friedrich going into the second heat after one small mistake at the start of Lochner's first run. Lochner's second run was as perfect as anyone could ask for, putting the pressure on Friedrich. Friedrich struggled on his second run down, setting only the fifth fastest time on his way to a third place overall finish.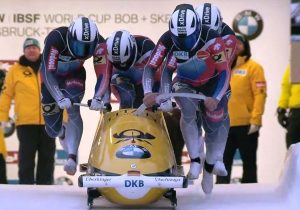 Justin Kripps of Canada set the fastest start of the entire race on his second run, moving up from third to second overall to score his fourth top five in five races.
Oskars Melbardis moved up from fifth to fourth on his second run, while Nico Walther struggled on his second run to drop from fourth to fifth. Alexey Stulnev of Russia finished sixth after a really great second run moved him up from eighth.
The four-man event in Igls doubled as the European Championship, with Lochner winning gold, Friedrich finishing second and Melbardis finishing third.
Codie Bascue led the way for the United States with an 11th place finish after coming into his second run tied for 12th with Austrian Markus Treichl. Teammate Justin Olsen finished 19th, while Nick Cunningham missed the cut for the second race with a 23rd place run.
Chris Spring's team had trouble at the start of their first run, leaving the Canadian in a tie for 20th after the first run. A great drive in his second run moved him up to a tie for 13th. Teammate Nick Poloniato finished tied for 16th with British slider Lamin Deen.
Results:
| | | | | | | | | |
| --- | --- | --- | --- | --- | --- | --- | --- | --- |
| Pos | Names | Nation | Bib | Start 1 | Start 2 | Run 1 | Run 2 | Total |
| 1 | Lochner / Rademacher / Bluhm / Rasp | GER | 11 | 5.05 | 5.02 | 51.34 | 51.11 | 1:42.45 |
| 2 | Kripps / Kopacz / Lumsden / Smith | CAN | 12 | 5.00 | 4.96 | 51.35 | 51.25 | 1:42.60 |
| 3 | Friedrich / Bauer / Grothkopp / Margis | GER | 6 | 4.99 | 5.01 | 51.26 | 51.39 | 1:42.65 |
| 4 | Melbardis / Dreiskens / Lusis / Strenga | LAT | 14 | 5.01 | 5.00 | 51.49 | 51.36 | 1:42.85 |
| 5 | Walther / Kuske / Poser / Franke | GER | 13 | 5.04 | 5.03 | 51.47 | 51.45 | 1:42.92 |
| 6 | Stulnev / Antukh / Malykh / Koshelev | RUS | 1 | 5.12 | 5.07 | 51.57 | 51.37 | 1:42.94 |
| 7 | Kibermanis / Jansons / Miknis / Zirups | LAT | 15 | 5.05 | 5.03 | 51.53 | 51.43 | 1:42.96 |
| 8 | Kasjanov / Khuzin / Kondratenko / Pushkarev | RUS | 8 | 5.07 | 5.06 | 51.52 | 51.46 | 1:42.98 |
| 9 | Maier / Walch / Sammer / Moldovan | AUT | 19 | 5.04 | 5.02 | 51.61 | 51.41 | 1:43.02 |
| 10 | Peter / Badraun / Friedli / Amrhein | SUI | 17 | 5.09 | 5.10 | 51.60 | 51.58 | 1:43.18 |
| 11 | Bascue / Weinstock / Langton / McGuffie | USA | 10 | 4.99 | 5.01 | 51.65 | 51.57 | 1:43.22 |
| 12 | Andrianov / Selikhov / Samitov / Mordasov | RUS | 2 | 5.12 | 5.09 | 51.71 | 51.57 | 1:43.28 |
| 13 | Spring / Stones / Kirkpatrick / Wright | CAN | 7 | 5.10 | 5.08 | 51.83 | 51.46 | 1:43.29 |
| 13 | Hall / Gleeson / Matthews / Cackett | GBR | 18 | 5.04 | 5.07 | 51.64 | 51.65 | 1:43.29 |
| 15 | Costerg / Ricard / Castell / Hauterville | FRA | 20 | 5.14 | 5.16 | 51.73 | 51.58 | 1:43.31 |
| 16 | Deen / Simons / Tasker / Fearon | GBR | 9 | 5.10 | 5.06 | 51.76 | 51.56 | 1:43.32 |
| 16 | Poloniato / Plug / Brown / Coakwell | CAN | 16 | 5.08 | 5.07 | 51.71 | 51.61 | 1:43.32 |
| 18 | Treichl / Glück / Rangl / Bassey | AUT | 23 | 5.09 | 5.14 | 51.65 | 51.77 | 1:43.42 |
| 19 | Olsen / Weber / Valdes / C. Fogt | USA | 22 | 5.05 | 5.06 | 51.73 | 51.71 | 1:43.44 |
| 20 | Dvorak / Dobes / Sindelar / Nosek | CZE | 24 | 5.10 | 5.11 | 51.80 | 51.70 | 1:43.50 |
| 21 | de Bruin / Piek / van der Zijde / Franjic | NED | 3 | 5.13 | 5.12 | 51.83 | 51.73 | 1:43.56 |
| 22 | Bracher / Knuser / Dobler / Kuonen | SUI | 25 | 5.19 | | 51.86 | | |
| 23 | Cunningham / Abdul-Saboor / Kinney / Michener | USA | 21 | 5.06 | | 51.88 | | |
| 24 | Luty / Masztak / Miedzik / Kossakowski | POL | 4 | 5.15 | | 51.90 | | |
| 25 | Meyers Taylor / B. Fogt / Williamson / Taylor | USA | 5 | 5.26 | | 52.27 | | |
| DNS | Rinaldi / Vainn / Demarthon / Borges Mendonaca | MON | 26 | | | | | |