From Altenberg, GER
(Jan. 6, 2018) There's a lot of ways to celebrate your birthday: You can go out to a nice dinner, have a big party, go on a trip somewhere, or if you're Justin Kripps, break a 14 year old start record and win a gold medal in Altenberg.
With Alex Kopacz on the brakes, the Canadian tied the start record set in December of 2003 in the first heat with a 5.12 push. In the second heat, Kripps and Kopacz did one hundredth better. Both drives down for Kripps weren't flawless, but they were quick enough to take the lead in the first heat and hold onto it in the second heat to take gold and become the sixth two-man winner in six events.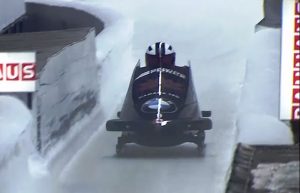 German Francesco Friedrich finished second and Latvian Oskars Kibermanis finished third, with Friedrich tying the start record on the first run as well.
Nick Poloniato continued a great season in fourth, while Alexey Stulnev and Johannes Lochner rounded out the top six.
Chris Spring finished 12th to round out the Canadian effort, while Bradley Hall finished 14th for Great Britain.
Cody Bascue was the United States' lone sled, with Justin Olsen competing on the European Cup in four-man, and Nick Cunningham racing in North America. He made the second heat, but finished 18th.
German Nico Walther had finished third, but was failed in post-event inspection for having issues with the cowl being marginally too narrow.
Results:
| | | | | | | | | |
| --- | --- | --- | --- | --- | --- | --- | --- | --- |
| Pos | Names | Nation | Bib | Start 1 | Start 2 | Run 1 | Run 2 | Total |
| 1 | Kripps / Kopacz | CAN | 12 | 5.12 | 5.11 | 54.49 | 54.72 | 1:49.21 |
| 2 | Friedrich / Grothkopp | GER | 14 | 5.12 | 5.16 | 54.55 | 54.75 | 1:49.30 |
| 3 | Kibermanis / Miknis | LAT | 15 | 5.15 | 5.13 | 54.79 | 54.93 | 1:49.72 |
| 4 | Poloniato / Wright | CAN | 16 | 5.15 | 5.16 | 54.82 | 54.98 | 1:49.80 |
| 5 | Stulnev / Malykh | RUS | 19 | 5.36 | 5.38 | 54.96 | 55.02 | 1:49.98 |
| 6 | Lochner / Bluhm | GER | 8 | 5.20 | 5.17 | 55.11 | 54.89 | 1:50.00 |
| 7 | Kasjanov / Pushkarev | RUS | 9 | 5.37 | 5.36 | 54.95 | 55.07 | 1:50.02 |
| 8 | Peter / Amrhein | SUI | 10 | 5.26 | 5.24 | 54.88 | 55.17 | 1:50.05 |
| 9 | Luty / Tylkowski | POL | 21 | 5.29 | 5.35 | 55.11 | 54.96 | 1:50.07 |
| 10 | Maier / Sammer | AUT | 17 | 5.17 | 5.18 | 54.98 | 55.11 | 1:50.09 |
| 11 | Andrianov / Mordasov | RUS | 2 | 5.35 | 5.35 | 54.93 | 55.24 | 1:50.17 |
| 12 | Spring / Lumsden | CAN | 11 | 5.22 | 5.20 | 55.13 | 55.09 | 1:50.22 |
| 13 | Zalims / Jansons | LAT | 4 | 5.24 | 5.30 | 54.97 | 55.25 | 1:50.22 |
| 14 | Hall / Olubi | GBR | 22 | 5.22 | 5.24 | 55.35 | 54.92 | 1:50.27 |
| 15 | Dvorak / Nosek | CZE | 18 | 5.22 | 5.23 | 55.25 | 55.14 | 1:50.39 |
| 16 | Heinrich / Lefebvre | FRA | 20 | 5.29 | 5.32 | 55.28 | 55.17 | 1:50.45 |
| 17 | Treichl / Bassey | AUT | 1 | 5.25 | 5.35 | 54.87 | 55.69 | 1:50.56 |
| 18 | Bascue / Valdes | USA | 13 | 5.25 | 5.32 | 55.46 | 55.36 | 1:50.82 |
| 19 | Vrba / Havlin | CZE | 5 | 5.36 | 5.39 | 55.48 | 55.46 | 1:50.94 |
| 20 | Bertazzo / Variola | ITA | 3 | 5.41 | | 55.51 | | |
| 21 | Melbardis / Dreiskens | LAT | 6 | 5.94 | | 55.88 | | |
| DNS | Baumgartner / Rosa | ITA | 23 | | | DNS | | |
| DSQ | Deen / Gleeson | GBR | 24 | 5.33 | | DSQ | | |
| DSQ | Walther / Poser | GER | 7 | 5.26 | 5.27 | 54.62 | 54.86 | DSQ |