From Königssee, GER
(Jan. 19, 2018) Jacqueline Lölling won her fourth race of the IBSF World Cup season, and with it took her second consecutive IBSF World Cup title.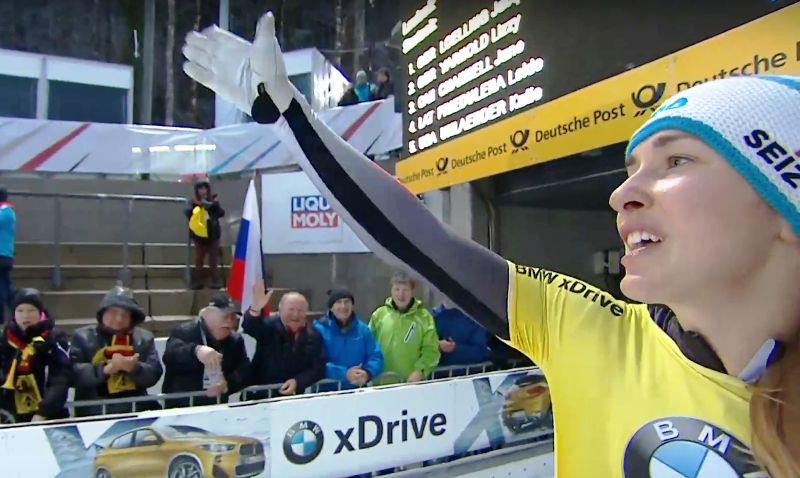 The German was fourth coming into the second run in snowy Königssee, behind Anna Fernstädtaa, Tina Hermann and Janine Flock. On her second run, though, she was able to find speed where seemingly no one else could, setting the fastest time of the run and putting pressure on the women ahead of her.
As each of the top three came down, none could match the speed of Lölling, with Lölling winning her fourth race of the season and taking the overall points title by 124 points. Both the win and the title were at the expense of Tina Hermann, who finished second in the Königssee race and second in the overall standings.
In the race, Janine Flock finished third, ahead of Lizzy Yarnold, Fernstädt, and Jane Channell.
Katie Uhlaender finished her World Cup season with an eighth place finish as the top American. Teammates Kendall Wesenberg and Savannah Graybill finished 11th and 16th, respectively.
It was another outstanding effort for Canada, along with Channell's sixth place finish, Vathje finished ninth. Their teammate Mimi Rahneva sat the event out.
Vathje also finished third in the season points.
Outside of Yarnold's fifth place finish, it was a tough day for the Brits. Neither Madelaine Smith or Laura Deas made the cut for the second heat, with Smith finishing 22nd and Deas 23rd.
Results:
| | | | | | | | | |
| --- | --- | --- | --- | --- | --- | --- | --- | --- |
| Pos | Name | Nation | Bib | Start 1 | Start 2 | Run 1 | Run 2 | Total |
| 1 | Jacqueline Lölling | GER | 12 | 5.17 | 5.16 | 52.14 | 51.89 | 1:44.03 |
| 2 | Tina Hermann | GER | 11 | 5.08 | 5.05 | 52.06 | 52.15 | 1:44.21 |
| 3 | Janine Flock | AUT | 8 | 5.04 | 5.01 | 52.13 | 52.17 | 1:44.30 |
| 4 | Lizzy Yarnold | GBR | 14 | 5.01 | 5.02 | 52.48 | 52.00 | 1:44.48 |
| 5 | Anna Fernstädt | GER | 13 | 5.19 | 5.18 | 52.04 | 52.46 | 1:44.50 |
| 6 | Jane Channell | CAN | 9 | 4.87 | 4.85 | 52.48 | 52.47 | 1:44.95 |
| 7 | Lelde Priedulena | LAT | 6 | 4.98 | 4.95 | 52.59 | 52.45 | 1:45.04 |
| 8 | Katie Uhlaender | USA | 10 | 5.10 | 5.08 | 52.58 | 52.71 | 1:45.29 |
| 9 | Elisabeth Vathje | CAN | 7 | 5.02 | 4.98 | 52.69 | 52.72 | 1:45.41 |
| 10 | Marina Gilardoni | SUI | 16 | 5.04 | 5.03 | 52.84 | 52.85 | 1:45.69 |
| 11 | Kendall Wesenberg | USA | 17 | 5.11 | 5.11 | 52.89 | 52.86 | 1:45.75 |
| 12 | Joska le Conte | NED | 20 | 5.07 | 5.10 | 52.88 | 53.07 | 1:45.95 |
| 13 | Renata Khuzina | RUS | 22 | 5.04 | 5.01 | 53.21 | 52.98 | 1:46.19 |
| 14 | Elena Nikitina | RUS | 5 | 4.86 | 4.94 | 53.09 | 53.14 | 1:46.23 |
| 15 | Yulia Kanakina | RUS | 18 | 4.89 | 4.87 | 52.99 | 53.30 | 1:46.29 |
| 16 | Savannah Graybill | USA | 23 | 5.18 | 5.26 | 53.12 | 53.39 | 1:46.51 |
| 17 | Kimberley Bos | NED | 15 | 5.01 | 5.01 | 53.25 | 53.29 | 1:46.54 |
| 18 | Nozomi Komuro | JPN | 1 | 5.11 | 5.09 | 53.05 | 53.60 | 1:46.65 |
| 19 | Maya Pedersen | NOR | 3 | 5.18 | 5.21 | 53.28 | 53.94 | 1:47.22 |
| 20 | Takako Oguchi | JPN | 2 | 5.07 | 5.05 | 53.08 | 54.51 | 1:47.59 |
| 21 | Jaclyn Narracott | AUS | 19 | 5.09 | | 53.31 | | |
| 22 | Madelaine Smith | GBR | 21 | 5.03 | | 53.40 | | |
| 23 | Laura Deas | GBR | 4 | 5.01 | | 53.63 | | |
| 24 | Katie Tannenbaum | ISV | 24 | 5.27 | | 54.32 | | |
| 25 | Maria Montejano | ESP | 25 | 5.24 | | 55.03 | | |