From Kõnigssee, GER
(Jan. 20, 2018) Stephanie Schneider won her third race of the IBSF World Cup season, beating the reigning Olympic and World Champions along the way.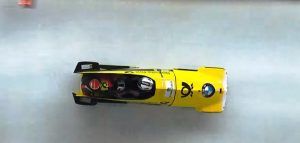 With Annika Drazek on her brakes, Schneider tied a start record set earlier in the heat by Elana Meyers Taylor and Lauren Gibbs. On the run itself, Schneider nearly crashed in a spot where other women's teams had similar trouble. The rest of the run was plenty good enough for Schneider to set the fast run in the race and win the final gold medal of the 2017/2018 World Cup season.
Kaillie Humphries finished with a silver medal in the race and the overall World Cup title. The Canadian needed just a fourth place finish to clinch the title, but did two positions better to win her fifth medal on the season. The World Cup title is Humphries' fourth.
Elana Meyers Taylor broke her own start record in the second heat with the help of Lauren Gibbs on her way to a bronze medal in the race and a second place finish in the overall points.
German Mariama Jamanka finished third in the overall points.
In the race, Jamanka finished fourth, ahead of Alysia Rissling and Nadezhda Sergeeva, who tied for fifth.
Jamie Greubel Poser finished just out of the top six in seventh place to finish out the American effort, while Christine de Bruin finished 14th for Canada.
Results:
Pos
Names
Nation
Bib
Start 1
Start 2
Run 1
Run 2
Total
1
Schneider / Drazek
GER
4
5.14
5.11
50.78
50.57
1:41.35
2
Humphries / George
CAN
6
5.19
5.18
50.91
50.73
1:41.64
3
Meyers Taylor / Gibbs
USA
10
5.16
5.11
50.83
50.84
1:41.67
4
Jamanka / Buckwitz
GER
12
5.27
5.23
51.03
50.73
1:41.76
5
Sergeeva / Kocherzhova
RUS
13
5.27
5.26
51.10
50.88
1:41.98
5
Rissling / Moyse
CAN
9
5.28
5.27
51.00
50.98
1:41.98
7
Greubel Poser / Evans
USA
7
5.23
5.22
51.04
50.95
1:41.99
8
Hafner / E. Rebsamen
SUI
14
5.37
5.36
51.19
51.00
1:42.19
9
Hengster / Kleiser
AUT
16
5.41
5.37
51.21
51.03
1:42.24
10
Fontanive / Strebel
SUI
21
5.35
5.34
51.32
51.06
1:42.38
11
Fenlator-Victorian / Russell
JAM
19
5.31
5.30
51.27
51.18
1:42.45
12
Köhler / Thöne
GER
8
5.34
5.33
51.39
51.08
1:42.47
12
Beierl / Hahn
AUT
17
5.36
5.35
51.33
51.14
1:42.47
14
de Bruin / Appiah
CAN
11
5.29
5.27
51.37
51.11
1:42.48
15
Willemsen / Vanhaen
BEL
5
5.44
5.42
51.36
51.30
1:42.66
16
Constantin / Iusco
ROU
20
5.38
5.42
51.35
51.41
1:42.76
17
McNeill / Douglas (Moore)
GBR
15
5.36
5.37
51.80
51.20
1:43.00
18
Vannieuwenhuyse / Paulissen
BEL
1
5.49
5.49
51.73
51.40
1:43.13
19
Oshigiri / Morimoto
JPN
3
5.35
5.36
51.79
51.41
1:43.20
20
Grecu / Puiu
ROU
2
5.39
5.39
51.94
51.45
1:43.39
21
Rodionova / Belomestnykh
RUS
18
5.42
51.95
22
Asazu / Kawasaki
JPN
22
5.46