From Lillehammer, NOR
(Jan. 21, 2018) Dominik Fischnaller won his first race of the 2017/2018 FIL World Cup season in Lillehammer.
Fischnaller came into the second run as the leader, and as he waited his turn to head down the 1994 Olympic track he watched men who were within striking distance falter.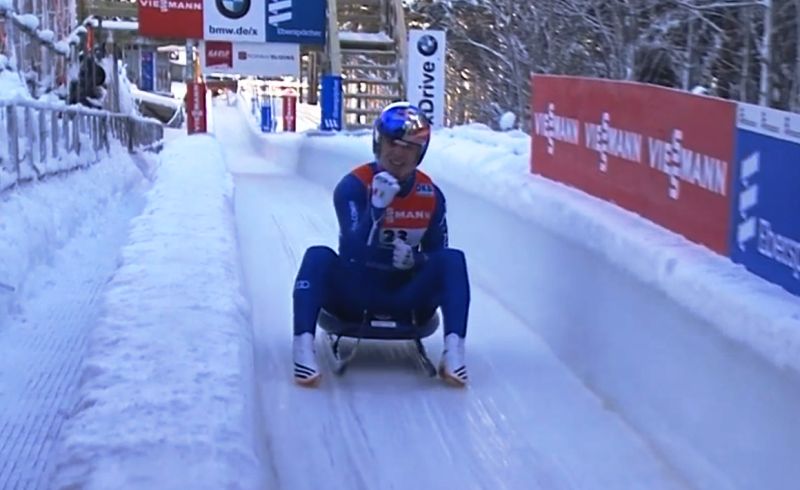 Stepan Fedorov, who was the fourth fastest in the first heat made a mistake late in his run to slip down the order to ninth. Wolfgang Kindl was next, his run wasn't awful, and he held his position in third.
Coming down in second place after the first run was Felix Loch. Loch, like Fedorov, made a mistake late in his run and fell down the order to fifth.
All of that carnage was all Fischnaller needed. The Italian was second-fastest in his run to beat Roman Repilov by .096. Repilov came into the second run in ninth place, but a heat-fastest run was enough to move him up the order to second.
Johannes Ludwig, Loch, and David Gleirscher rounded out the top six.
Tucker West led the way for the United States with an 11th place run, moving up from 17th after the first heat. Taylor Morris finished 12th, while Chris Mazdzer fell to 21st in his second run.
Canadian Reid Watts finished 20th, while Mitchel Malyk finished 26th.
Results:
| | | | | | | | | |
| --- | --- | --- | --- | --- | --- | --- | --- | --- |
| Pos | Name | Nation | Bib | Start 1 | Start 2 | Run 1 | Run 2 | Total |
| 1 | Dominik Fischnaller | ITA | 23 | 4.414 | 4.447 | 49.204 | 49.386 | 1:38.590 |
| 2 | Roman Repilov | RUS | 26 | 4.412 | 4.406 | 49.419 | 49.267 | 1:38.686 |
| 3 | Wolfgang Kindl | AUT | 32 | 4.484 | 4.491 | 49.282 | 49.440 | 1:38.722 |
| 4 | Johannes Ludwig | GER | 27 | 4.409 | 4.402 | 49.432 | 49.407 | 1:38.839 |
| 5 | Felix Loch | GER | 31 | 4.420 | 4.423 | 49.260 | 49.666 | 1:38.926 |
| 6 | David Gleirscher | AUT | 19 | 4.439 | 4.442 | 49.343 | 49.591 | 1:38.934 |
| 7 | Kristers Aparjods | LAT | 8 | 4.446 | 4.463 | 49.417 | 49.539 | 1:38.956 |
| 8 | Maksim Aravin | RUS | 14 | 4.485 | 4.493 | 49.363 | 49.600 | 1:39.963 |
| 9 | Stepan Fedorov | RUS | 17 | 4.415 | 4.426 | 49.310 | 49.687 | 1:38.997 |
| 10 | Jozef Ninis | SVK | 13 | 4.474 | 4.491 | 49.573 | 49.484 | 1:39.057 |
| 11 | Tucker West | USA | 28 | 4.381 | 4.386 | 49.560 | 49.498 | 1:39.058 |
| 12 | Taylor Morris | USA | 25 | 4.505 | 4.505 | 49.495 | 49.583 | 1:39.078 |
| 13 | Armin Frauscher | AUT | 18 | 4.417 | 4.433 | 49.509 | 49.600 | 1:39.109 |
| 14 | Kevin Fischnaller | ITA | 15 | 4.451 | 4.484 | 49.358 | 49.757 | 1:39.115 |
| 15 | Semen Pavlichenko | RUS | 30 | 4.402 | 4.434 | 49.809 | 49.393 | 1:39.202 |
| 16 | Nico Gleirscher | AUT | 21 | 4.420 | 4.425 | 49.507 | 49.734 | 1:39.241 |
| 17 | Inars Kivlenieks | LAT | 16 | 4.410 | 4.425 | 49.451 | 49.878 | 1:39.329 |
| 18 | Reinhard Egger | AUT | 20 | 4.445 | 4.448 | 49.590 | 49.813 | 1:39.403 |
| 19 | Andi Langenhan | GER | 29 | 4.429 | 4.423 | 49.779 | 49.641 | 1:39.420 |
| 20 | Reid Watts | CAN | 10 | 4.487 | 4.489 | 49.690 | 49.738 | 1:39.428 |
| 21 | Chris Mazdzer | USA | 22 | 4.423 | 4.435 | 49.550 | 49.887 | 1:39.437 |
| 22 | Ralf Palik | GER | 24 | 4.444 | 4.439 | 49.499 | 49.966 | 1:39.465 |
| 23 | Emanuel Rieder | ITA | 9 | 4.499 | 4.442 | 49.685 | 49.811 | 1:39.496 |
| 24 | Samuel Edney | CAN | 7 | 4.435 | 4.426 | 49.824 | 49.819 | 1:39.643 |
| 25 | Arturs Darznieks | LAT | 1 | 4.451 | 4.451 | 49.790 | 49.963 | 1:39.753 |
| 26 | Mitchel Malyk | CAN | 12 | 4.459 | 4.468 | 49.845 | 49.950 | 1:39.795 |
| 27 | Mateusz Sochowicz | POL | 6 | 4.446 | 4.453 | 49.840 | 50.014 | 1:39.854 |
| 28 | Maciej Kurowski | POL | 4 | 4.473 | 4.468 | 49.865 | 50.006 | 1:39.871 |
| 29 | Valentin Cretu | ROU | 5 | 4.472 | 4.470 | 49.917 | 50.052 | 1:39.969 |
| 30 | Jakub Simonak | SVK | 2 | 4.428 | 4.434 | 49.820 | 50.154 | 1:39.974 |
| 31 | Aleksander Melaas | NOR | 3 | 4.577 | 4.598 | 50.094 | 50.206 | 1:40.300 |
| 32 | Chris Rene Eissler | GER | 11 | 4.409 | 4.395 | 49.909 | 50.920 | 1:40.829 |