From Sigulda, LAT
(Jan. 27, 2018) The German duo of Toni Eggert & Sascha Benecken clinched the 2017/2018 FIL World Cup title in the final non-sprint event of the season, winning both the race and the European Championships as well.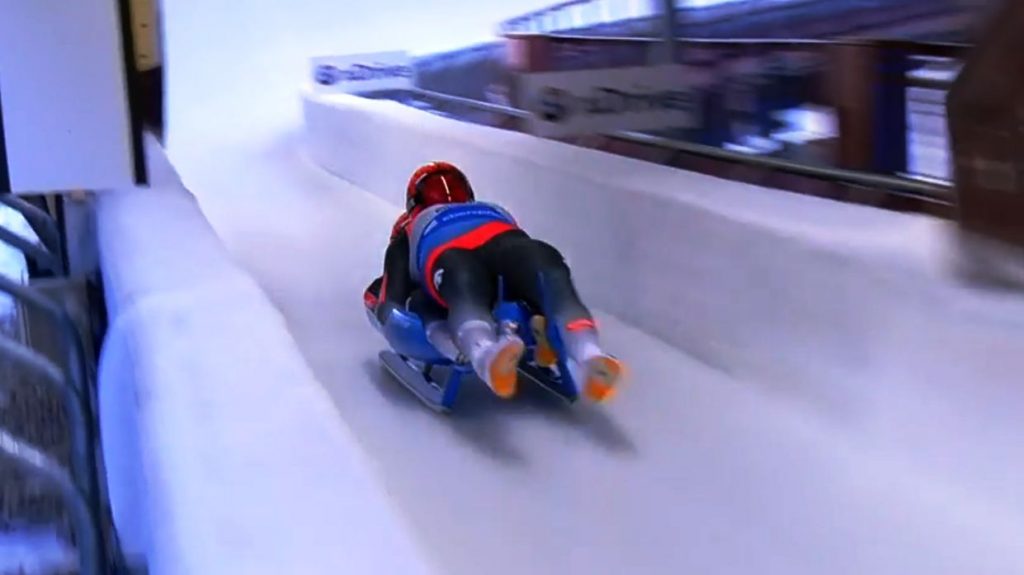 The German duo carried a small lead into the second heat ahead of home-ice sliders Andris & Juris Sics. The Latvians were near-perfect on their second run, putting the pressure on the World Cup leaders.
Eggert & Benecken weren't flawless by any stretch of the imagination, but they were fast enough to stay ahead of the Latvians to win their ninth gold medal of the year and clinch the FIL World Cup title.
Sics & Sics finished second, well ahead of Germans Tobias Wendl & Tobias Arlt, who finished with a bronze medal.
Latvians Oskars Gudramovics & Peteris Kalnins finished fourth, ahead of Austrians Peter Penz & Georg Fischler and Ludwig Rieder & Patrick Rastner of Italy.
The top six doubled as the European Championships top six.
Matt Mortensen & Jayson Terdiman finished tenth as the lone sled from the United States, while Canadians Tristan Walker & Justin Snith finished two spots behind the Americans in 12th.
Results:
| | | | | | | | | |
| --- | --- | --- | --- | --- | --- | --- | --- | --- |
| Pos | Names | Nation | Bib | Start 1 | Start 2 | Run 1 | Run 2 | Total |
| 1 | Eggert / Benecken | GER | 21 | 1.589 | 1.575 | 41.660 | 41.704 | 1:23.364 |
| 2 | Sics / Sics | LAT | 20 | 1.588 | 1.585 | 41.716 | 41.703 | 1:23.416 |
| 3 | Wendl / Arlt | GER | 17 | 1.527 | 1.539 | 41.740 | 41.850 | 1:23.590 |
| 4 | Gudramovics / Kalnins | LAT | 14 | 1.580 | 1.567 | 41.947 | 41.825 | 1:23.772 |
| 5 | Penz / Fischler | AUT | 22 | 1.528 | 1.519 | 41.940 | 41.836 | 1:23.776 |
| 6 | Rieder / Rastner | ITA | 8 | 1.546 | 1.542 | 41.989 | 41.931 | 1:23.920 |
| 7 | Denisev / Antonov | RUS | 18 | 1.565 | 1.564 | 41.939 | 41.984 | 1:23.923 |
| 8 | Putins / Marcinkevic | LAT | 6 | 1.567 | 1.593 | 42.122 | 41.996 | 1:24.118 |
| 9 | Nagler / Malleier | ITA | 11 | 1.158 | 1.584 | 42.209 | 42.021 | 1:24.230 |
| 10 | Mortensen / Terdiman | USA | 15 | 1.577 | 1.571 | 42.070 | 42.169 | 1:24.239 |
| 11 | Steu / Koller | AUT | 16 | 1.554 | 1.574 | 42.080 | 42.194 | 1:24.274 |
| 12 | Walker / Snith | CAN | 13 | 1.559 | 1.561 | 42.351 | 41.966 | 1:24.317 |
| 13 | Yuzhakov / Prokhorov | RUS | 10 | 1.586 | 1.574 | 42.039 | 42.389 | 1:24.428 |
| 14 | Chmielewski / Kowalewski | POL | 1 | 1.565 | 1.558 | 42.361 | 42.087 | 1:24.448 |
| 15 | Broz / Broz | CZE | 9 | 1.583 | 1.574 | 42.229 | 42.326 | 1:24.555 |
| 16 | Geueke / Gamm | GER | 19 | 1.555 | 1.536 | 42.299 | 42.333 | 1:24.632 |
| 17 | Kvicala / Kudera | CZE | 7 | 1.620 | 1.615 | 42.494 | 42.366 | 1:24.860 |
| 18 | Bogdanov / Medvedev | RUS | 12 | 1.555 | 1.568 | 42.814 | 42.063 | 1:24.877 |
| 19 | Solcansky / Stuchlak | SVK | 5 | 1.593 | 1.596 | 42.502 | 42.429 | 1:24.931 |
| 20 | Yefremov / Tatyanchenko | KAZ | 3 | 1.689 | 1.681 | 43.306 | 44.598 | 1:27.904 |
| 21 | Obolonchyk / Zakharkiv | UKR | 4 | 1.647 | 1.657 | 50.524 | 43.166 | 1:33.690 |
| DNS | Atodiresei / Musei | ROU | 2 | | | DNS | | |