From Pyeongchang, KOR
Feb 13, 2018 – German Natalie Geisenberger has defended her Olympic gold medal from Sochi in Pyeongchang.
Geisenberger had the quickest run in the third heat, while teammate Dajana Eitberger, Canadian Alex Gough and American Erin Hamlin all made mistakes. The result was a .319 advantage going into the fourth heat.
Behind Geisenberger, though, the field was tight. Less than a tenth of a second separated second through fourth, with Hamlin and Kimberley McRae also with a shot at a medal.
McRae was the first down in the top six, and her run was relatively clean. Hamlin couldn't answer, making another small mistake to set her back to sixth place.
Eitberger's second run of the night matched her second run in the first night of racing, almost perfect (and this time the fastest run of the heat) to put the pressure on the women ahead of her.
Gough was next, and couldn't match the speed of Eitberger, dropping a spot for the moment with two Olympic gold medalists to go. The first was Hüfner. She make a mistake off Curve 9, as so many had before, scrubbing off enough speed to drop her behind Gough and put Gough on the podium.
The final run of the night was Geisenberger. All week long she'd been nearly perfect down the Pyeongchang track, and that did not change. Finishing with over a three tenth second advantage, she took her third career gold medal (both women's luge and Team Relay in 2014).
Having those previous gold medals made it easier for the German champion to relax on the sled.
"Of course I had a dream to get another gold, but this time I was much more relaxed about it," she said. "If it didn't work, then that wouldn't' have been a disaster. I did get a gold, though, and it's a dream I've had for the last four years.
The bronze medal for Canada is the first ever in women's luge, and coming back from out of the medals to win bronze was an emotional roller coaster for Gough.
"Coming across the line and seeing I was behind Dajana and knowing I'd need a little help was tough, I thought I had a good run and I'd put it together. I got the help I needed, so it was a huge turnaround to complete elation."
Hüfner missed bronze by .069 to finish fourth, while McRae and Hamlin rounded out the top six.
For McRae, a fifth place finish felt great.
"I don't know what I could have done differently on my runs. There was maybe a few errors, but those are going to happen. I'm really happy with my runs, I just kind of sent it knowing I could do it. I'm just really happy right now."
The sixth place for Erin Hamlin wraps up one of the greatest careers in USA Luge history. She was satisfied with the final race of her career, but had hoped for just a but more.
"I was just going for it. I wanted to end on a good solid run and clean it up. The issues I had in other runs I did clean up, but the issue I had on the final run was the typical Curve 9. I have no regrets, I wish I'd had four clean runs. It's one of the closest Olympic races I've been in, and it would have been nice to capitalize on the situation, but I have no regrets."
The two-heat Doubles Luge event is next on the Olympic sliding calendar, with the first run to kick off at 8:20 PM Korean time, 6:20 AM EST.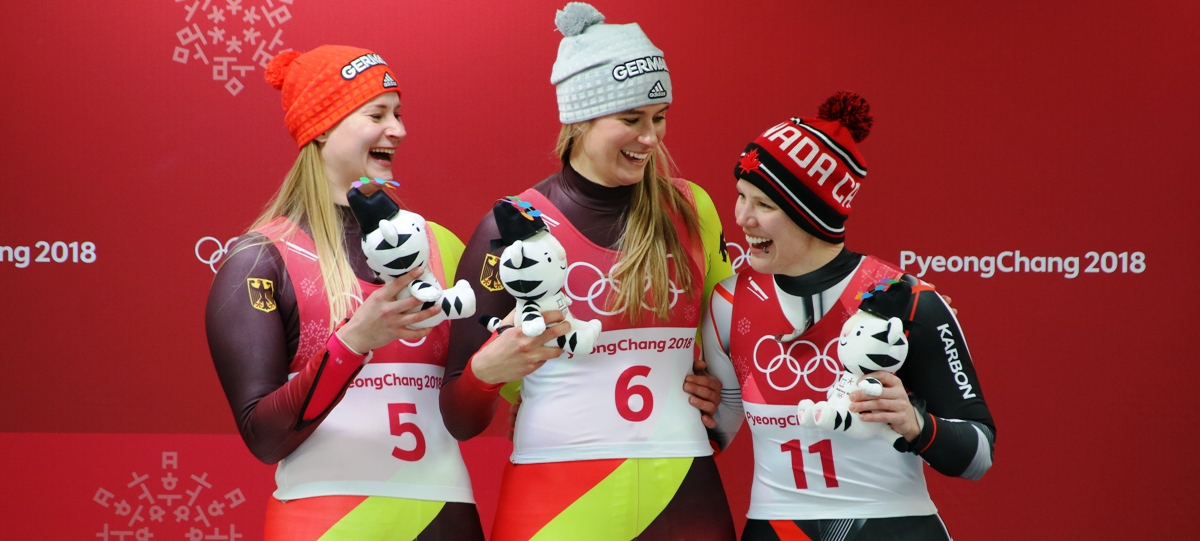 Results:
| | | | | | | | | |
| --- | --- | --- | --- | --- | --- | --- | --- | --- |
| Pos | Name | Nation | Bib | Run 1 | Run 2 | Run 3 | Run 4 | Total |
| 1 | Natalie Geisenberger | GER | 6 | 46.245 | 46.209 | 46.280 | 46.498 | 3:05.232 |
| 2 | Dajana Eitberger | GER | 5 | 46.381 | 46.193 | 46.577 | 46.448 | 3:05.599 |
| 3 | Alex Gough | CAN | 11 | 46.317 | 46.328 | 46.425 | 46.574 | 3:05.644 |
| 4 | Tatjana Hüfner | GER | 2 | 46.322 | 46.339 | 46.392 | 46.660 | 3:05.713 |
| 5 | Kimberley McRae | CAN | 7 | 46.339 | 46.449 | 46.480 | 46.610 | 3:05.878 |
| 6 | Erin Hamlin | USA | 1 | 46.357 | 46.333 | 46.506 | 46.716 | 3:05.912 |
| 7 | Raluca Stramaturaru | ROU | 22 | 46.469 | 46.532 | 46.606 | 46.681 | 3:06.288 |
| 8 | Aileen Frisch | KOR | 20 | 46.350 | 46.456 | 46.751 | 46.843 | 3:06.400 |
| 9 | Madeleine Egle | AUT | 15 | 46.726 | 46.464 | 46.541 | 46.696 | 3:06.427 |
| 10 | Andrea Vötter | ITA | 8 | 46.577 | 46.483 | 46.907 | 46.892 | 3:06.859 |
| 11 | Martina Kocher | SUI | 10 | 46.837 | 46.657 | 46.638 | 46.761 | 3:06.893 |
| 12 | Ulla Zirne | LAT | 16 | 46.471 | 46.409 | 47.327 | 46.895 | 3:07.102 |
| 13 | Brooke Apshkrum | CAN | 21 | 46.834 | 46.839 | 46.905 | 46.983 | 3:07.561 |
| 14 | Sandra Robatscher | ITA | 3 | 46.620 | 47.116 | 47.083 | 46.746 | 3:07.565 |
| 15 | Ekaterina Baturina | OAR | 13 | 47.122 | 46.700 | 46.675 | 47.122 | 3:07.619 |
| 16 | Eliza Cauce | LAT | 12 | 47.458 | 46.477 | 46.624 | 47.092 | 3:07.651 |
| 17 | Hannah Prock | AUT | 17 | 46.622 | 46.585 | 47.743 | 46.854 | 3:07.804 |
| 18 | Eunryung Sung | KOR | 24 | 46.918 | 46.851 | 47.205 | 47.276 | 3:08.250 |
| 19 | Summer Britcher | USA | 4 | 46.829 | 46.132 | 46.603 | 48.770 | 3:08.334 |
| 20 | Ewa Kuls-Kusyk | POL | 14 | 47.037 | 46.933 | 47.212 | | 2:21.182 |
| 21 | Olena Shkhumova | UKR | 30 | 46.950 | 46.844 | 47.751 | | 2:21.545 |
| 22 | Kendija Aparjode | LAT | 9 | 48.103 | 46.927 | 47.296 | | 2:22.326 |
| 23 | Katarina Simonakova | SVK | 27 | 47.428 | 47.606 | 47.538 | | 2:22.572 |
| 24 | Veronica Ravenna | ARG | 25 | 47.175 | 47.788 | 47.739 | | 2:22.702 |
| 25 | Natalia Wojtusciszyn | POL | 19 | 49.133 | 46.736 | 47.290 | | 2:23.159 |
| 26 | Tereza Noskova | CZE | 29 | 47.813 | 48.132 | 47.921 | | 2:23.866 |
| 27 | Daria Obratov | CRO | 26 | 48.615 | 48.252 | 48.686 | | 2:25.553 |
| 28 | Olena Stetskiv | UKR | 28 | 50.599 | 48.303 | 47.929 | | 2:26.831 |
| DNF | Birgit Platzer | AUT | 18 | 47.318 | DNF | | | |
| DNF | Emily Sweeney | USA | 23 | 46.595 | 46.960 | 46.917 | DNF | |