From Pyeongchang, KOR
Feb. 14, 2018 – For the second time in three races, a heavy favorite going into a luge event did not win a gold medal. This time, however, Germany still managed to win gold.
Toni Eggert & Sascha Benecken had won 10 of 13 available gold medals during the 2017/2018 FIL World Cup season, and seemed to be a lock for gold in Pyeongchang, having been atop the timing sheets all week in practice. Behind them were a tight field of doubles teams, but Eggert & Benecken had been the class of the field.
But that's why you race the races.
On their first run, just a slight mistake left Eggert & Benecken back in third place, behind defending gold medalists Tobais Wendl & Tobias Arlt and Austrians Peter Penz & Georg Fischler, with those three teams being the only three to break the 46 second mark.
Coming down on their second run Eggert & Benecken looked clean to the naked eye, seemingly putting the pressure on their German teammates and Austrian rivals.
Penz & Fischler answered with a blistering run of their own to stay ahead of Eggert & Benecken. Wendl & Arlt then came down, just .057 off their own track record to win their second gold medal in as many Olympics.
Much like Natalie Geisenberger the previous evening, Wendl & Arlt used the experience of winning a gold medal to their advantage.
"We were a lot more relaxed because we knew we already had a gold medal from Sochi," Arlt said. "We're just as happy with this medal as we were in Sochi."
Despite not winning, the Eggert & Benecken were thrilled with their finish.
"We're really happy with a bronze medal," Eggert said of their finish. "It's our first Olympic medal. We were able to do what we wanted to do on the track, and we're really happy."
For silver medalists Penz & Fischler, a crash early in official training proved to not be a setback going into their event.
Peter Penz said of their race: "The crash wasn't bad. They talk about Curve 9 being a big deal, but after Curve 9 there's 12 through 14 and that's where we crashed. The crash wasn't so bad, because we felt good in the first run, and matched that feeling in all of our later runs
Austrians Thomas Steu & Lorenz Koller finished fourth, moving up one spot on the strength of a fifth-fastest run in the second heat.
The Canadian luge program scored another great finish. Tristan Walker & Justin Snith finished  , to go with a sixth place finish in men's luge by Sam Edney and  bronze and fifth place medals in women's luge by Alex Gough and Kimberley McRae.
Latvian brothers Andris & Juris Sics finished sixth, ending their Olympic medal streak at two.
It was a very mixed day for the United States. Justin Krewson and Andrew Sherk put together two very clean runs to score an eighth place finish. Their teammates, Matt Mortensen & Jayson Terdiman, looked to be in contention for a medal after the first run, but struggled to find speed on their second trip down, finishing tenth overall.
Koreans Park inyong and Cho Jung Myung finished ninth on their home ice.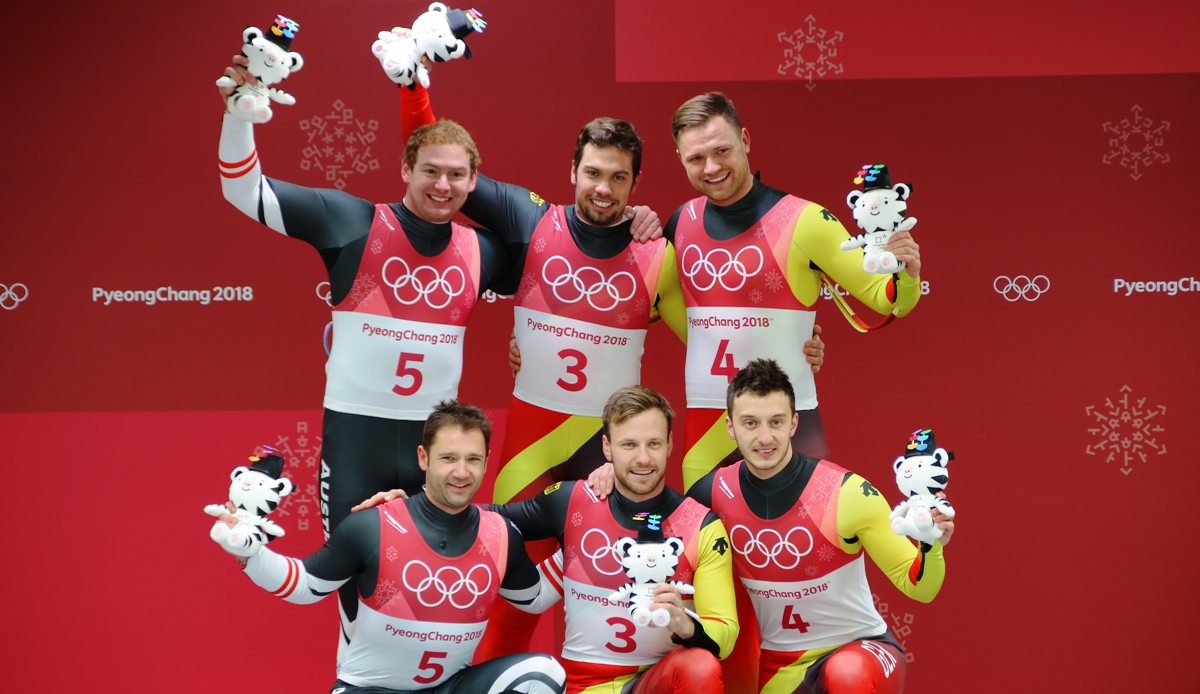 Results:
| | | | | | | |
| --- | --- | --- | --- | --- | --- | --- |
| Pos | Names | Nation | Bib | Run 1 | Run 2 | Total |
| 1 | Wendl / Arlt | GER | 3 | 45.820 | 45.877 | 1:31.697 |
| 2 | Penz / Fischler | AUT | 5 | 45.891 | 45.894 | 1:31.785 |
| 3 | Eggert / Benecken | GER | 4 | 45.931 | 46.056 | 1:31.987 |
| 4 | Steu / Koller | AUT | 12 | 46.172 | 46.112 | 1:32.284 |
| 5 | Walker / Snith | CAN | 9 | 46.134 | 46.235 | 1:32.369 |
| 6 | Sics / Sics | LAT | 2 | 46.336 | 46.106 | 1:32.442 |
| 7 | Nagler / Malleier | ITA | 11 | 46.320 | 46.243 | 1:32.563 |
| 8 | Krewson / Sherk | USA | 16 | 46.310 | 46.342 | 1:32.652 |
| 9 | Park / Cho | KOR | 18 | 46.396 | 46.276 | 1:32.672 |
| 10 | Mortensen / Terdiman | USA | 8 | 46.244 | 46.443 | 1:32.687 |
| 11 | Denisev / Antonov | OAR | 1 | 46.437 | 46.344 | 1:32.781 |
| 12 | Chmielewski / Kowalewski | POL | 7 | 46.609 | 46.478 | 1:33.087 |
| 13 | Broz / Broz | CZE | 14 | 46.570 | 46.582 | 1:33.152 |
| 14 | Gudramovics / Kalnins | LAT | 6 | 46.890 | 46.317 | 1:33.207 |
| 15 | Rieder / Rastner | ITA | 10 | 46.709 | 46.567 | 1:33.276 |
| 16 | Bogdanov / Medvedev | OAR | 15 | 47.160 | 46.402 | 1:33.562 |
| 17 | Solcansky / Stuchlak | SVK | 19 | 46.780 | 46.811 | 1:33.591 |
| 18 | Kvicala / Kudera | CZE | 20 | 46.818 | 46.910 | 1:33.728 |
| 19 | Atodiresei / Musei | ROU | 13 | 47.101 | 47.171 | 1:34.272 |
| 20 | Obolonchyk / Zakharkiv | UKR | 17 | 48.316 | 47.401 | 1:35.717 |