From Igls, AUT
(Nov. 24, 2018) – Natalie Geisenberger picked up where she left off at the 2018 Olympic Games, winning gold and leading a German sweep of the podium in Igls.
The 2018 Olympic double gold medalist trailed teammate Julia Taubitz coming into the second heat. While Geisenberger was nearly flawless, Taubitz made one small mistake at the start, giving Geisenberger the advantage and eventually a .036 second victory.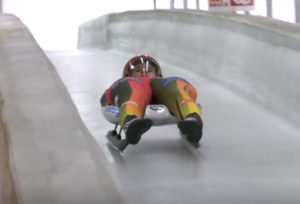 Taubitz and Tatjana Hüfner finished second and third, respectively, with Russian Tatyana Ivanova, Italian Andrea Vötter and American Summer Britcher rounding out the top six.
The middle of the pack saw some big moves, with Vötter moving up from tenth to fifth and Viktoriia Demchenko moving from 14th to 7th. The biggest mover of the event, though, was Dajana Eitberger. She struggled in her first run with two big skids both in and out of the Kreisel turn, leaving her 20th. Her second run was the fastest of the second heat, and moved her up 12 positions to eighth.
Like many of the national teams after an Olympics, the Canadian squad is looking at a rebuilding year for their women's program. The young Canadian women struggled to put two runs together, with Carolyn Maxwell leading the way in 19th with two relatively consistent runs.  Teammate Brooke Apshkrum finished one spot behind her in 20th, while Makena Hodgson crashed in her first World Cup run, finishing 28th.
For the Americans, Raychel Germaine just missed the top 15 and a slot in the Sprint World Cup race on Sunday by .007 seconds. She finished 16th, just a fraction of a second behind Latvian Eliza Cauce. Teammate Brittney Arndt finished one spot behind her in 17th.
Results:
| | | | | | | | | |
| --- | --- | --- | --- | --- | --- | --- | --- | --- |
| Pos | Name | Nation | Bib | Start 1 | Start 2 | Run 1 | Run 2 | Total |
| 1 | Natalie Geisenberger | GER | 28 | 2.122 | 2.131 | 39.769 | 39.850 | 1:19.619 |
| 2 | Julia Taubitz | GER | 21 | 2.129 | 2.141 | 39.745 | 39.910 | 1:19.655 |
| 3 | Tatjana Hüfner | GER | 24 | 2.105 | 2.097 | 39.892 | 39.993 | 1:19.885 |
| 4 | Tatyana Ivanova | RUS | 26 | 2.101 | 2.097 | 39.956 | 39.990 | 1:19.946 |
| 5 | Andrea Vötter | ITA | 22 | 2.109 | 2.109 | 40.032 | 39.962 | 1:19.994 |
| 6 | Summer Britcher | USA | 27 | 2.126 | 2.125 | 39.991 | 40.023 | 1:20.014 |
| 7 | Viktoriia Demchenko | RUS | 18 | 2.138 | 2.140 | 40.058 | 39.995 | 1:20.053 |
| 8 | Dajana Eitberger | GER | 23 | 2.125 | 2.127 | 40.215 | 39.843 | 1:20.058 |
| 9 | Kendija Aparjode | LAT | 19 | 2.140 | 2.135 | 40.019 | 40.082 | 1:20.101 |
| 10 | Birgit Platzer | AUT | 17 | 2.129 | 2.143 | 40.003 | 40.104 | 1:20.107 |
| 11 | Madeleine Egle | AUT | 12 | 2.099 | 2.105 | 40.061 | 40.065 | 1:20.126 |
| 12 | Ekaterina Baturina | RUS | 15 | 2.133 | 2.131 | 39.967 | 40.177 | 1:20.144 |
| 13 | Ekaterina Katnikova | RUS | 13 | 2.142 | 2.141 | 40.039 | 40.134 | 1:20.173 |
| 14 | Raluca Stramaturaru | ROU | 16 | 2.132 | 2.158 | 40.015 | 40.163 | 1:20.178 |
| 15 | Eliza Cauce | LAT | 20 | 2.125 | 2.122 | 40.035 | 40.153 | 1:20.188 |
| 16 | Raychel Germaine | USA | 8 | 2.133 | 2.138 | 40.051 | 40.144 | 1:20.195 |
| 17 | Brittney Arndt | USA | 11 | 2.131 | 2.138 | 40.079 | 40.140 | 1:20.219 |
| 18 | Ulla Zirne | LAT | 14 | 2.149 | 2.158 | 40.137 | 40.210 | 1:20.347 |
| 19 | Carolyn Maxwell | CAN | 7 | 2.134 | 2.137 | 40.155 | 40.258 | 1:20.413 |
| 20 | Brooke Apshkrum | CAN | 10 | 2.167 | 2.155 | 40.256 | 40.192 | 1:20.448 |
| 21 | Katarina Simonakova | SVK | 2 | 2.124 | 2.126 | 40.243 | 40.211 | 1:20.454 |
| 22 | Natalie Maag | SUI | 9 | 2.144 | 2.145 | 40.221 | 40.240 | 1:20.461 |
| 23 | Sandra Robatscher | ITA | 25 | 2.118 | 2.103 | 40.115 | 40.485 | 1:20.600 |
| 24 | Ewa Kuls-Kusyk | POL | 1 | 2.152 | 2.154 | 40.324 | 40.279 | 1:20.603 |
| 25 | Natalia Wojtusciszyn | POL | 5 | 2.163 | 2.153 | 40.357 | 40.255 | 1:20.612 |
| 26 | Anna Saulite | AUT | 4 | 2.164 | 2.156 | 40.351 | 40.265 | 1:20.616 |
| 27 | Kyla Marie Graham | CAN | 6 | 2.124 | 2.121 | 40.233 | 40.489 | 1:20.722 |
| 28 | Makena Hodgson | CAN | 3 | 2.137 | 2.156 | 75.882 | 40.663 | 1:56.545 |