From Igls, AUT
(Nov. 24, 2018) – Prior to the opening doubles race of the 2018/2019 FIL World Cup season, Olympic silver medalists Peter Penz & Georg Fischler took their retirement run down their home track in Igls. By the end of the doubles race, a changing of the guard had been completed.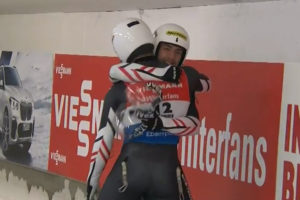 Austrian duo Thomas Steu & Lorenz Koller dominated a doubles race where many of the established contenders struggled, setting the fast time in both heats on their way to a .180 victory over 2018 Olympic bronze medalists Toni Eggert & Sascha Benecken. Russians Vladislav Yuzhakov & Iurii Prokhorov finished third.
The win for Steu & Koller was the team's first on the FIL World Cup circuit.
Eggert & Benecken were the only German team to not have issues. The other two German duos of Geueke & Gamm and Wendl & Arlt failed to make it down the Igls track without problem, with Wendl & Arlt finishing sixth and Geueke & Gamm eighth.
Tristan Walker & Justin Snith struggled in the World Cup opener. The Canadian duo couldn't find their rhythm at the top, making mistakes at the start in both heats on their way to an 11th place finish.
Singles Olympic bronze medalist Chris Mazdzer had last raced in doubles as a junior with Jayson Terdiman years ago. They've re-teamed up as a duo and didn't look to miss a beat, finishing ninth in their World Cup debut and qualifying for the Sprint World Cup race on Sunday.
Mazdzer will also race in the men's race on Sunday.
Results:
| | | | | | | | | |
| --- | --- | --- | --- | --- | --- | --- | --- | --- |
| Pos | Names | Nation | Bib | Start 1 | Start 2 | Run 1 | Run 2 | Total |
| 1 | Steu / Koller | AUT | 12 | 2.060 | 2.055 | 39.793 | 39.683 | 1:19.476 |
| 2 | Eggert / Benecken | GER | 21 | 2.053 | 2.057 | 39.796 | 39.860 | 1:19.656 |
| 3 | Yuzhakov / Prokhorov | RUS | 15 | 2.049 | 2.054 | 39.826 | 39.932 | 1:19.758 |
| 4 | Putins / Marcinkevics | LAT | 11 | 2.063 | 2.054 | 39.923 | 39.962 | 1:19.885 |
| 5 | Sics / Sics | LAT | 20 | 2.059 | 2.043 | 40.167 | 39.801 | 1:19.968 |
| 6 | Wendl / Arlt | GER | 18 | 2.065 | 2.052 | 40.140 | 39.852 | 1:19.992 |
| 7 | Chmielewski / Kowalewski | POL | 14 | 2.074 | 2.069 | 40.030 | 39.984 | 1:20.014 |
| 8 | Geueke / Gamm | GER | 16 | 2.084 | 2.102 | 40.042 | 40.019 | 1:20.061 |
| 9 | Mazdzer / Terdiman | USA | 9 | 2.101 | 2.099 | 40.086 | 40.062 | 1:20.148 |
| 10 | Gitlan / Craciun | ROU | 3 | 2.107 | 2.103 | 40.341 | 40.127 | 1:20.468 |
| 11 | Walker / Snith | CAN | 17 | 2.027 | 2.042 | 40.161 | 40.326 | 1:20.487 |
| 12 | Vavercak / Zmij | SVK | 7 | 2.059 | 2.060 | 40.338 | 40.223 | 1:20.561 |
| 13 | Park / Kang | KOR | 8 | 2.061 | 2.066 | 40.433 | 40.201 | 1:20.634 |
| 14 | Hoi / Levkovych | UKR | 6 | 2.124 | 2.166 | 40.409 | 40.674 | 1:21.083 |
| 15 | Gudramovics / Kalnins | LAT | 19 | 2.154 | 2.110 | 40.201 | 40.977 | 1:21.178 |
| 16 | Nagler / Malleier | ITA | 22 | 2.114 | 2.111 | 42.088 | 39.873 | 1:21.961 |
| 17 | Vejdelek / Pekny | CZE | 1 | 2.109 | 2.128 | 41.246 | 40.770 | 1:22.016 |
| 18 | Rosen / Kibble | GBR | 4 | 2.206 | 2.203 | 41.100 | 41.014 | 1:22.114 |
| 19 | Stakhiv / Lysetskyy | UKR | 2 | 2.194 | 2.185 | 41.025 | 41.207 | 1:22.232 |
| 20 | Kashkin / Korshunov | RUS | 10 | 2.060 | 2.073 | 40.102 | 42.167 | 1:22.269 |
| 21 | Rieder / Rastner | ITA | 13 | 2.039 | 2.025 | 39.981 | 39.906 | 1:39.187 |