From Whistler, CAN
(Nov. 30, 2018) – Coming into the second heat of the FIL World Cup doubles race in Whistler, Thomas Steu & Lorenz Koller had been the fast team in every heat. That changed on their second run, and the result was a German sweep of the podium.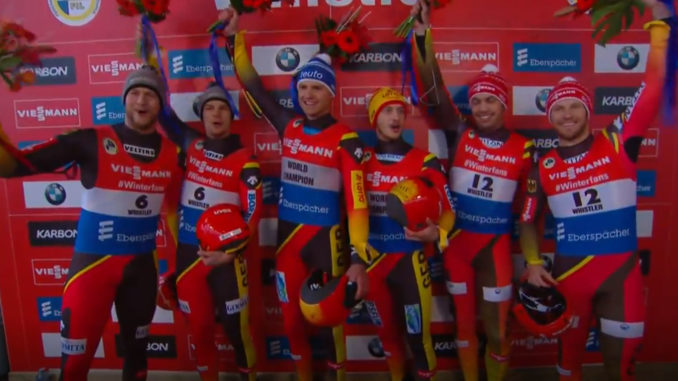 The Austrian duo had a very sloppy second run, putting down the 11th fastest run of the heat to drop from first to fourth, allowing all three German doubles teams to move up ahead of them. Olympic bronze medalists Toni Eggert (sliding on a broken leg) and Sascha Benecken won gold to lead Germany, with Robin Geueke & David Gamm finishing ahead of Tobias Wendl & Tobias Arlt to round out the podium.
Despite finishing third, Wendl & Arlt set the fastest ever one-heat time in Whistler, with a 38.292 downtime. The previous track record coming into the race was 36.347, also set by Wendl & Arlt.
Steu & Koller hung on for fourth, just .001 ahead of Canadians Tristan Walker & Justin Snith. Latvians Andris & Juris Sics rounded out the top six.
American duo Chris Mazdzer & Jayson Terdiman came into the second heat in the fifth position behind the Germans and Steu & Koller. They lost a bit of ground on their second run and fell back to seventh in their second World Cup race as a team.
Results:
| | | | | | | | | |
| --- | --- | --- | --- | --- | --- | --- | --- | --- |
| Pos | Names | Nation | Bib | Start 1 | Start 2 | Run 1 | Run 2 | Total |
| 1 | Eggert / Benecken | GER | 13 | 3.259 | 3.263 | 38.386 | 38.305 | 1:16.691 |
| 2 | Geueke / Gamm | GER | 6 | 3.270 | 3.277 | 38.403 | 38.307 | 1:16.710 |
| 3 | Wendl / Arlt | GER | 12 | 3.265 | 3.260 | 38.428 | 38.292 | 1:16.720 |
| 4 | Steu / Koller | AUT | 15 | 3.301 | 3.300 | 38.351 | 38.523 | 1:16.874 |
| 5 | Walker / Snith | CAN | 9 | 3.275 | 3.270 | 38.507 | 38.368 | 1:16.875 |
| 6 | Sics / Sics | LAT | 14 | 3.302 | 3.295 | 38.534 | 38.398 | 1:16.932 |
| 7 | Mazdzer / Terdiman | USA | 4 | 3.315 | 3.296 | 38.502 | 38.448 | 1:16.950 |
| 8 | Kashkin / Korshunov | RUS | 5 | 3.304 | 3.285 | 38.617 | 38.369 | 1:16.986 |
| 9 | Rieder / Rastner | ITA | 11 | 3.265 | 3.264 | 38.566 | 38.475 | 1:17.041 |
| 10 | Yuzhakov / Prokhorov | RUS | 10 | 3.317 | 3.302 | 38.553 | 38.521 | 1:17.074 |
| 11 | Putins / Marcinkevics | LAT | 8 | 3.281 | 3.278 | 38.617 | 38.501 | 1:17.118 |
| 12 | Chmielewski / Kowalewski | POL | 7 | 3.276 | 3.277 | 38.600 | 38.556 | 1:17.156 |
| 13 | Gitlan / Craciun | ROU | 1 | 3.339 | 3.335 | 39.108 | 38.976 | 1:18.084 |
| 14 | Park / Kang | KOR | 3 | 3.354 | 3.311 | 39.442 | 38.908 | 1:18.350 |
| 15 | Vejdelek / Pekny | CZE | 2 | 3.425 | 3.433 | 39.517 | 39.693 | 1:19.210 |