From Lake Placid, USA
(Dec. 15, 2018) – Toni Eggert & Sascha Benecken cruised to doubles luge victory in Lake Placid, beating teammates Tobias Wendl & Tobias Arlt in the process.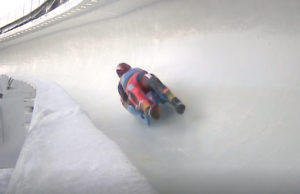 Eggert & Benecken became the winners of five straight doubles World Cup in Lake Placid on the strength of the quickest run in both heats. The duo came within .002 of having the two quickest runs of the whole event, with their first run clocking in just behind the quicker of the two runs set by Wendl & Arlt.
Wendl & Arlt, the silver medalists, faced little to no pressure for second position. World Cup leaders Thomas Steu & Lorenz Koller finished well behind Wendl & Arlt in third.
Rounding out the top six were Andris & Juris Sics of Latvia, Tristan Walker & Justin Snith of Canada and Chris Mazdzer & Jayson Terdiman of the United States.
Mazdzer & Terdiman moved up from seventh to sixth in their second run. The race was the second of the day for Chris Mazdzer, who finished fourth in the men's luge event earlier in the morning.
Results:
| | | | | | | | | |
| --- | --- | --- | --- | --- | --- | --- | --- | --- |
| Pos | Names | Nation | Bib | Start 1 | Start 2 | Run 1 | Run 2 | Total |
| 1 | Eggert / Benecken | GER | 14 | 6.259 | 6.247 | 43.864 | 43.628 | 1:27.492 |
| 2 | Wendl / Arlt | GER | 9 | 6.236 | 6.233 | 43.950 | 43.862 | 1:27.812 |
| 3 | Steu / Koller | AUT | 12 | 6.282 | 6.259 | 44.077 | 43.955 | 1:28.032 |
| 4 | Sics / Sics | LAT | 13 | 6.296 | 6.295 | 44.169 | 44.032 | 1:28.201 |
| 5 | Walker / Snith | CAN | 5 | 6.266 | 6.273 | 44.295 | 44.063 | 1:28.358 |
| 6 | Mazdzer / Terdiman | USA | 3 | 6.348 | 6.362 | 44.305 | 44.123 | 1:28.428 |
| 7 | Chmielewski / Kowalewski | POL | 4 | 6.279 | 6.227 | 44.469 | 44.426 | 1:28.895 |
| 8 | Yuzhakov / Prokhorov | RUS | 10 | 6.330 | 6.353 | 44.330 | 44.643 | 1:28.973 |
| 9 | Geueke / Gamm | GER | 11 | 6.313 | 6.317 | 44.442 | 44.558 | 1:29.000 |
| 10 | Putins / Marcinkevics | LAT | 8 | 6.314 | 6.301 | 44.721 | 44.324 | 1:29.045 |
| 11 | Rieder / Rastner | ITA | 7 | 6.295 | 6.280 | 44.629 | 44.563 | 1:29.192 |
| 12 | Vejdelek / Pekny | CZE | 2 | 6.510 | 6.503 | 46.390 | 46.431 | 1:32.821 |
| 13 | Kashkin / Korshunov | RUS | 6 | 6.291 | 6.289 | 44.301 | 53.739 | 1:38.040 |
| DNF | Stakhiv / Lysetskyy | UKR | 1 | 6.595 | | DNF | DNF | DNF |