From Königssee, GER
(Jan. 6, 2019) – It had snowed all weekend in Königssee, with both the doubles race and women's race held in what could be considered "questionable" conditions. The men's race looked to be no different, with snow falling over the course of the entire first run.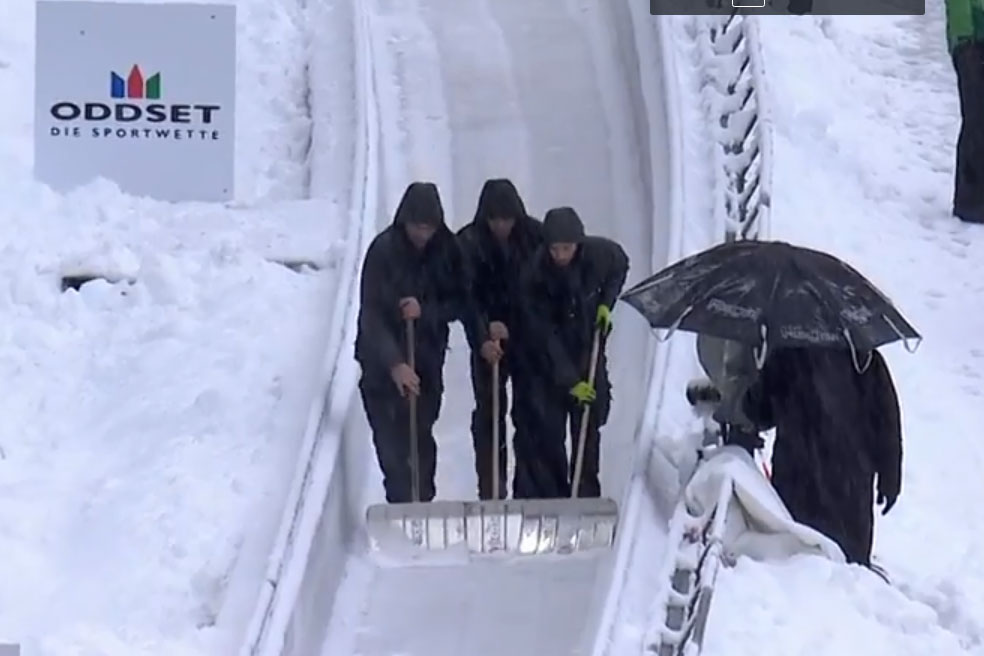 The second run saw more, seemingly heavier snow. Unlike the women's race, however, the FIL jury decided to cancel the second heat after David Gleirscher's second run was nearly a half-second quicker than Max Langenhan's, despite Langenhan having a seemingly clean run.
With the second run being canceled, the gold medal went to first heat leader Reinhard Egger. The gold was Egger's first of his career, though Egger has shown signs of life this season with a pair of bronze medal World Cup runs (Whistler and Lake Placid).
Domink Fischnaller of Italy finished with a silver medal, while Germany's Sebastian Bley finished with a World Cup career-best bronze medal.
Austria's Jonas Müller, Russia's Roman Repilov, and Chris Eißler of Germany rounded out the top six.
The race had a feel where the Americans could possibly work their way into the top six if the track sweeps had gone their way. Tucker West and Chris Mazdzer both were in the top ten after one run, with West finishing eighth and Mazdzer ninth, both just ahead of Felix Loch of Germany in tenth.
Jonny Gustafson finished 13th on the third American sled, while Reid Watts, the lone Canadian in the field, finished 26th.
Results:
| | | | | | |
| --- | --- | --- | --- | --- | --- |
| Pos | Name | Nation | Bib | Start 1 | Run 1 |
| 1 | Reinhard Egger | AUT | 31 | 3.324 | 50.084 |
| 2 | Dominik Fischnaller | ITA | 22 | 3.296 | 50.104 |
| 3 | Sebastian Bley | GER | 18 | 3.326 | 50.192 |
| 4 | Jonas Mueller | AUT | 25 | 3.317 | 50.232 |
| 5 | Roman Repilov | RUS | 29 | 3.318 | 50.277 |
| 6 | Chris Eißler | GER | 19 | 3.303 | 50.282 |
| 7 | Inars Kivlenieks | LAT | 17 | 3.283 | 50.323 |
| 8 | Tucker West | USA | 20 | 3.289 | 50.327 |
| 9 | Chris Mazdzer | USA | 21 | 3.330 | 50.338 |
| 10 | Felix Loch | GER | 26 | 3.291 | 50.341 |
| 11 | Wolfgang Kindl | AUT | 27 | 3.332 | 50.362 |
| 12 | Kevin Fischnaller | ITA | 23 | 3.340 | 50.406 |
| 13 | Jonathan Gustafson | USA | 16 | 3.317 | 50.411 |
| 14 | Armin Frauscher | AUT | 12 | 3.314 | 50.455 |
| 15 | Max Langenhan | GER | 14 | 3.331 | 50.581 |
| 16 | Kristers Aparjods | LAT | 15 | 3.328 | 50.593 |
| 17 | Stepan Fedorov | RUS | 13 | 3.332 | 50.599 |
| 18 | David Gleirscher | AUT | 28 | 3.288 | 50.602 |
| 19 | Valentin Cretu | ROU | 3 | 3.323 | 50.735 |
| 20 | Johannes Ludwig | GER | 30 | 3.295 | 50.804 |
| 21 | Maksim Aravin | RUS | 24 | 3.374 | 50.932 |
| 22 | Arturs Darznieks | LAT | 7 | 3.346 | 50.945 |
| 23 | Maciej Kurowski | POL | 10 | 3.409 | 51.159 |
| 24 | Aleksandr Gorbatcevich | RUS | 11 | 3.339 | 51.198 |
| 25 | Riks Rozitis | LAT | 9 | 3.401 | 51.202 |
| 26 | Reid Watts | CAN | 8 | 3.328 | 51.239 |
| 27 | Semen Pavlichenko | RUS | 32 | 3.303 | 51.286 |
| 28 | Svante Kohala | SWE | 2 | 3.404 | 51.354 |
| 29 | Anton Dukach | UKR | 6 | 3.350 | 51.505 |
| 30 | Theodor Turea | ROU | 5 | 3.336 | 51.600 |
| 31 | Andriy Mandziy | UKR | 4 | 3.340 | 51.784 |
| 32 | Ziga Birus | SLO | 1 | 3.402 | 51.918 |