From Sigulda, LAT
(Jan. 13, 2019) – Semen Pavlichenko dominated in Sigulda, setting the quick time in both heats on his way to victory.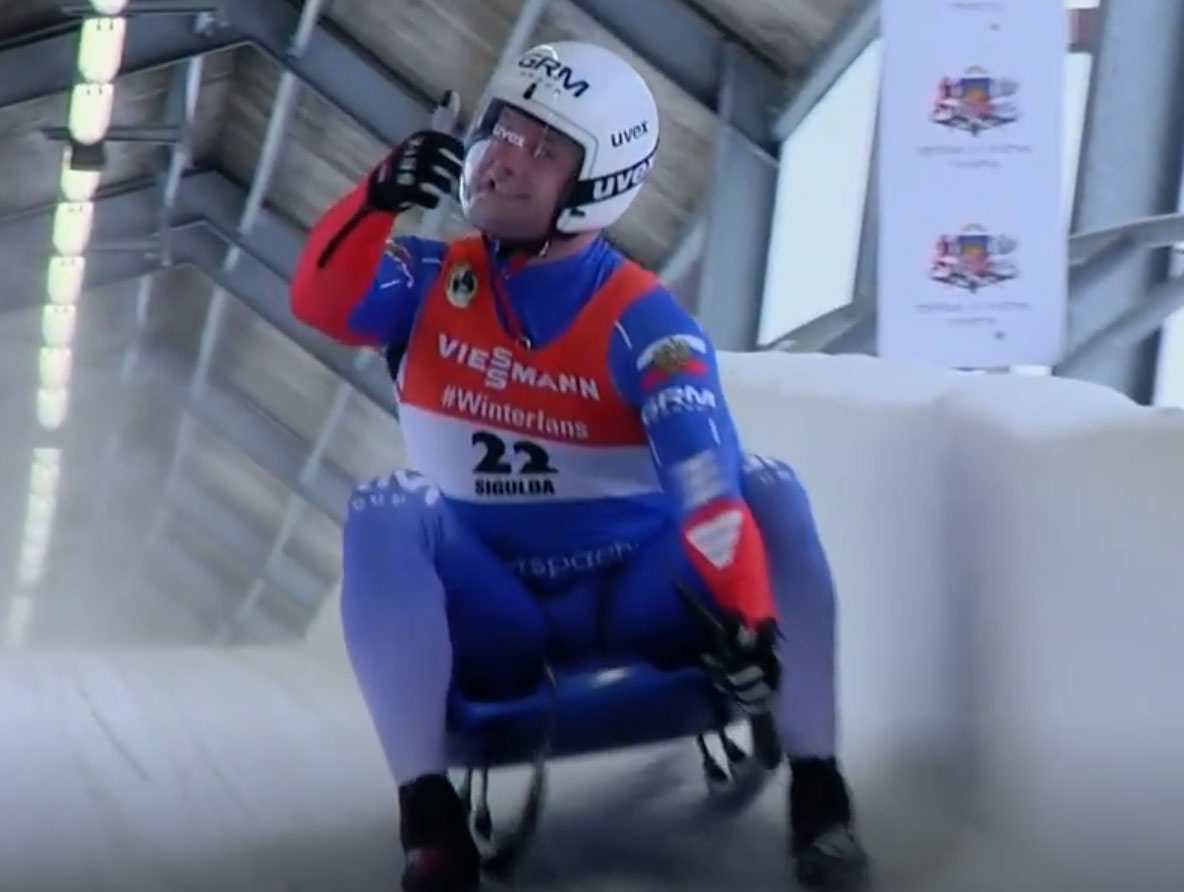 The Russian was quickest off the start in his second run, and smooth all the way through in his way to his seventh career FIL World Cup win.
Pavlichenko's teammate Aleksandr Gorbatcevich finished second despite only a fourth quickest run in the second head, beating out Olympic gold medalist David Gleirscher.
Kristers Aparjods just missed out on a medal on his home ice with a fourth place run. The Latvian came into the second heat in the bronze medal position, but one skid mid-run was enough to fall out of the top three.
Jozef Ninis and Dominik Fischnaller rounded out the top six.
Much like for their bobsled and skeleton brethren, the American men will be glad to be out of Sigulda. Chris Mazdzer was the top finishing American in 13th place. Jonny Gustafson finished 20th, while Tucker West finished 22nd. West had trouble in his first run, but put down the seventh quickest run in the second heat to move up from 27th to 22nd.
Results:
| | | | | | | | | |
| --- | --- | --- | --- | --- | --- | --- | --- | --- |
| Pos | Name | Nation | Bib | Start 1 | Start 2 | Run 1 | Run 2 | Total |
| 1 | Semen Pavlichenko | RUS | 22 | 4.593 | 4.558 | 48.122 | 47.952 | 1:36.074 |
| 2 | Aleksandr Gorbatcevich | RUS | 13 | 4.621 | 4.615 | 48.153 | 48.109 | 1:36.262 |
| 3 | David Gleirscher | AUT | 24 | 4.613 | 4.602 | 48.262 | 48.076 | 1:36.338 |
| 4 | Krsters Aparjods | LAT | 17 | 4.630 | 4.615 | 48.259 | 48.138 | 1:36.397 |
| 5 | Jozef Ninis | SVK | 14 | 4.682 | 4.707 | 48.343 | 48.203 | 1:36.546 |
| 6 | Dominik Fischnaller | ITA | 28 | 4.634 | 4.626 | 48.471 | 48.080 | 1:36.551 |
| 7 | Reinhard Egger | AUT | 26 | 4.674 | 4.628 | 48.350 | 48.208 | 1:36.558 |
| 8 | Inars Kivlenieks | LAT | 16 | 4.592 | 4.490 | 48.351 | 48.268 | 1:36.619 |
| 9 | Felix Loch | GER | 32 | 4.609 | 4.581 | 48.533 | 48.173 | 1:36.706 |
| 10 | Wolfgang Kindl | AUT | 18 | 4.659 | 4.664 | 48.524 | 48.201 | 1:36.725 |
| 11 | Maksim Aravin | RUS | 15 | 4.687 | 4.676 | 48.354 | 48.411 | 1:36.765 |
| 12 | Johannes Ludwig | GER | 29 | 4.607 | 4.591 | 48.570 | 48.240 | 1:36.810 |
| 13 | Chris Mazdzer | USA | 23 | 4.640 | 4.627 | 48.501 | 48.320 | 1:36.821 |
| 14 | Riks Rozitis | LAT | 10 | 4.770 | 4.714 | 48.587 | 48.247 | 1:36.834 |
| 15 | Max Langenhan | GER | 25 | 4.605 | 4.612 | 48.538 | 48.347 | 1:36.885 |
| 16 | Stepan Fedorov | RUS | 12 | 4.623 | 4.612 | 48.552 | 48.390 | 1:36.942 |
| 17 | Jonas Müller | AUT | 31 | 4.649 | 4.636 | 48.711 | 48.245 | 1:36.956 |
| 18 | Arturs Darznieks | LAT | 3 | 4.657 | 4.653 | 48.544 | 48.420 | 1:36.964 |
| 19 | Chris Eißler | GER | 19 | 4.609 | 4.599 | 48.494 | 48.566 | 1:37.060 |
| 20 | Jonathan Gustafson | USA | 11 | 4.617 | 4.593 | 48.747 | 48.339 | 1:37.086 |
| 21 | Kevin Fischnaller | ITA | 20 | 4.642 | 4.658 | 48.769 | 48.325 | 1:37.094 |
| 22 | Tucker West | USA | 21 | 4.579 | 4.569 | 48.950 | 48.201 | 1:37.151 |
| 23 | Valentin Cretu | ROU | 4 | 4.644 | 4.614 | 48.628 | 48.593 | 1:37.221 |
| 24 | Sebastian Bley | GER | 27 | 4.622 | 4.634 | 48.794 | 48.595 | 1:37.389 |
| 25 | Nico Gleirscher | AUT | 8 | 4.621 | 4.669 | 48.775 | 48.687 | 1:37.462 |
| 26 | Maciej Kurowski | POL | 7 | 4.708 | 4.690 | 48.877 | 48.605 | 1:37.482 |
| 27 | Andriy Mandziy | UKR | 9 | 4.637 | 4.652 | 48.873 | 48.820 | 1:37.693 |
| 28 | Anton Dukach | UKR | 6 | 4.680 | 4.651 | 49.026 | 48.815 | 1:37.841 |
| 29 | Svante Kohala | SWE | 5 | 4.712 | 4.704 | 49.716 | 49.396 | 1:39.112 |
| 30 | Pavel Rusinov Angelov | BUL | 1 | 4.896 | 4.885 | 49.680 | 50.581 | 1:40.261 |
| DNF | Theodor Turea | ROU | 2 | 4.678 | | DNF | | |
| DSQ | Roman Repilov | RUS | 30 | | | DSQ | | |