From Winterberg, GER
(Jan. 26, 2019) – Toni Eggert and Sascha Benecken came from behind to win their second straight FIL World Championship.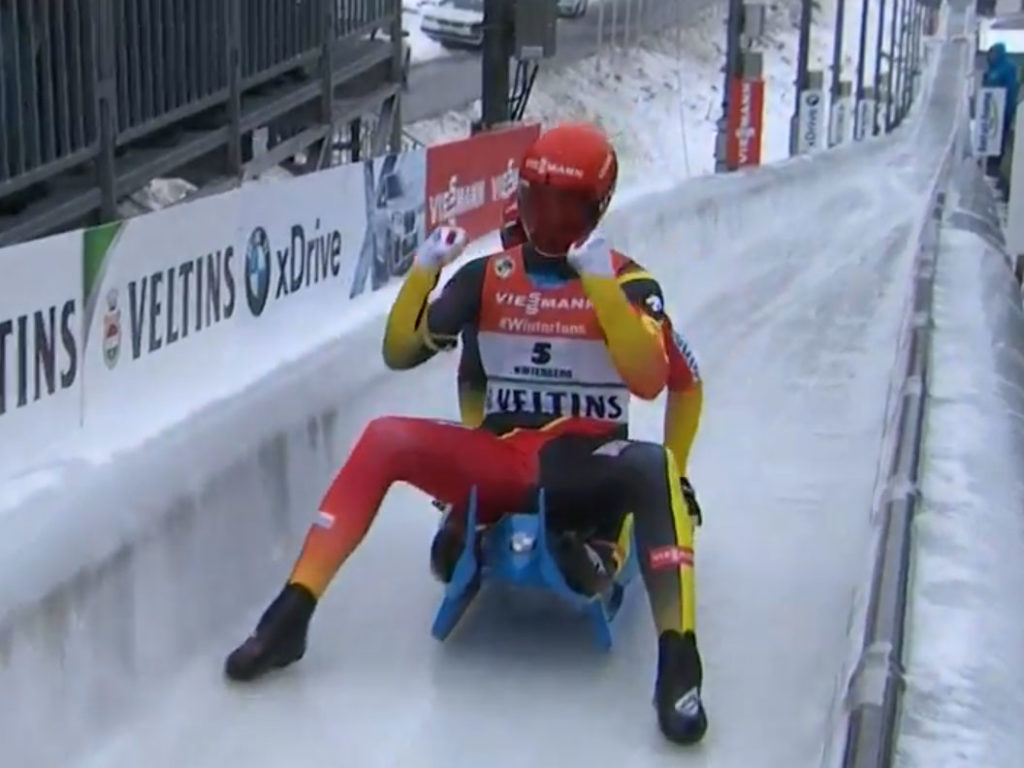 Eggert & Benecken sat just behind Tobias Wendl & Tobias Arlt going into the second run. As the rain fell in Winterberg, Eggert & Benecken had a near-flawless run. Wendl & Arlt tried to answer, but couldn't match the pace of their teammates. Eggert & Benecken took gold, ahead of Wendl & Arlt and Thomas Steu & Lorenz Koller, who finished second and third.
Latvians Oskars Gudramovics & Peteris Kalnins and Andris & Juris Sics finished fourth and fifth, while Ludwig Rieder & Patrick Rastner finished sixth.
The gold is the fourth straight World Championship gold for Eggert & Benecken. The won gold in both the doubles event in Igls in 2017, and were a part of the team relay squad who won gold the next day. They also won the 2019 Sprint World Championships a day prior to their doubles win.
A day into the 2019 World Championships, American Chris Mazdzer came down with a neck injury which kept he and teammate Jayson Terdiman out of eight days of practice. The duo came into the race well behind everyone else in terms of track time, but managed to hang on to an 11th place finish.
Canadians Tristan Walker and Justin Snith were disqualified for being overweight.
Results:
| | | | | | | | | |
| --- | --- | --- | --- | --- | --- | --- | --- | --- |
| Pos | Names | Nation | Bib | Start 1 | Start 2 | Run 1 | Run 2 | Total |
| 1 | Eggert / Benecken | GER | 5 | 2.991 | 3.004 | 43.643 | 43.613 | 1:27.256 |
| 2 | Wendl / Arlt | GER | 4 | 3.004 | 3.019 | 43.604 | 43.730 | 1:27.334 |
| 3 | Steu / Koller | AUT | 3 | 3.036 | 3.035 | 43.670 | 43.727 | 1:27.397 |
| 4 | Gudramovics / Kalnins | LAT | 1 | 3.091 | 3.054 | 43.768 | 43.650 | 1:27.418 |
| 5 | Sics / Sics | LAT | 2 | 3.034 | 3.035 | 43.682 | 43.770 | 1:27.452 |
| 6 | Rieder / Rastner | ITA | 6 | 3.024 | 3.029 | 43.796 | 43.756 | 1:27.552 |
| 7 | Yuzhakov / Prokhorov | RUS | 7 | 3.072 | 3.061 | 43.843 | 43.773 | 1:27.617 |
| 8 | Chmielewski / Kowalewski | POL | 10 | 3.038 | 3.053 | 43.857 | 43.810 | 1:27.667 |
| 9 | Putins / Marcinkevics | LAT | 8 | 3.031 | 3.040 | 43.823 | 43.868 | 1:27.691 |
| 10 | Kashkin / Korshunov | RUS | 11 | 3.046 | 3.035 | 43.938 | 43.780 | 1:27.718 |
| 11 | Mazdzer / Terdiman | USA | 9 | 3.078 | 3.089 | 43.890 | 43.830 | 1:27.720 |
| 12 | Denisev / Antonov | RUS | 16 | 3.057 | 3.047 | 44.032 | 43.743 | 1:27.775 |
| 13 | Nagler / Malleier | ITA | 13 | 3.074 | 3.043 | 44.185 | 43.713 | 1:27.898 |
| 14 | Geueke / Gamm | GER | 12 | 3.021 | 3.017 | 44.243 | 43.811 | 1:28.054 |
| 15 | Park / Kang | KOR | 15 | 3.093 | 3.067 | 44.332 | 44.113 | 1:28.445 |
| 16 | Rieder / Kainzwaldner | ITA | 20 | 3.056 | 3.056 | 44.197 | 44.265 | 1:28.462 |
| 17 | Gitlan / Craciun | ROU | 21 | 3.127 | 3.110 | 45.199 | 44.564 | 1:29.763 |
| 18 | Staudinger / Kibble | GBR | 19 | 3.250 | 3.262 | 45.132 | 45.475 | 1:30.607 |
| 19 | Stakhiv / Lysetskyy | UKR | 17 | 3.121 | | 49.950 | | |
| DNF | Vejdelek / Pekny | CZE | 18 | 3.127 | | DNF | | |
| DSQ | Walker / Snith | CAN | 14 | | | DSQ | | |