From Calgary, CAN
(Feb. 22, 2019) – Alexander Tretiakov and Sungbin Yun came into the penultimate men's skeleton World Cup race separated by 24 points. By the time Tretiakov crossed the finish line on his second run, that separation had grown.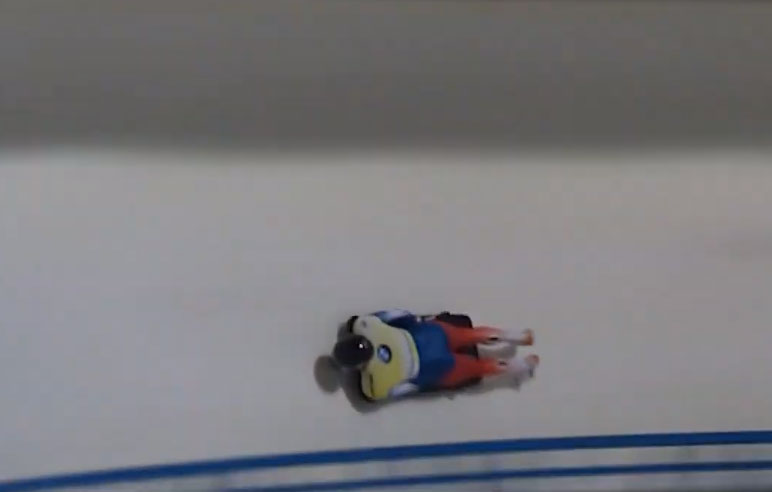 As the Calgary air grew colder with every slider who came down in the second heat, speeds picked up on the 1988 Olympic track. Yun put down a run within .09 seconds of the track record to put the pressure on both Tretiakov and Martins Dukurs. Dukurs couldn't answer, falling from second to third overall, and giving Yun a chance at gold.
The Russian Rocket was sloppy on his second run, and for a moment it seemed as though Yun would pick him off as well. Tretiakov found speed toward the bottom despite a big skid out of Kreisel, and it was enough to hold on to gold.
The win was the fourth of the season for Tretiakov, and put him 39 points ahead of Yun going into the World Cup finale on Sunday.
Martins Dukurs finished third. His bronze medal was the first non-gold the Latvian won in the last five World Cup stops in Calgary.
Tomass Dukurs, fresh off his first missed World Cup start since 2009, finished fourth, ahead of Nikita Tregubov in fifth. Canada's Dave Greszczyszyn finished with a season-best sixth place finish.
Austin Florian led the way for the United States, missing out on a top ten by a spot in 11th. Greg West moved up to 14th from 18th on his second run, while Kyle Brown just missed out on the second heat in 21st.
Great Britain's Marcus Wyatt continued a strong North American swing with an eighth place finish. Jerry Rice finished 15th, and Jack Thomas 18th to round out the British effort.
Kevin Boyer finished tenth as the second Canadian in the field.
Results: 
| | | | | | | | | |
| --- | --- | --- | --- | --- | --- | --- | --- | --- |
| Pos | Name | Nation | Bib | Start 1 | Start 2 | Run 1 | Run 2 | Total |
| 1 | Alexander Tretiakov | RUS | 6 | 4.83 | 4.80 | 55.85 | 55.50 | 1:51.35 |
| 2 | Sungbin Yun | KOR | 13 | 4.88 | 4.87 | 56.08 | 55.40 | 1:51.48 |
| 3 | Martins Dukurs | LAT | 9 | 4.85 | 4.87 | 55.89 | 55.62 | 1:51.51 |
| 4 | Tomass Dukurs | LAT | 7 | 4.96 | 4.95 | 56.25 | 55.77 | 1:52.02 |
| 5 | Nikita Tregubov | RUS | 5 | 4.98 | 4.96 | 56.32 | 56.06 | 1:52.38 |
| 6 | David Greszczyszyn | CAN | 1 | 5.10 | 5.11 | 56.43 | 56.01 | 1:52.44 |
| 7 | Axel Jungk | GER | 12 | 4.89 | 4.86 | 56.54 | 55.93 | 1:52.47 |
| 8 | Marcus Wyatt | GBR | 8 | 4.84 | 4.82 | 56.58 | 56.10 | 1:52.68 |
| 9 | Christopher Grotheer | GER | 14 | 4.95 | 4.99 | 56.61 | 56.11 | 1:52.72 |
| 10 | Kevin Boyer | CAN | 19 | 4.96 | 4.97 | 56.75 | 56.14 | 1:52.89 |
| 11 | Austin Florian | USA | 2 | 4.89 | 4.86 | 56.66 | 56.30 | 1:52.96 |
| 12 | Vladyslav Heraskevych | UKR | 4 | 5.20 | 5.19 | 56.79 | 56.45 | 1:53.24 |
| 13 | Wenqiang Geng | CHN | 3 | 5.17 | 5.17 | 56.99 | 56.34 | 1:53.33 |
| 14 | Greg West | USA | 18 | 5.11 | 5.10 | 57.03 | 56.57 | 1:53.60 |
| 15 | Jerry Rice | GBR | 15 | 4.89 | 4.85 | 56.98 | 56.63 | 1:53.61 |
| 16 | Florian Auer | AUT | 11 | 5.16 | 5.17 | 56.88 | 56.74 | 1:53.62 |
| 17 | Vladislav Marchenkov | RUS | 17 | 5.14 | 5.07 | 57.06 | 56.64 | 1:53.70 |
| 18 | Jack Thomas | GBR | 21 | 4.94 | 4.94 | 56.99 | 56.86 | 1:53.85 |
| 19 | Ronald Auderset | SUI | 20 | 4.96 | 4.98 | 57.09 | 56.78 | 1:53.87 |
| 20 | Kilian von Schleinitz | GER | 10 | 4.96 | 4.93 | 56.63 | 57.32 | 1:53.95 |
| 21 | Kyle Brown | USA | 16 | 5.00 | | 57.44 | | |
| 22 | Alexander Hanssen | NOR | 22 | 5.01 | | 57.75 | | |
| 23 | Ander Mirambell | ESP | 23 | 5.42 | | 57.83 | | |
| 24 | Mihai Pacioianu | ROU | 24 | 5.13 | | 58.87 | | |