From Whistler, CAN
(Mar. 2, 2019) – The 2018/2019 season has been nothing short of amazing for Francesco Friedrich. He became the first bobsled pilot to ever sweep an eight-race World Cup season, and won 13 of 16 World Cup races across both bobsled disciplines.
On Saturday night he tied another record, winning his fifth consecutive 2-man bobsled World Championship becoming the only man not named "Eugenio Monti" to do so.
Friedrich came into the second day of sliding as the leader by just over a tenth of a second ahead of Justin Kripps after taking the lead from Kripps in the second run. In the third run Friedrich out-pushed Kripps by a tenth, and was quicker overall by .15 to give him a .27 advantage going into the final run.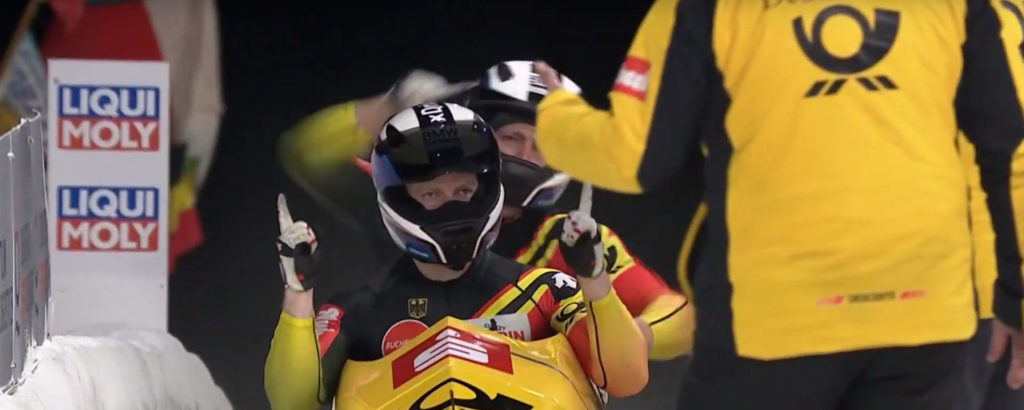 On that run Friedrich was somehow even better, stretching his lead to an eventual victory by .59 seconds over Kripps.
Kripps did everything he could in his fourth and final run, putting down the second-quickest run of the heat. His silver is his second consecutive 2-man silver medal, finishing behind Friedrich in Königssee in 2017.
German Nico Walther finished third, winning his first 2-man medal of the 2018/2019 campaign. Walther has been hampered by a hamstring injury for the second half of the season.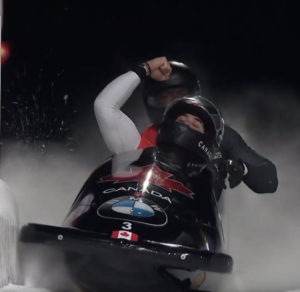 Chris Spring came into the day in a tie with Yunjong Won for sixth. He had the third-quickest run in the third heat to move up to fourth, and held onto that spot with a clean run, tying with Great Britain's Brad Hall. For Spring, the fourth place run was his best finish ever in a four heat race.
On the other end of the fourth place tie, Brad Hall scored the best finish for Great Britain since 1966 (Nash/Dixon, bronze).
Oskars Kibermanis finished his 2-man season in sixth place. The Latvian hasn't finished outside of the top six this season, with ninth at the 2018 Olympic Games the last time that's happened.
At the ripe old age of 24 years old, Codie Bascue is the senior pilot of the USA's men's bobsled team at the 2019 World Championships. He led the way for the American squad with a 16th place finish. Bascue's season has been challenged by a hamstring injury that likely needs a full off season to heal entirely. He'll look to finish stronger in the 4-man event next week.
Bascue's teammate Hunter Church moved up from 20th to 19th in the fourth heat in his first World Championships filling in at the last minute for an injured Justin Olsen. Teammate Geoff Gadbois crashed on his third run but did cross the finish line to score a time. He finished 27th.
Canada's Nick Poloniato finished 30th after a crash on his second run dropped him to the bottom of the leaderboard. He came back strong on his final run, with a 19th quickest run in the heat.
Lamin Deen had already missed out on the fourth heat prior to weighing too much on the scale after his third and final run. He was disqualified for that infraction.
Results:
| | | | | | | | | |
| --- | --- | --- | --- | --- | --- | --- | --- | --- |
| Pos | Names | Nation | Bib | Run 1 | Run 2 | Run 3 | Run 4 | Total |
| 1 | Friedrich / Margis | GER | 4 | 51.03 | 51.28 | 51.21 | 51.02 | 3:24.54 |
| 2 | Kripps / Stones | CAN | 6 | 50.96 | 51.47 | 51.36 | 51.34 | 3:25.13 |
| 3 | Walther / Krenz | GER | 7 | 51.16 | 51.44 | 51.34 | 51.49 | 3:25.43 |
| 4 | Hall / Gleeson | GBR | 17 | 51.24 | 51.46 | 51.52 | 51.46 | 3:25.68 |
| 4 | Spring / Wright | CAN | 16 | 51.35 | 51.51 | 51.35 | 51.47 | 3:25.68 |
| 6 | Kibermanis / Miknis | LAT | 5 | 51.22 | 51.52 | 51.58 | 51.46 | 3:25.78 |
| 7 | Won / Seo | KOR | 9 | 51.31 | 51.55 | 51.48 | 51.47 | 3:25.81 |
| 8 | Lochner / Weber | GER | 8 | 51.42 | 51.65 | 51.47 | 51.51 | 3:26.05 |
| 9 | Rinaldi / Vain | MON | 22 | 51.46 | 51.68 | 51.33 | 51.59 | 3:26.06 |
| 10 | Andrianov / Malykh | RUS | 13 | 51.46 | 51.68 | 51.48 | 51.47 | 3:26.09 |
| 11 | Treichl / Glück | AUT | 14 | 51.57 | 51.78 | 51.75 | 51.63 | 3:26.73 |
| 12 | Maier / Sammer | AUT | 26 | 51.65 | 51.81 | 51.67 | 51.74 | 3:26.87 |
| 13 | Vogt / Michel | SUI | 15 | 51.53 | 51.73 | 51.92 | 51.71 | 3:26.89 |
| 14 | Luty / Tylkowski | POL | 11 | 51.58 | 51.89 | 51.72 | 51.79 | 3:26.98 |
| 15 | Dvorak / Nosek | CZE | 10 | 51.56 | 51.88 | 51.94 | 51.86 | 3:27.24 |
| 16 | de Bruin / Veenker | NED | 20 | 51.74 | 52.00 | 51.84 | 51.81 | 3:27.39 |
| 16 | Bascue / Williamson | USA | 19 | 51.57 | 51.89 | 51.94 | 51.99 | 3:27.39 |
| 18 | Suk / Jang | KOR | 3 | 51.67 | 52.02 | 52.15 | 52.12 | 3:27.96 |
| 19 | Church / Kinney | USA | 2 | 51.85 | 51.98 | 52.14 | 52.21 | 3:28.18 |
| 20 | Shao / Liu | CHN | 28 | 51.95 | 52.06 | 51.93 | 52.31 | 3:28.25 |
| 21 | Berzins / Springis | LAT | 18 | 51.92 | 51.95 | 52.13 | | 2:36.00 |
| 22 | Tentea / Daroczi | ROU | 24 | 51.99 | 52.16 | 52.02 | | 2:36.17 |
| 23 | Sun / Ma | CHN | 27 | 52.19 | 52.34 | 52.05 | | 2:36.58 |
| 24 | Bredikhin / Koshelev | RUS | 21 | 52.13 | 52.39 | 52.17 | | 2:36.69 |
| 25 | Rohner / Fässler | SUI | 1 | 51.94 | 52.41 | 52.44 | | 2:36.79 |
| 26 | Baumgartner / Malikin | ITA | 29 | 52.32 | 52.55 | 52.54 | | 2:37.41 |
| 27 | Gadbois / Adams | USA | 23 | 51.87 | 52.13 | 54.75 | | 2:38.75 |
| 28 | Silic / Krajisnik | CRO | 31 | 52.78 | 52.96 | 53.27 | | 2:39.01 |
| 29 | Nicholls / Malikin | ISR | 30 | 54.83 | 55.04 | 55.20 | | 2:45.07 |
| 30 | Poloniato / Coakwell | CAN | 12 | 51.46 | 67.55 | 51.98 | | 2:50.99 |
| DSQ | Deen / Olubi | GBR | 25 | 51.89 | 52.01 | DSQ | | DSQ |