From Igls, AUT
Nov. 23, 2019 – Prior hitting ice in Igls, everyone assumed that 2019/2020 women's luge season would be a little crazier than usual. With Germany's two Olympic medalists out on maternity leave, the top of the podium looked to be wide open and seemingly anything could happen.
Craziness ensued almost immediately.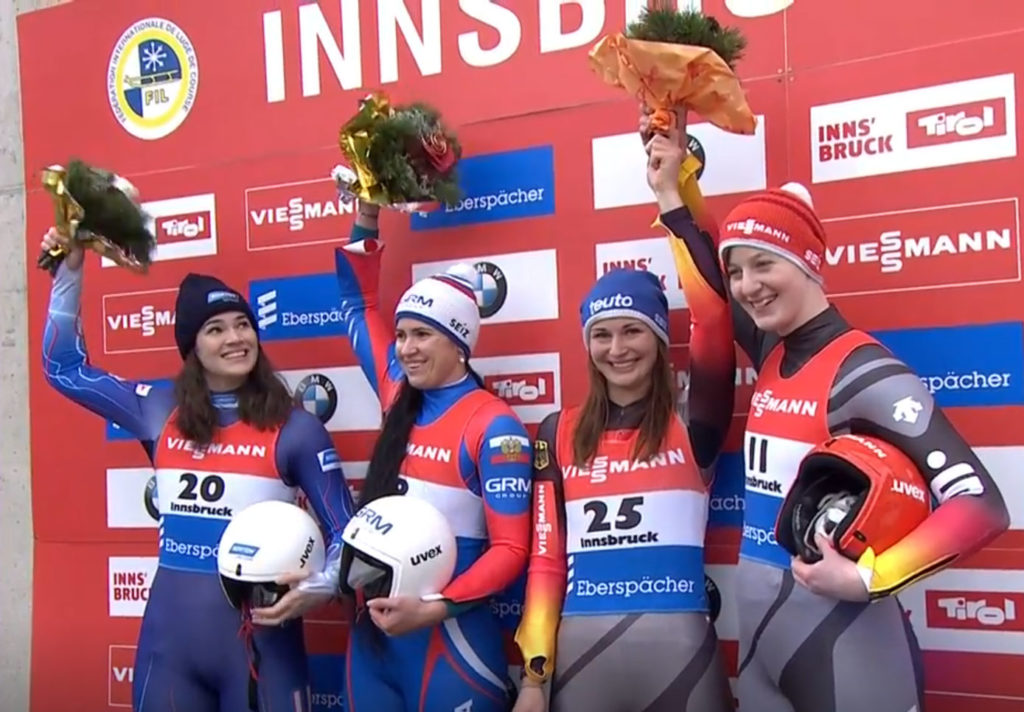 The first heat of the season saw women with little-to-no World Cup experience take to the top of the leaderboard, while those expected to contend well back in the field. With warmer than usual air temperatures possibly affecting the track conditions it was anyone's game int he second run.
Enter Tatyana Ivanova.
The Russian veteran came into the second heat in 13th after a relatively sloppy first run. Her second trip down the Austrian track was nothing short of flawless, with the Russian setting the fast run of the morning by nearly a tenth of a second. The next 12 women down the track all took their best shot at Ivanova but none could match the blistering pace Ivanova set on her second run.
Both Summer Britcher and Julia Taubitz had a shot at Ivanova. American Britcher had a few small mistakes late in her first run that scrubbed off much needed speed at the bottom, while Germany's Taubitz hit the wall at the start of her second run.
When it was all said and done, Ivanova took gold from 13th in the first heat, with Britcher winning silver, and Taubitz and teammate Jessica Tiebel tying for bronze.
Ekaterina Kavnikova finished fifth, .029 away from a bronze medal. Austrian Lisa Schulte came into the second heat as the leader on her home track, but finished sixth.
It was a "mixed bag" sort of race for the United States. World Cup rookie Ashley Farquharson finished the first heat in third, but a sloppy second run dropped her to 15th. Brittney Arndt finished two spots ahead of Farquharson in 13th after coming into the second run in tenth, while Emily Sweeney never could find her groove in Austria, finishing 24th.
Canada saw all of their women's World Cup veterans retire over the summer, leaving the luge duties to youngsters Trinity Ellis and Carolyn Maxwell. Ellis moved up from 16th in the first heat to eighth, while Carolyn Maxwell fell from seventh to a disappointing 25th in the second heat.
Results:
| | | | | | | | | |
| --- | --- | --- | --- | --- | --- | --- | --- | --- |
| Pos | Name | Nation | Bib | Start 1 | Start 2 | Run 1 | Run 2 | Total |
| 1 | Tatyana Ivanova | RUS | 28 | 2.145 | 2.110 | 40.875 | 40.429 | 1:21.304 |
| 2 | Summer Britcher | USA | 20 | 2.133 | 2.137 | 40.693 | 40.721 | 1:21.414 |
| 3 | Julia Taubitz | GER | 25 | 2.151 | 2.146 | 40.728 | 40.740 | 1:21.468 |
| 3 | Jessica Tiebel | GER | 11 | 2.166 | 2.149 | 40.674 | 40.794 | 1:21.468 |
| 5 | Ekaterina Katnikova | RUS | 15 | 2.169 | 2.164 | 40.840 | 40.657 | 1:21.497 |
| 6 | Lisa Schulte | AUT | 14 | 2.116 | 2.140 | 40.623 | 40.930 | 1:21.553 |
| 7 | Anna Berreiter | GER | 16 | 2.139 | 2.143 | 40.801 | 40.775 | 1:21.576 |
| 8 | Trinity Ellis | CAN | 13 | 2.176 | 2.174 | 40.925 | 40.669 | 1:21.594 |
| 9 | Cheyenne Rosenthal | GER | 9 | 2.136 | 2.125 | 40.903 | 40.700 | 1:21.603 |
| 10 | Andrea Vötter | ITA | 27 | 2.167 | 2.146 | 41.061 | 40.543 | 1:21.604 |
| 11 | Verena Hofer | ITA | 3 | 2.148 | 2.144 | 40.703 | 40.917 | 1:21.620 |
| 12 | Viktoriia Demchenko | RUS | 24 | 2.126 | 2.140 | 40.787 | 40.853 | 1:21.640 |
| 13 | Brittney Arndt | USA | 10 | 2.180 | 2.181 | 40.806 | 40.850 | 1:21.691 |
| 14 | Marion Oberhofer | ITA | 2 | 2.159 | 2.146 | 40.928 | 40.790 | 1:21.718 |
| 15 | Ashley Farquharson | USA | 5 | 2.158 | 2.170 | 40.680 | 41.048 | 1:21.728 |
| 16 | Ekaterina Baturina | RUS | 23 | 2.133 | 2.146 | 41.107 | 40.691 | 1:21.798 |
| 17 | Raluca Stramaturaru | ROU | 4 | 2.134 | 2.143 | 40.973 | 40.836 | 1:21.809 |
| 18 | Katarina Simonakova | SVK | 7 | 2.141 | 2.148 | 41.009 | 40.815 | 1:21.824 |
| 19 | Klaudia Domaradzka | POL | 6 | 2.126 | 2.150 | 40.919 | 40.923 | 1:21.842 |
| 20 | Nina Zöggeler | ITA | 8 | 2.142 | 2.156 | 40.830 | 41.012 | 1:21.842 |
| 21 | Natalie Maag | SUI | 21 | 2.182 | 2.183 | 40.951 | 40.903 | 1:21.854 |
| 22 | Madeleine Egle | AUT | 18 | 2.123 | 2.115 | 41.359 | 40.587 | 1:21.946 |
| 23 | Eliza Cauce | LAT | 19 | 2.138 | 2.142 | 41.136 | 41.033 | 1:22.169 |
| 24 | Emily Sweeney | USA | 17 | 2.146 | 2.157 | 41.638 | 40.839 | 1:22.477 |
| 25 | Carolyn Maxwell | CAN | 12 | 2.126 | 2.141 | 40.782 | 41.745 | 1:22.527 |
| 26 | Hannah Prock | AUT | 1 | 2.161 | 2.190 | 41.571 | 41.507 | 1:23.078 |
| 27 | Kendija Aparjode | LAT | 26 | 2.148 | 2.154 | 42.251 | 40.951 | 1:23.202 |
| 28 | Ulla Zirne | LAT | 22 | 2.180 | 2.173 | 40.930 | 42.710 | 1:23.640 |