From Igls, AUT
Nov. 24, 2019 – On a warm day in Igls Jonas Müller took gold on his home track to open the 2019/2020 men's luge season, fighting off both quickly changing track conditions and a great run by Roman Repilov in the process.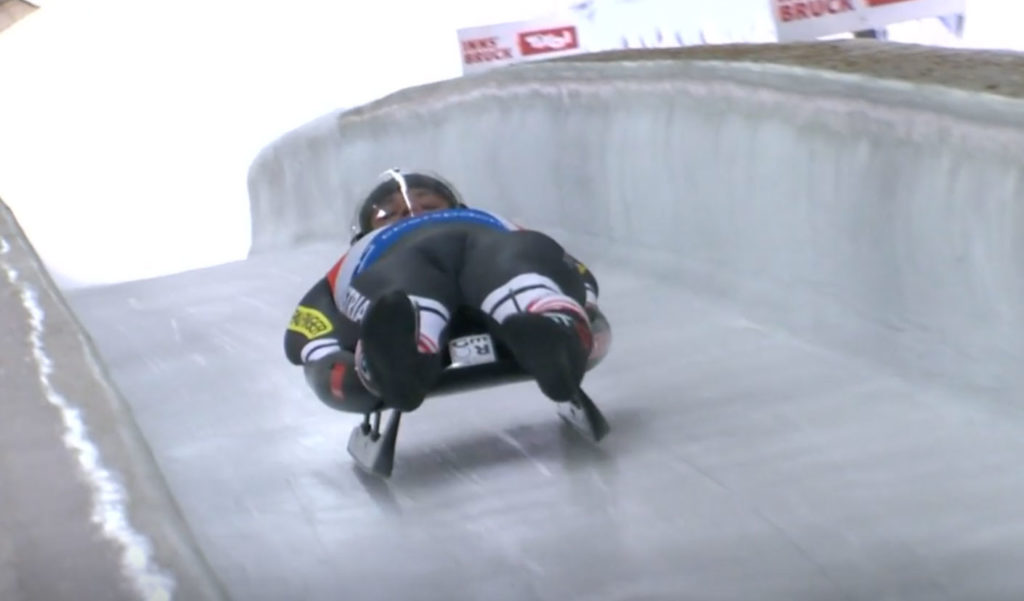 It looked like it was going to be a repeat of the women's race, where Tatyana Ivanova moved up from 13th place to take gold as the track deteriorated beneath every challenger after her. Roman Repilov had a disappointing first run, leaving him 16th going into the second heat. His second run was the quickest of the heat, and came at a point just before the sun popped out and almost immediately slowed the track down.
The next 14 men all gave it their best efforts, with Dominik Fischnaller putting down what looked to be a nearly perfect run, only to fall one spot behind the Russian with only a few sleds to go.
After Felix Loch failed to find speed down the track and Aleksandr Gorbatcevich crashed, that left Müller as the lone athlete between Repilov and gold.
Müller's start was nearly equal to his first heat's run. His time on his second run was slightly quicker, nowhere near the jump in time that Repilov had, but it was enough to keep the Austrian ahead of Repilov for the gold medal.
Repilov won silver from 16th in the first heat, while Fischnaller finished third, moving up from fourth in the first heat.
Nico Gleirscher made a big jump in the standings, going from ninth to fourth, edging out teammate Wolfgang Kindl to put three Austrian sleds in the top five. Felix Loch rounded out the top six.
American Chris Mazdzer got off to a solid start to his 2019/2020 singles season with a tenth place finish. Tucker West finished 17th in his first effort of the season, edging out Reinhard Egger by .001 for the position. while US national champion Jonny Gustafson finished 25th after a mistake in his second run.
Reid Watts finished 19th as the lone Canadian in the field.
Results:
| | | | | | | | | |
| --- | --- | --- | --- | --- | --- | --- | --- | --- |
| Pos | Name | Nation | Bib | Start 1 | Start 2 | Run 1 | Run 2 | Total |
| 1 | Jonas Müller | AUT | 20 | 5.423 | 5.429 | 50.539 | 50.476 | 1:41.015 |
| 2 | Roman Repilov | RUS | 29 | 5.428 | 5.406 | 50.779 | 50.383 | 1:41.162 |
| 3 | Dominik Fischnaller | ITA | 32 | 5.424 | 5.443 | 50.659 | 50.548 | 1:41.207 |
| 4 | Nico Gleirscher | AUT | 18 | 5.455 | 5.443 | 50.715 | 50.534 | 1:41.249 |
| 5 | Wolfgang Kindl | AUT | 21 | 5.506 | 5.472 | 50.659 | 50.606 | 1:41.265 |
| 6 | Felix Loch | GER | 27 | 5.446 | 4.429 | 50.637 | 50.644 | 1:41.281 |
| 7 | Semen Pavlichenko | RUS | 28 | 5.413 | 5.401 | 50.737 | 50.603 | 1:41.340 |
| 8 | Sebastian Bley | GER | 25 | 5.440 | 5.457 | 50.998 | 50.461 | 1:41.459 |
| 9 | David Gleirscher | AUT | 23 | 5.451 | 5.456 | 50.753 | 50.718 | 1:41.471 |
| 10 | Chris Mazdzer | USA | 14 | 5.474 | 5.494 | 50.707 | 50.769 | 1:41.476 |
| 11 | Inars Kivlenieks | LAT | 22 | 5.413 | 5.418 | 50.720 | 50.764 | 1:41.484 |
| 12 | Max Langenhan | GER | 9 | 5.450 | 5.452 | 50.728 | 50.764 | 1:41.492 |
| 13 | Jozef Ninis | SVK | 11 | 5.504 | 5.515 | 50.688 | 50.863 | 1:41.551 |
| 14 | Arturs Darznieks | LAT | 17 | 5.491 | 5.458 | 50.818 | 50.741 | 1:41.559 |
| 15 | Johannes Ludwig | GER | 30 | 5.393 | 5.381 | 51.041 | 50.606 | 1:41.647 |
| 16 | Riks Kristens Rozitis | LAT | 15 | 5.565 | 5.576 | 50.759 | 50.903 | 1:41.662 |
| 17 | Tucker West | USA | 2 | 5.449 | 5.465 | 50.970 | 50.777 | 1:41.747 |
| 18 | Reinhard Egger | AUT | 31 | 5.471 | 5.493 | 50.771 | 50.977 | 1:41.748 |
| 19 | Reid Watts | CAN | 13 | 5.519 | 5.498 | 50.841 | 50.916 | 1:41.757 |
| 20 | Kevin Fischnaller | ITA | 19 | 5.487 | 5.536 | 50.686 | 51.168 | 1:41.854 |
| 21 | Leon Felderer | ITA | 5 | 5.473 | 5.474 | 50.987 | 50.880 | 1:41.867 |
| 22 | Moritz Elias Bollmann | GER | 12 | 5.463 | 5.487 | 51.223 | 50.816 | 1:42.039 |
| 23 | Mateusz Pawel Sochowicz | POL | 10 | 5.474 | 5.465 | 51.312 | 50.865 | 1:42.177 |
| 24 | Jakub Simonak | SVK | 7 | 5.435 | 5.429 | 51.126 | 51.054 | 1:42.180 |
| 25 | Jonathan Gustafson | USA | 16 | 5.460 | 5.464 | 50.927 | 51.289 | 1:42.216 |
| 26 | Valentin Cretu | ROU | 4 | 5.459 | 5.482 | 51.299 | 51.020 | 1:42.319 |
| 27 | Anton Dukach | UKR | 3 | 5.482 | 5.544 | 51.082 | 51.309 | 1:42.391 |
| 28 | Lukas Gufler | ITA | 1 | 5.555 | 5.562 | 51.570 | 50.870 | 1:42.440 |
| 29 | Andriy Mandziy | UKR | 6 | 5.497 | 5.489 | 51.078 | 51.556 | 1:42.634 |
| 30 | Maksim Aravin | RUS | 24 | 5.506 | 5.504 | 51.935 | 51.015 | 1:42.950 |
| 31 | Kristers Aparjods | LAT | 26 | 5.458 | 5.441 | 53.403 | 50.357 | 1:43.760 |
| 32 | Aleksandr Gorbatcevich | RUS | 8 | 5.465 | 5.467 | 50.618 | 53.602 | 1:44.220 |