From Lake Placid, USA
Dec. 13, 2019 – Elena Nikitina out-pushed the field on her way to a gold medal in Lake Placid.
The Russian was the only slider with a sub-5.1 second start with matching 5.07 pushes on her way to a 1.12 second victory over Race 1 winner Jacqueline Lölling.
Janine Flock of Austria won another medal in Lake Placid, with a bronze. The medal was the fourth straight and sixth in her last seven races in Lake Placid.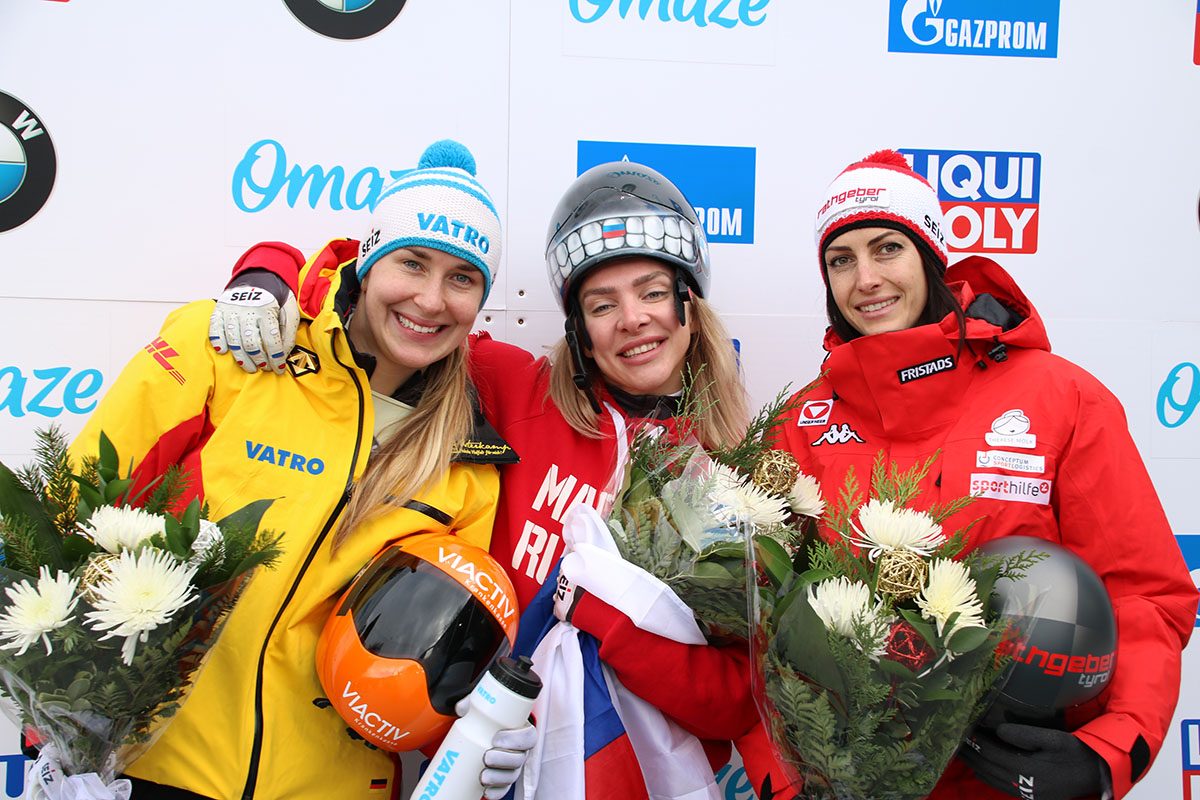 Mimi Rahneva matched her Race 1 finish with a fourth place run, with the United States' Kendall Wesenberg finishing fifth and Tina Hermann rounding out the top six. Anna Fernstädt moved up from 12th in the first heat to seventh on the strength of the third fastest run of the second heat.
Wesenberg was happy with her fifth place run.
"If you told me two weeks ago I'd have two top six finishes to start the reason, I'd say 'cool'," she said. "The perfectionist in me wants to finish better obviously. I messed up Curve 10 in three out of four race runs, but I felt good about the rest of my race run."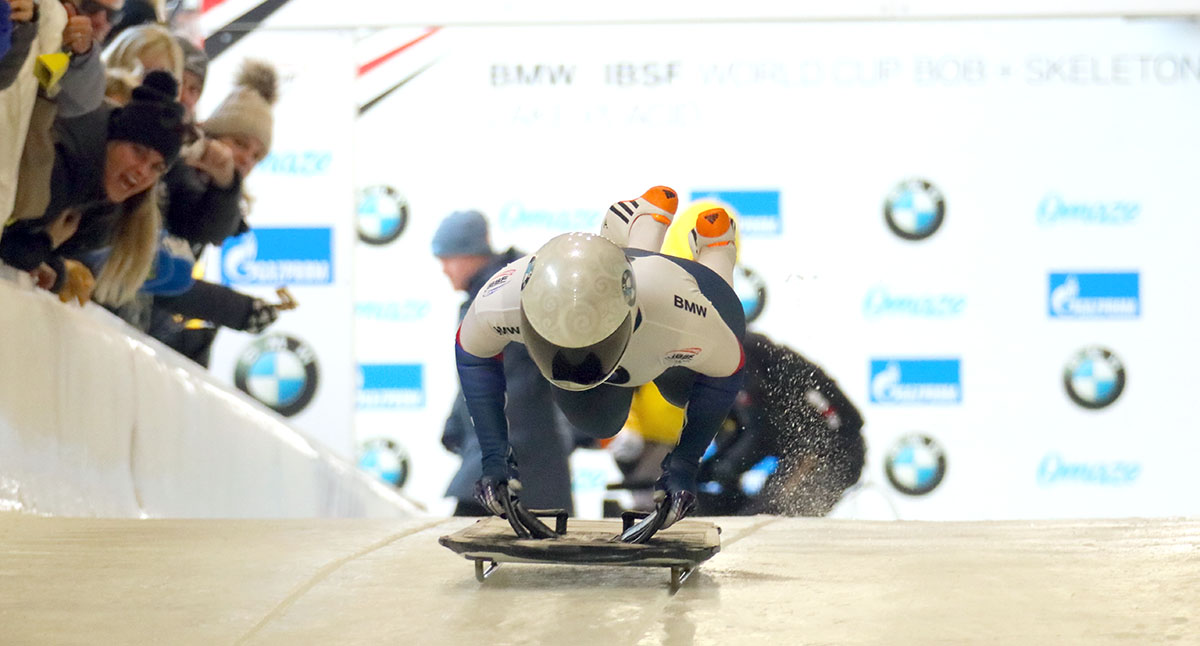 For the United States there was lots to be encouraged about. Savannah Graybill and Meg Henry finished 12th and 13th, respectively.
Graybill took away positives from the day.
"Today was positive," she said. "I struggled with consistency last week. I felt my first run was really good, on my second run I lacked a little zip up top but I'm really proud of myself for coming back."
Henry wasn't thrilled with her second run at first, but moved up form 17th in the first run to her 13th place finish.
"I knew my second run was better than my first, but the first run wasn't every good. I did not expect to climb like that!"
Canada had one woman in the top ten, with Rahneva's fourth place finish. Behind her, Jane Channell and Madi Charney finished 17th and 18th, respectively.
Madelaine Smith led the way for Great Britain with a tenth place finish. Behind her, Kimberley Murray finished 19th, while Laura Deas had a mid-run mistake drop her to 21st.
Results:
| | | | | | | | | |
| --- | --- | --- | --- | --- | --- | --- | --- | --- |
| Pos | Name | Nation | Bib | Start 1 | Start 2 | Run 1 | Run 2 | Total |
| 1 | Elena Nikitina | RUS | 6 | 5.07 | 5.07 | 54.76 | 55.17 | 1:49.93 |
| 2 | Jacqueline Lölling | GER | 13 | 5.48 | 5.47 | 55.23 | 55.82 | 1:51.05 |
| 3 | Janine Flock | AUT | 5 | 5.46 | 5.42 | 55.54 | 55.57 | 1:51.11 |
| 4 | Mirela Rahneva | CAN | 10 | 5.28 | 5.26 | 55.29 | 55.86 | 1:51.15 |
| 5 | Kendall Wesenberg | USA | 12 | 5.52 | 5.54 | 55.42 | 55.80 | 1:51.22 |
| 6 | Tina Hermann | GER | 11 | 5.41 | 5.42 | 55.57 | 55.73 | 1:51.30 |
| 7 | Anna Fernstädt | CZE | 7 | 5.61 | 5.62 | 55.83 | 55.70 | 1:51.53 |
| 8 | Kim Meylemans | BEL | 8 | 5.35 | 5.40 | 55.49 | 56.15 | 1:51.64 |
| 9 | Jaclyn Narracott | AUS | 16 | 5.44 | 5.55 | 55.80 | 56.01 | 1:51.81 |
| 10 | Madelaine Smith | GBR | 2 | 5.38 | 5.38 | 55.68 | 56.15 | 1:51.83 |
| 11 | Marina Gilardoni | SUI | 4 | 5.28 | 5.25 | 55.77 | 56.12 | 1:51.89 |
| 12 | Savannah Graybill | USA | 18 | 5.56 | 5.53 | 55.88 | 56.27 | 1:52.15 |
| 13 | Megan Henry | USA | 15 | 5.33 | 5.28 | 56.09 | 56.10 | 1:52.19 |
| 14 | Alina Tararychenkova | RUS | 22 | 5.25 | 5.24 | 55.88 | 56.34 | 1:52.22 |
| 15 | Yulia Kanakina | RUS | 3 | 5.19 | 5.18 | 55.70 | 56.61 | 1:52.31 |
| 15 | Sophia Griebel | GER | 17 | 5.36 | 5.44 | 56.24 | 56.07 | 1:51.31 |
| 17 | Jane Channell | CAN | 14 | 5.22 | 5.24 | 55.95 | 56.70 | 1:52.65 |
| 18 | Madison Charney | CAN | 21 | 5.42 | 5.43 | 56.03 | 56.76 | 1:52.79 |
| 19 | Kimberley Murray | GBR | 1 | 5.40 | 5.37 | 56.19 | 56.95 | 1:53.14 |
| 20 | Kellie Delka | PUR | 24 | 5.48 | 5.54 | 56.22 | 57.07 | 1:53.29 |
| 21 | Laura Deas | GBR | 9 | 5.32 | | 56.25 | | |
| 22 | Valentina Margaglio | ITA | 25 | 5.25 | | 56.40 | | |
| 23 | Huiyang Lin | CHN | 23 | 5.34 | | 56.43 | | |
| 24 | Leslie Stratton | SWE | 20 | 5.59 | | 57.11 | | |
| DNS | Kimberley Bos | NED | 19 | | | DNS | | |