From Lake Placid, USA
Dec. 15, 2019 – Justin Kripps swept the start of the 4-man bobsled season in Lake Placid, backing up his Saturday victory with another gold medal performance on Sunday.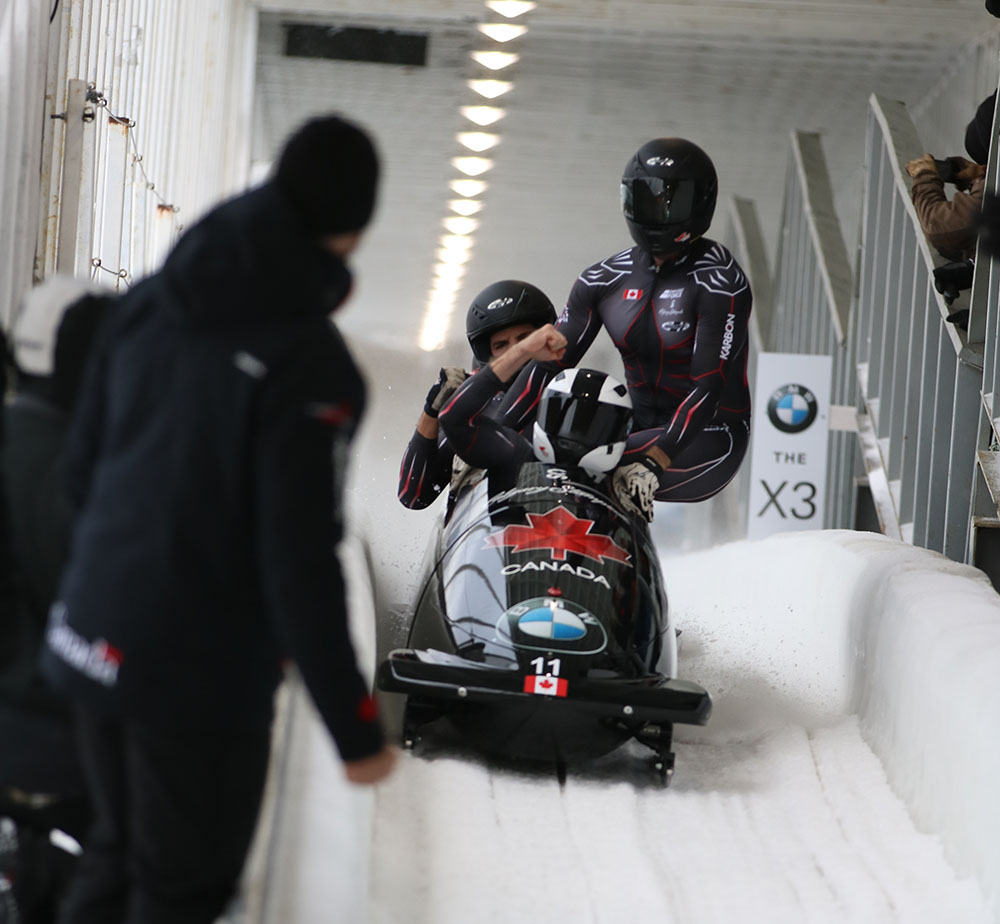 The Canadian was fourth fastest off the top in both heats, but found speed at the bottom of the 2021 World Championship track, setting the quick time in both heats on his way to a .3 second victory over German Johannes Lochner.
Lochner edged out teammate Francesco Friedrich by .03 for silver, while Friedrich settled for bronze.
Kripps couldn't have been happier with how his 4-man season started.
"It's amazing," he said. "Kicking off the season with two gold medals really sets us up well for the second half of the season."
Despite the wind and snow, Kripps changed very little on his sled between the two races.
"I kept the sled pretty much the same as yesterday, I figured we were so fast yesterday and the weather wasn't going to be significantly colder, so I kept it the same."
Oskars Kibermanis of Latvia jumped from fifth to fourth on the strength of the second quickest run of the heat. American Hunter Church finished fifth, while Alexey Stulnev finished sixth.
For Church, his fifth place finish was a bit of redemption after a sled malfunction in the 4-man opener.
"I'm happy with how the season's started," Church said. "I had a lot of expectations coming into this week. Yesterday we were fifth after the first run but the malfunction put us back. We're lucky we had today to rally back and try to make the podium again. We're a young group, and have a lot to build off of.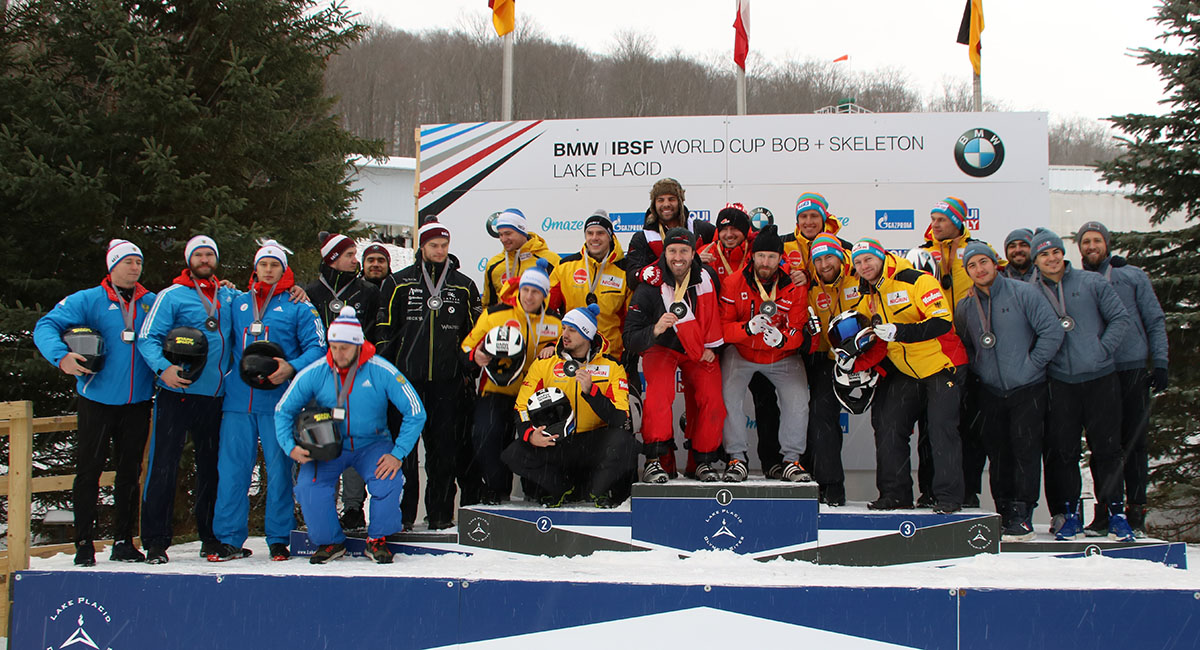 Codie Bascue helped put two American sleds in the top ten with a seventh place finish, while Geoff Gadbois finished 19th in the final American sled.
Results:
| | | | | | | | | |
| --- | --- | --- | --- | --- | --- | --- | --- | --- |
| Pos | Names | Nation | Bib | Start 1 | Start 2 | Run 1 | Run 2 | Total |
| 1 | Kripps / Sommer / Stones / Coakwell | CAN | 8 | 5.08 | 5.03 | 54.82 | 54.63 | 1:49.45 |
| 2 | Lochner / Bauer / Weber / Rasp | GER | 11 | 5.03 | 4.97 | 54.98 | 54.77 | 1:49.75 |
| 3 | Friedrich / Bauer / Grothkopp / Margis | GER | 6 | 4.98 | 5.02 | 54.92 | 54.86 | 1:49.78 |
| 4 | Kibermanis / Kaufmanis / Vilkaste / Miknis | LAT | 5 | 5.04 | 5.02 | 55.12 | 54.68 | 1:49.80 |
| 5 | Church / Williamson / Reed / Wilcox | USA | 14 | 5.11 | 5.11 | 55.11 | 55.01 | 1:50.12 |
| 6 | Stulnev / Koshelev / Malykh / Mordasov | RUS | 13 | 5.12 | 5.11 | 55.15 | 55.06 | 1:50.21 |
| 7 | Bascue / McConnell / Adams / Horn | USA | 10 | 5.10 | 5.07 | 55.14 | 55.14 | 1:50.28 |
| 8 | Andrianov / Zaytsev / Kondratenko / Samitov | RUS | 15 | 5.14 | 5.13 | 55.21 | 55.15 | 1:50.36 |
| 9 | Vogt / Bieri / Weber / Gyger | SUI | 12 | 5.17 | 5.18 | 55.26 | 55.17 | 1:50.43 |
| 10 | Dvorak / Suchy / Sindelar / Nosek | CZE | 16 | 5.11 | 5.13 | 55.32 | 55.29 | 1:50.61 |
| 11 | Maier / Stepan / Sammer / Moldovan | AUT | 7 | 5.10 | 5.08 | 55.51 | 55.15 | 1:50.66 |
| 12 | Won / Kim / Lee / Chae | KOR | 17 | 5.13 | 5.11 | 55.29 | 55.39 | 1:50.68 |
| 13 | Hafer / Salzer / Hammers / Schneider | GER | 4 | 5.14 | 5.12 | 55.33 | 55.43 | 1:50.76 |
| 14 | Rinaldi / Vain / Demarthon / Borges Mendonaca | MON | 2 | 5.13 | 5.12 | 55.35 | 55.46 | 1:50.81 |
| 15 | Jin / Wu / Wu / Chen | CHN | 1 | 5.15 | 5.14 | 55.38 | 55.52 | 1:50.90 |
| 16 | Shao / Liu / Shi / Ma | CHN | 18 | 5.11 | 5.13 | 55.36 | 55.61 | 1:50.97 |
| 17 | Suk / Kim / Kim / Jang | KOR | 19 | 5.22 | 5.23 | 55.41 | 55.71 | 1:51.12 |
| 18 | Heinrich / Lefebvre / Hauterville / Laporal | FRA | 3 | 5.18 | 5.18 | 55.52 | 55.72 | 1:51.24 |
| 19 | Gadbois / Avery / Fogt / Lynch | USA | 20 | 5.24 | 5.27 | 55.65 | 55.69 | 1:51.34 |
| 20 | Treichl / Glück / Mitterer / Huber | AUT | 9 | 5.27 | 5.30 | 55.86 | 55.82 | 1:51.68 |