From Altenberg, GER
Jan. 11, 2020 – It's a rare event when a non-German doubles team wins gold in Altenberg, but Thomas Steu & Lorenz Koller found their way to the top of the podium at the German track to win their first gold medal of the season.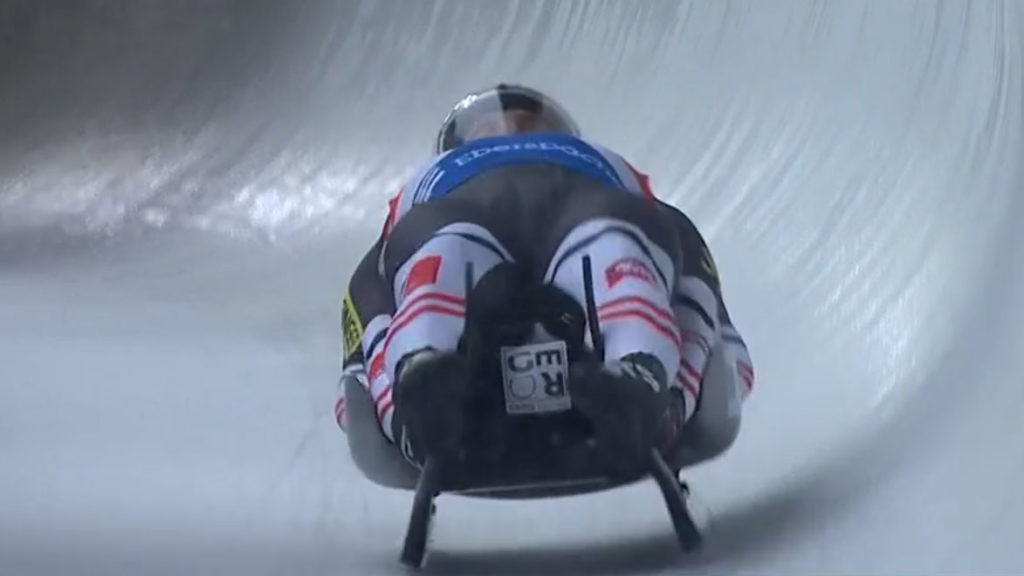 Steu & Koller set the fast start time of the first heat and fast time of the race to open up nearly a tenth of a second on Germans Toni Eggert & Sascha Benecken. The Germans relatively struggled on their second run, only putting down the sixth quickest time of the second heat, and that's all Steu & Koller needed to take gold.
Eggert & Benecken finished second, .228 behind the Austrians.
Steu & Koller's second run was second only to Russians Aleksandr Denisev & Vladislav Antonov, who moved up from tenth place in the first heat to third to win their first medal of the year.
Vsevolod Kashkin & Konstantin Korshunov finished just out of the medals in fourth place, while Italians Emanuel Rieder & Simon Kainzwaldner finished fifth. Robin Geueke & David Gamm edged out teammates Tobias Wendl & Tobias Arlt for sixth.
Eggert & Benecken have taken a commanding lead in the World Cup points, 86 points ahead of teammates Tobias Wendl & Tobias Arlt. Steu & Koller sit third.
The Canadian team of Tristan Walker & Justin Snith finished tenth, a handful of positions ahead of teammates Devin Wardrope & Cole Zajanski in 13th.
Americans Chris Mazdzer & Jayson Terdiman never could find their rhythm on the German track, finishing 17th.
Results:
| | | | | | | | | |
| --- | --- | --- | --- | --- | --- | --- | --- | --- |
| Pos | Names | Nation | Bib | Start 1 | Start 2 | Run 1 | Run 2 | Total |
| 1 | Steu / Koller | AUT | 19 | 5.756 | 5.797 | 41.823 | 41.956 | 1:23.779 |
| 2 | Eggert / Benecken | GER | 23 | 5.773 | 5.779 | 41.920 | 42.087 | 1:24.007 |
| 3 | Denisev / Antonov | RUS | 15 | 5.814 | 5.792 | 42.172 | 41.888 | 1:24.060 |
| 4 | Kashkin / Korshunov | RUS | 21 | 5.861 | 5.832 | 42.084 | 42.066 | 1:24.150 |
| 5 | Rieder / Kainzwaldner | ITA | 12 | 5.814 | 5.842 | 41.969 | 42.200 | 1:24.169 |
| 6 | Geueke / Gamm | GER | 20 | 5.805 | 5.829 | 42.034 | 42.138 | 1:24.172 |
| 7 | Wendl / Arlt | GER | 22 | 5.782 | 5.785 | 42.119 | 42.066 | 1:24.185 |
| 8 | Gudramovics / Kalnins | LAT | 14 | 5.856 | 5.836 | 42.140 | 42.277 | 1:24.417 |
| 9 | Müller / Frauscher | AUT | 5 | 5.852 | 5.858 | 42.104 | 42.422 | 1:24.526 |
| 10 | Walker / Snith | CAN | 16 | 5.790 | 5.752 | 42.236 | 42.343 | 1:24.579 |
| 11 | Putins / Marcinkevics | LAT | 13 | 5.782 | 5.779 | 42.062 | 42.524 | 1:24.586 |
| 12 | Sics / Sics | LAT | 17 | 5.829 | 5.846 | 42.661 | 42.025 | 1:24.686 |
| 13 | Wardrope / Zajanski | CAN | 11 | 5.887 | 4.870 | 42.661 | 42.025 | 1:24.686 |
| 14 | Rieder / Rastner | ITA | 18 | 5.787 | 5.791 | 42.359 | 42.458 | 1:24.817 |
| 15 | Park / Cho | KOR | 9 | 5.984 | 5.960 | 42.487 | 42.494 | 1:24.981 |
| 16 | Vavercak / Zmij | SVK | 7 | 5.908 | 5.965 | 42.398 | 42.670 | 1:25.068 |
| 17 | Mazdzer / Terdiman | USA | 8 | 5.869 | 5.856 | 42.521 | 42.830 | 1:25.351 |
| 18 | Stakhiv / Lysetskyi | UKR | 4 | 5.927 | 5.937 | 42.520 | 42.840 | 1:25.360 |
| 19 | Nagler / Malleier | ITA | 10 | 5.893 | 5.840 | 43.044 | 42.587 | 1:25.630 |
| 20 | Hoi / Levkovych | UKR | 3 | 6.011 | 6.020 | 42.661 | 43.256 | 1:25.917 |
| 21 | Vejdelek / Pekny | CZE | 2 | 6.009 | 6.020 | 43.495 | 44.290 | 1:27.785 |
| 22 | Shander / Mikov | KAZ | 6 | 5.954 | 5.932 | 42.581 | 47.036 | 1:29.617 |
| DNF | Siscanu / Oprea | MDA | 1 | 5.998 | | DNF | | |