From Sigulda, LAT
Jan. 26, 2020 – The weather in Sigulda on Sunday was wet and humid, which led to a wild men's luge race that saw Johannes Ludwig come from 21st to win gold.
The humidity in the air led to a very frosty track that seemed to lose speed by the minute. With that, earlier starters were rewarded with a quick track, and as the run went on athletes found a slower and slower track and the end result was relative mayhem.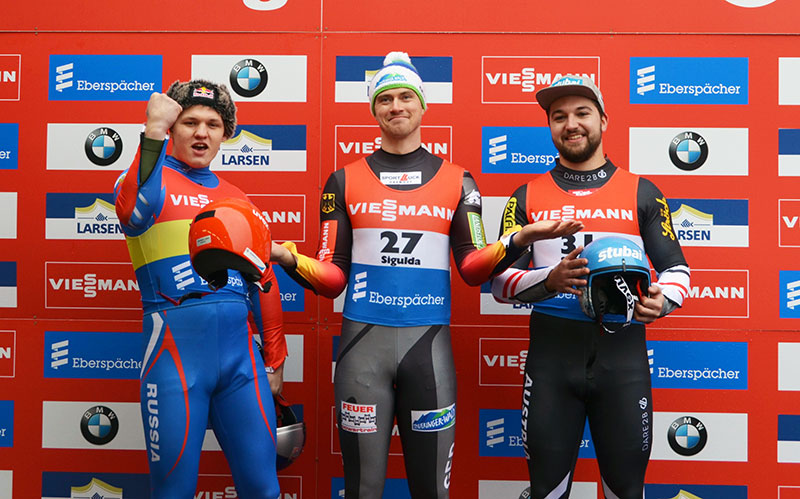 In the first heat, Arturs Darznieks set the fast time from the 12th starting position, with Jozef Ninis (13th starting position) and Sebastian Bley (11th starting position) second and third behind him. Well behind were World Cup title contenders Roman Repilov (22nd), Dominik Fischnaller (11th), and Semen Pavlichenko (16th).
The second run once again saw the earlier starters take advantage. Repilov had the tenth starting spot in the second heat and took the lead. He was followed by Johannes Ludwig who took over the top spot. From there, 20 more sleds came down and none could come within two tenths of either Ludwig or Repilov.
In the end, both Ludwig and Repilov moved up 20 positions each. Ludwig won his first gold medal of the 2019/2020 season. Repilov finished second, while Olympic gold medalist David Gleirscher jumped up from tenth to third.
Dominik Fischnaller finished fourth from 11th, Semen Pavlichenko fifth from 16th, and Maksim Aravin sixth from 19th.
On the other side of things, Darznieks finished eighth after the 21st fastest run of the second heat. Ninis finished 21st after the 26th fastest run of the heat, and Bley finished 16th after a 24th quickest run.
Tucker West was the top-finishing American in 17th, back from 13th in the first heat. Teammate Jonny Gustafson finished 30th, while Chris Mazdzer sat out while recovering from a neck injury.
Reid Watts moved up from 25th to 18th as the lone Canadian in the field.
Results:
| | | | | | | | | |
| --- | --- | --- | --- | --- | --- | --- | --- | --- |
| Pos | Name | Nation | Bib | Start 1 | Start 2 | Run 1 | Run 2 | Total |
| 1 | Johannes Ludwig | GER | 27 | 4.593 | 4.580 | 48.898 | 48.348 | 1:37.246 |
| 2 | Roman Repilov | RUS | 26 | 4.590 | 4.572 | 48.927 | 48.336 | 1:37.263 |
| 3 | David Gleirscher | AUT | 31 | 4.621 | 4.626 | 48.695 | 48.573 | 1:37.268 |
| 4 | Dominik Fischnaller | ITA | 28 | 4.622 | 4.632 | 48.758 | 48.591 | 1:37.349 |
| 5 | Semen Pavlichenko | RUS | 29 | 4.572 | 4.572 | 48.817 | 48.607 | 1:37.424 |
| 6 | Maksim Aravin | RUS | 25 | 4.662 | 4.659 | 48.868 | 48.618 | 1:37.486 |
| 7 | Inars Kivlenieks | LAT | 24 | 4.575 | 4.577 | 48.692 | 48.850 | 1:37.542 |
| 8 | Arturs Darznieks | LAT | 12 | 4.632 | 4.641 | 48.437 | 49.156 | 1:37.593 |
| 9 | Kevin Fischnaller | ITA | 22 | 4.670 | 5.682 | 48.884 | 48.735 | 1:37.619 |
| 10 | Aleksandr Gorbatcevich | RUS | 20 | 4.618 | 4.602 | 49.331 | 48.301 | 1:37.632 |
| 11 | Max Langenhan | GER | 18 | 4.565 | 4.596 | 48.556 | 49.079 | 1:37.635 |
| 12 | Reinhard Egger | AUT | 19 | 4.652 | 4.679 | 48.692 | 48.957 | 1:37.649 |
| 13 | Woflgang Kindl | AUT | 23 | 4.690 | 4.684 | 48.789 | 48.926 | 1:37.715 |
| 14 | Riks Rozitis | LAT | 17 | 4.699 | 4.700 | 48.584 | 49.176 | 1:37.760 |
| 15 | Anton Dukach | UKR | 10 | 4.648 | 4.640 | 48.835 | 48.962 | 1:37.797 |
| 16 | Sebastian Bley | GER | 11 | 4.624 | 4.612 | 48.543 | 49.271 | 1:37.814 |
| 17 | Tucker West | USA | 21 | 4.606 | 4.618 | 48.810 | 49.005 | 1:37.815 |
| 18 | Reid Watts | CAN | 9 | 4.683 | 4.676 | 49.044 | 48.805 | 1:37.849 |
| 19 | Moritz Bollmann | GER | 15 | 4.641 | 4.639 | 48.813 | 49.055 | 1:37.868 |
| 20 | Valentin Cretu | ROU | 5 | 4.631 | 4.624 | 48.819 | 49.063 | 1:37.882 |
| 21 | Jozef Ninis | SVK | 13 | 4.655 | 4.645 | 48.483 | 49.406 | 1:37.889 |
| 22 | Alexander Ferlazzo | AUS | 1 | 4.655 | 4.645 | 48.812 | 49.115 | 1:37.927 |
| 23 | Jonas Müller | AUT | 6 | 4.602 | 4.610 | 48.994 | 48.980 | 1:37.974 |
| 24 | Stepan Fedorov | RUS | 4 | 4.622 | 4.644 | 48.660 | 49.324 | 1:37.984 |
| 25 | Andriy Mandziy | UKR | 8 | 4.649 | 4.642 | 49.047 | 48.986 | 1:38.033 |
| 26 | Leon Felderer | ITA | 3 | 4.643 | 4.658 | 49.323 | 49.187 | 1:38.510 |
| 27 | Felix Loch | GER | 32 | 4.605 | 4.580 | 49.071 | 49.453 | 1:38.524 |
| 28 | Jakub Simonak | SVK | 2 | 4.609 | 4.656 | 48.950 | 50.412 | 1:39.362 |
| 29 | Lukas Gufler | ITA | 7 | 4.749 | 4.767 | 50.614 | 50.221 | 1:40.835 |
| 30 | Jonathan Gustafson | USA | 16 | 4.588 | 4.581 | 49.203 | 59.659 | 1:48.862 |
| 31 | Kristers Aparjods | LAT | 30 | 4.606 | 4.597 | 49.115 | 70.581 | 1:59.696 |
| DNF | Nico Gleirscher | AUT | 14 | 4.586 | 4.607 | 48.553 | DNF | |