From St. Moritz, SUI
Feb. 1, 2020 – Kaillie Humphries won her fourth race of the 2019/2020 IBSF World Cup season in St. Moritz, her first gold on Swiss ice since 2014.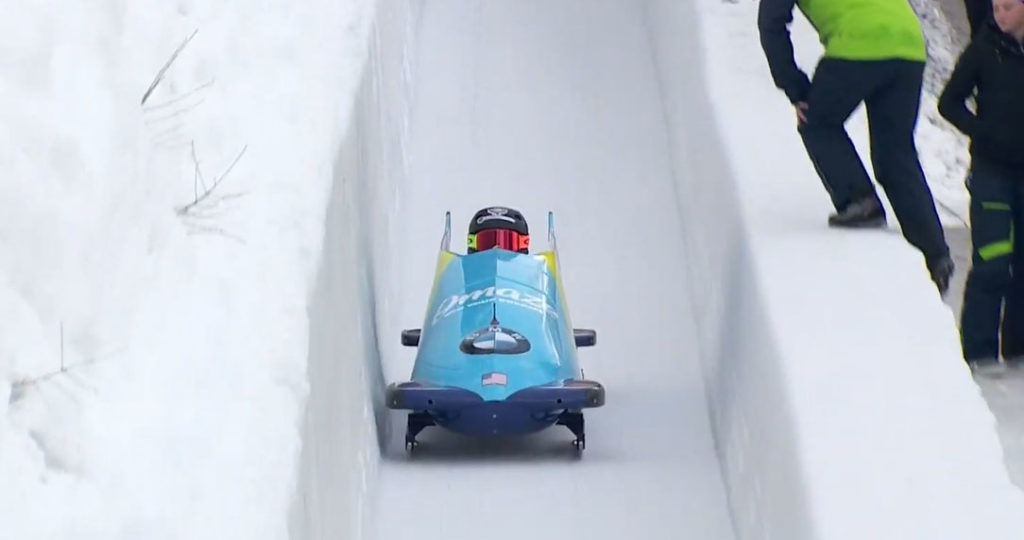 The American carried a .19 second advantage over Olympic gold medalist Mariama Jamanka going into the second heat, with Stephanie Schneider sitting back in third.
On the second run, Schneider put down the quick time of the heat with a less than clean run. Jamanka couldn't quite keep pace with Schneider, though her first run advantage was enough to hold off Schneider by just .01.
That left the door wide open for Humphries. While Humphries had the third quickest run of the heat, it was more than enough to keep the American in front to give her the fourth gold of her season, .16 ahead of Jamanka.
Jamanka took silver, her third medal of the season, while Schneider finished with a bronze.
For Kaillie Humphries, the win was her fourth on the season. For the United States, it was the fifth in a row in St. Moritz with Elana Meyers Taylor having won the previous four World Cup medals at the hand-built track.
Martina Fontanive finished a career-best fourth, ahead of Christine de Bruin and Laura Nolte in fifth and sixth, respectively.
Mica McNeill tied a season-best finish with an eighth place run.
Humphries' win gives her a 73 point advantage over Schneider going into the final race of the season. Jamanka is third, 103 points back.
Results:
| | | | | | | | | |
| --- | --- | --- | --- | --- | --- | --- | --- | --- |
| Pos | Names | Nation | Bib | Start 1 | Start 2 | Run 1 | Run 2 | Total |
| 1 | Humphries / Gibbs | USA | 5 | 5.50 | 5.54 | 68.24 | 68.94 | 2:17.18 |
| 2 | Jamanka / Lipperheide | GER | 10 | 5.58 | 5.51 | 68.43 | 68.91 | 2:17.34 |
| 3 | Schneider / Fiebig | GER | 11 | 5.50 | 5.40 | 68.52 | 68.83 | 2:17.35 |
| 4 | Fontanive / Pasternack | SUI | 4 | 5.61 | 5.53 | 68.59 | 68.88 | 2:17.47 |
| 5 | de Bruin / Bujnowski | CAN | 12 | 5.60 | 5.52 | 68.56 | 69.16 | 2:17.72 |
| 6 | Nolte / Strack | GER | 8 | 5.53 | 5.44 | 69.01 | 68.72 | 2:17.73 |
| 7 | Beierl / Onasanya | AUT | 9 | 5.66 | 5.59 | 68.85 | 69.11 | 2:17.96 |
| 8 | McNeill / Douglas | GBR | 2 | 5.70 | 5.69 | 68.82 | 69.23 | 2:18.05 |
| 9 | Ying / Du | CHN | 3 | 5.63 | 5.60 | 68.92 | 69.36 | 2:18.28 |
| 10 | Sergeeva / Shokshueva | RUS | 6 | 5.68 | 5.66 | 69.04 | 69.26 | 2:18.30 |
| 11 | Vannieuwenhuyse / Aerts | BEL | 7 | 5.70 | 5.66 | 69.01 | 69.54 | 2:18.55 |
| 12 | Huai / Lu | CHN | 1 | 5.69 | 5.64 | 69.08 | 69.68 | 2:18.76 |