From Sigulda, LAT
Feb. 15, 2020 – Francesco Friedrich set the track record in the first heat of the IBSF World Cup 2-man race in Sigulda, but in the end it was Oskars Kibermanis taking gold on home ice.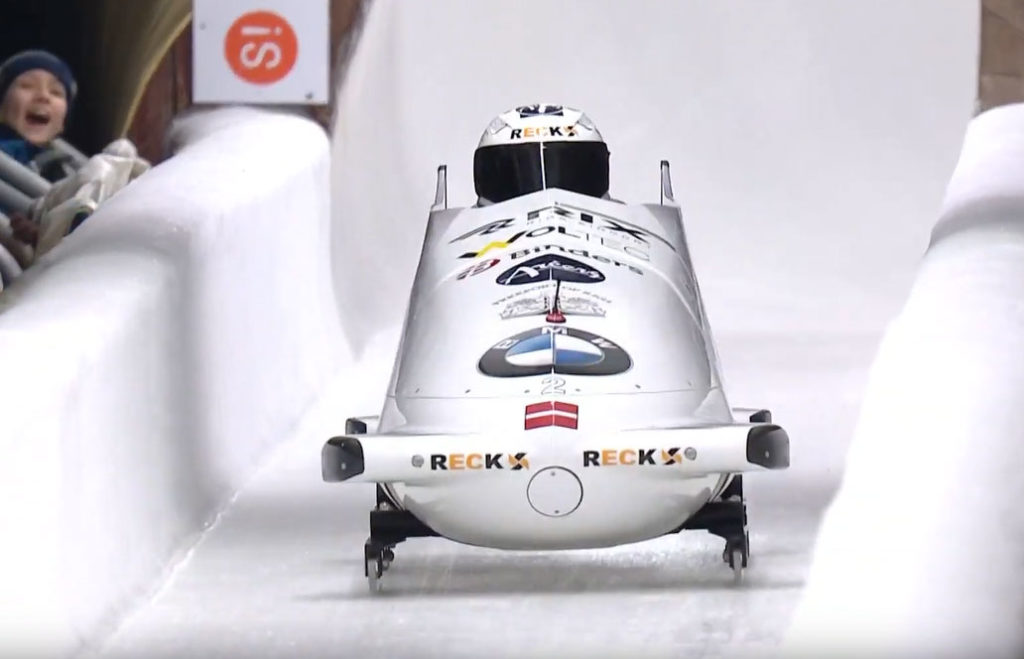 Kibermanis coupled a start record with a nearly flawless run in the second heat to put the pressure on Friedrich, who held the lead by just .01 going into the second run. Friedrich, for once, could not answer. The German's speed was well below the top speed set by Kibermanis, and only good enough for silver, giving Kibermanis his first ever World Cup gold medal, with Friedrich settling for silver.
Canada's Justin Kripps came into the second heat in fifth, and finished his run in the lead with four sleds to go. The next two pilots down, Yunjong Won and Simon Friedli, crashed on their runs to move Kripps up into the bronze medal position.
Rostislav Gaitiukevich finished just out of the medals in fourth, while Great Britain's Brad Hall jumped up from a tie for ninth with Latvia's Ralfs Berzins in the first heat to fifth. Berzins finished sixth.
The United States does not have a sled in the 2-man competitions on either Saturday or Sunday. Their lone men's pilot in Europe, Hunter Church, has already gone on to Altenberg to prepare for the World Championships.
In the 2-man World Cup points, Friedrich clinched the title a race early, entering the final race of the season over 225 points in the lead of anyone else. Kripps and Kibermanis will finish the second in second and third, though who gets what position is still to be determined.
Results:
| | | | | | | | | |
| --- | --- | --- | --- | --- | --- | --- | --- | --- |
| Pos | Names | Nation | Bib | Start 1 | Start 2 | Run 1 | Run 2 | Total |
| 1 | Kibermanis / Miknis | LAT | 6 | 4.82 | 4.80 | 49.53 | 49.67 | 1:39.20 |
| 2 | Friedrich / Grothkopp | GER | 7 | 4.87 | 4.90 | 49.52 | 49.75 | 1:39.27 |
| 3 | Kripps / Coakwell | CAN | 4 | 4.95 | 4.96 | 49.76 | 49.77 | 1:39.53 |
| 4 | Gaitiukevich / Koshelev | RUS | 15 | 4.84 | 4.84 | 49.80 | 49.76 | 1:39.56 |
| 5 | Hall / Cackett | GBR | 12 | 4.94 | 4.94 | 49.87 | 49.72 | 1:39.59 |
| 6 | Berzins / Springis | LAT | 14 | 4.95 | 4.91 | 49.87 | 49.80 | 1:39.67 |
| 7 | Dvorak / Suchy | CZE | 9 | 4.95 | 4.94 | 49.83 | 49.85 | 1:39.68 |
| 8 | Stulnev / Kondratenko | RUS | 11 | 5.03 | 5.04 | 49.82 | 49.91 | 1:39.73 |
| 9 | Vogt / Michel | SUI | 8 | 4.98 | 4.99 | 49.97 | 49.94 | 1:39.91 |
| 10 | Tentea / Dobre | ROU | 2 | 4.99 | 5.00 | 50.05 | 50.07 | 1:40.12 |
| 11 | Suk / Lee | KOR | 3 | 5.06 | 5.08 | 50.00 | 50.14 | 1:40.14 |
| 12 | Hafer / Röder | GER | 19 | 5.05 | 5.03 | 50.17 | 50.13 | 1:40.30 |
| 13 | Treichl / Huber | AUT | 18 | 5.10 | 5.05 | 50.34 | 50.03 | 1:40.37 |
| 14 | Maier / Stepan | AUT | 16 | 5.05 | 5.05 | 50.28 | 50.16 | 1:40.44 |
| 15 | Heinrich / Hauterville | FRA | 10 | 5.01 | 5.05 | 50.31 | 50.14 | 1:40.45 |
| 16 | de Bruin / Veenker | NED | 17 | 5.07 | 5.08 | 50.29 | 50.28 | 1:40.57 |
| 17 | Won / Kim | KOR | 5 | 4.98 | 4.99 | 49.75 | 50.97 | 1:40.72 |
| 18 | Illmann / Kornhardt | GER | 1 | 5.00 | 4.98 | 51.21 | 50.07 | 1:41.28 |
| 19 | Variola / Atchori Essoh | ITA | 20 | 5.09 | 5.08 | 50.83 | 50.63 | 1:41.46 |
| 20 | Friedli / Jones | SUI | 13 | 4.90 | 4.91 | 49.67 | 57.83 | 1:47.50 |