From Sochi, RUS
Feb. 16, 2020 – It's rare anytime someone can say Germany winning a team relay race is a "surprise", but that's exactly what the finish of the 49th FIL World Championships gave the world.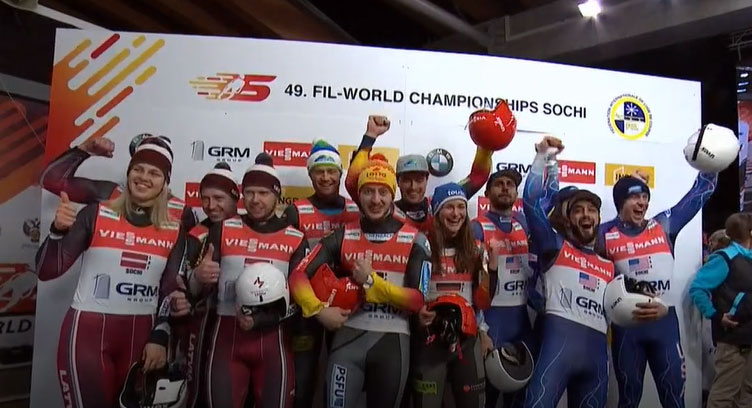 Germany's Julia Taubitz, Johannes Ludwig, and Eggert & Benecken broke the track record set one run earlier on their way to a .321 second lead over Latvia, with only Russia to go.
Ekaterina Katnikova won both the Sprint World Championship and the women's luge World Championship, and had opened up a small lead over Taubitz's run. Katnikova reached up for the relay paddle too late and missed, leading to a disqualification for Russia and a gold medal for Germany.
Latvia finished with their second Team Relay silver medal with the second fastest run in each of the three runs by Kendija Aparjode, Kristers Aparjods, and the team of Sics & Sics.
The United States sneaked into a bronze medal after Russia failed to finish, giving USA Luge their second World Championship Team Relay medal.
Results:
| | | | | | | |
| --- | --- | --- | --- | --- | --- | --- |
| Pos | Names | Nation | Bib | Women | Men | Total |
| 1 | Taubitz / Ludwig / Eggert & Benecken | GER | 10 | 53.277 | 1:48.616 | 2:44.213 |
| 2 | Aparjode / Aparjods / Sics & Sics | LAT | 9 | 53.542 | 1:48.673 | 2:44.534 |
| 3 | Britcher / West / Mazdzer & Terdiman | USA | 5 | 53.650 | 1:48.761 | 2:44.557 |
| 4 | Vötter / D. Fischnaller / Rieder & Kainzwaldner | ITA | 7 | 53.886 | 1:48.937 | 2:44.607 |
| 5 | Egle / Müller / Müller & Frauscher | AUT | 8 | 53.768 | 1:48.735 | 2:45.223 |
| 6 | Simonakova / Ninis / Vavercak & Zmij | SVK | 3 | 54.215 | 1:49.509 | 2:46.297 |
| 7 | Domaradzka / Sochowicz / Chmielewski & Kowalewski | POL | 6 | 54.589 | 1:50.384 | 2:46.872 |
| 8 | Frisch / Lim / Park & Jung | KOR | 4 | 54.723 | 1:51.516 | 2:48.041 |
| 9 | Marsikova / Lejsek / Vejdelek & Pekny | CZE | 1 | 55.719 | 1:52.681 | 2:50.345 |
| DSQ | Salnikova / Dmitriev / Shander & Milkov | KAZ | 2 | DSQ | | |
| DSQ | Katnikova / Repilov / Denisev & Antonov | RUS | 11 | DSQ | | |