From Altenberg, GER
Mar. 1, 2020 – The Skeleton Mixed Team event is a new event in the IBSF World Championships, pitting teams of a men's and women's skeleton athlete against each other. The race replaces the previous team competition that also included a 2-man and women's bobsled.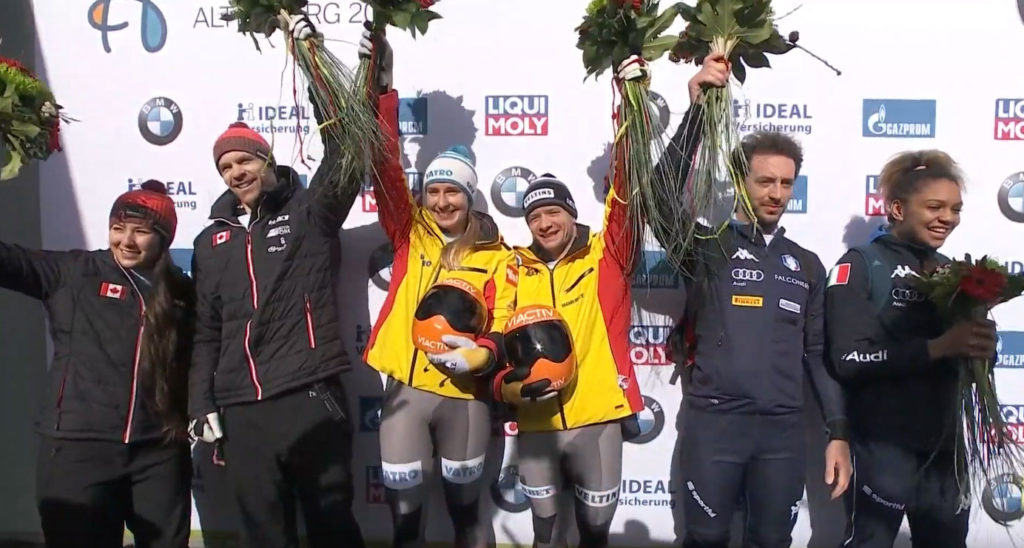 In this first showing of the event, Germany's Jacqueline Lölling and Alexander Gassner edged Canada's Jane Channell and Dave Greszczyszyn by .01 to win gold.
In the mixed event, each team goes down together, with the women's skeleton athlete going first, then the men's skeleton athlete. For the Canadians, Channell threw down the fastest run of the race for the women, Greszczyszyn backed it up with a solid run of his own to put Canada in the leader's box after five sleds.
That lead held all the way until the team of Lölling and Gassner came down nine teams later. While neither athlete had the fastest run of their heat, the two combined for a time just .01 ahead of the Canadians with just Russia to go. The Russian team of Elena Nikitina and Alexander Tretiakov could only muster a 12th place effort, giving the win to Germany and the silver to Canada.
The Italian team of Valentina Margaglio and Mattia Gaspari were the first duo down, and their combined time of 1:55.82 was enough to win bronze, .03 ahead of the British team of Madelaine Smith and Matt Weston.
Weston had the fastest run of all of the men, .03 ahead of Gassner.
The team of German World Champions Tina Hermann and Christopher Grotheer finished fifth, ahead of the Chinese duo of Huiyang Lin and Wengang Yan in sixth.
The United States' team of Kendall Wesenberg and Austin Florian finished seventh, just .08 out of a top five. Wesenberg's run was the seventh quickest of the women, while Florian's was the sixth quickest for the men.
Canada's Mimi Rahneva and Kevin Boyer helped put both Canadian teams in the top ten with a tenth place effort, while Great Britain's Laura Deas and Marcus Wyatt finished one spot back in 11th.
Results:
| | | | | | | | | |
| --- | --- | --- | --- | --- | --- | --- | --- | --- |
| Pos | Names | Nation | Bib | Start-W | Start-M | Women | Men | Total |
| 1 | J. Lölling / A. Gassner | GER-2 | 14 | 5.73 | 5.06 | 58.55 | 56.84 | 1:55.39 |
| 2 | J. Channell / D. Greszczyszyn | CAN-2 | 5 | 5.38 | 5.29 | 57.99 | 57.41 | 1:55.40 |
| 3 | V. Margaglio / M. Gaspari | ITA-1 | 1 | 5.40 | 5.27 | 58.40 | 57.42 | 1:55.82 |
| 4 | M. Smith / M. Weston | GBR-2 | 3 | 5.65 | 5.08 | 59.04 | 56.81 | 1:55.85 |
| 5 | T. Hermann / C. Grotheer | GER-1 | 13 | 5.70 | 5.11 | 59.01 | 57.07 | 1:56.08 |
| 6 | H. Lin / W. Yan | CHN-1 | 4 | 5.52 | 5.10 | 59.25 | 56.85 | 1:56.10 |
| 7 | K. Wesenberg / A. Florian | USA | 7 | 5.87 | 5.08 | 59.19 | 56.97 | 1:56.16 |
| 8 | M. Gilardoni / B. Sieber | SUI | 8 | 5.52 | 5.36 | 58.11 | 58.09 | 1:56.20 |
| 9 | Y. Kanakina / N. Tregubov | RUS-2 | 10 | 5.38 | 5.08 | 59.59 | 56.95 | 1:56.54 |
| 10 | M. Rahneva / K. Boyer | CAN-1 | 9 | 5.51 | 5.15 | 59.23 | 57.52 | 1:56.75 |
| 11 | L. Deas / M. Wyatt | GBR-1 | 11 | 5.60 | 4.95 | 59.92 | 56.89 | 1:56.81 |
| 12 | E. Nikitina / A. Tretiakov | RUS-1 | 15 | 5.24 | 4.89 | 59.73 | 57.10 | 1:56.83 |
| 13 | J. Flock / F. Auer | AUT | 12 | 5.77 | 5.26 | 60.06 | 57.79 | 1:57.85 |
| 14 | A. Crippa / A. Bagnis | ITA-2 | 2 | 5.62 | 5.09 | 59.35 | 58.91 | 1:58.26 |
| 15 | Y. Zhu / W. Geng | CHN-2 | 6 | 5.60 | 5.13 | 62.77 | 57.58 | 2:00.35 |