From Sigulda, LAT
(Nov. 29, 2020) – Francesco Friedrich once again demolished the track record in Sigulda on his way to his fourth win in as many races.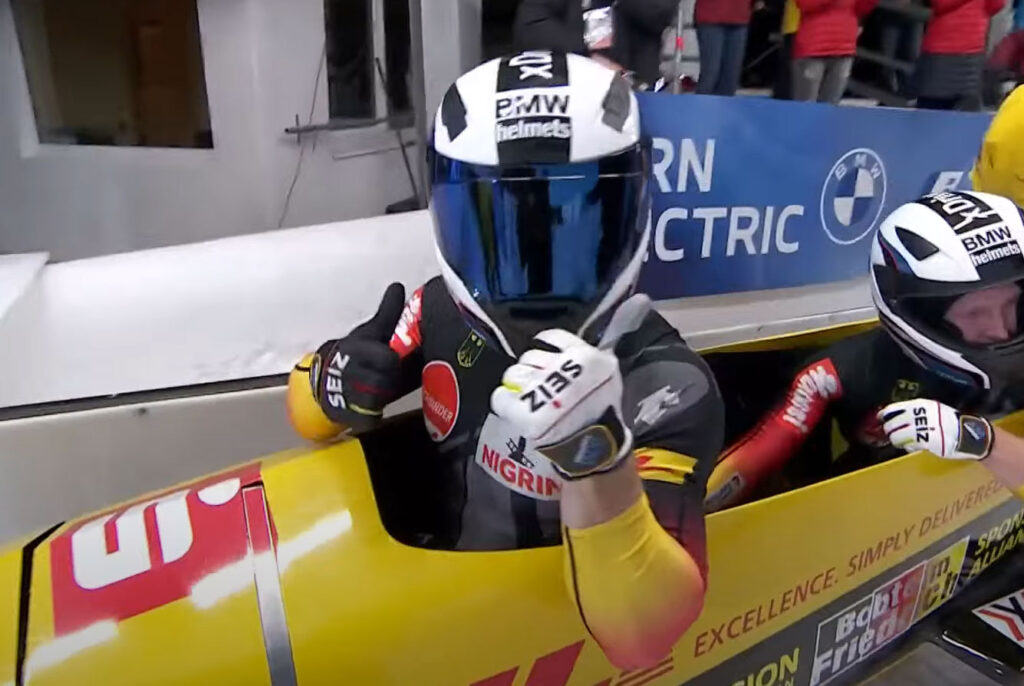 The two-man Olympic champion lowered the track record to a 49.19 in the first heat and then matched that time the second heat on his way to a .44 second win over Switzerland's Michael Vogt.
The gold medal for Friedrich was the 30th of his World Cup two-man career.
Behind Friedrich, Vogt edged out Johannes Lochner with a really quick second run that nearly matched the previously existing track record of 49.31. His silver medal was a career-best and his third medal in four races.
The Swiss have medaled in every race so far this season, with Simon Friedli winning bronze in the third race of the season.
Johannes Lochner finished third, a tenth of a second ahead of Oskars Melbardis who finished fourth. Christoph Hafer and Ralfs Berzins rounded out the top six.
The race had a smaller field due to a number of sleds sitting out for various reasons. The United States, Canada, Korea, and China all sat out due to COVID travel restrictions. Great Britain's Brad Hall injured himself in training to open the season and will return to action in Igls. Russia has a failed COVID test and was forced to sit out the first two weekends.
Results:
| | | | | | | | | |
| --- | --- | --- | --- | --- | --- | --- | --- | --- |
| Pos | Names | Nation | Bib | Start 1 | Start 2 | Run 1 | Run 2 | Total |
| 1 | Friedrich / Schüller | GER | 12 | 4.81 | 4.79 | 49.19 | 49.19 | 1:38.38 |
| 2 | Vogt / Michel | SUI | 7 | 4.96 | 4.90 | 49.43 | 49.39 | 1:38.82 |
| 3 | Lochner / Rasp | GER | 4 | 4.87 | 4.86 | 49.36 | 49.55 | 1:38.91 |
| 4 | Melbardis / Nemme | LAT | 1 | 4.98 | 4.99 | 49.43 | 49.58 | 1:39.01 |
| 5 | Hafer / Ammour | GER | 5 | 4.98 | 4.97 | 49.41 | 49.65 | 1:39.06 |
| 6 | Berzins / Bebriss | LAT | 10 | 4.93 | 4.93 | 49.67 | 49.80 | 1:39.47 |
| 7 | Kibermanis / Springis | LAT | 8 | 4.93 | 4.95 | 49.79 | 49.73 | 1:39.52 |
| 8 | Tentea / Dobre | ROU | 9 | 5.01 | 5.03 | 49.81 | 47.78 | 1:39.59 |
| 9 | Heinrich / Lefebvre | FRA | 2 | 5.03 | 5.00 | 49.80 | 49.90 | 1:39.70 |
| 10 | Dvorak / Sindelar | CZE | 11 | 4.97 | 4.99 | 50.00 | 49.78 | 1:39.78 |
| 11 | Baumgartner / Bilotti | ITA | 6 | 5.06 | 5.04 | 50.07 | 49.96 | 1:40.03 |
| 12 | Variola / Paginni | ITA | 3 | 5.09 | 55.03 | 50.59 | 50.35 | 1:40.94 |
| DNS | Friedli / Jones | SUI | 13 | 4.92 | | 55.51 | | DNS |