From Altenberg, GER
(Dec. 5, 2020) – Austria's Thomas Steu & Lorenz Koller remained undefeated in FIL World Cup action since their return from Steu's broken leg, edging out Toni Eggert & Sascha Benecken to win gold in Altenberg.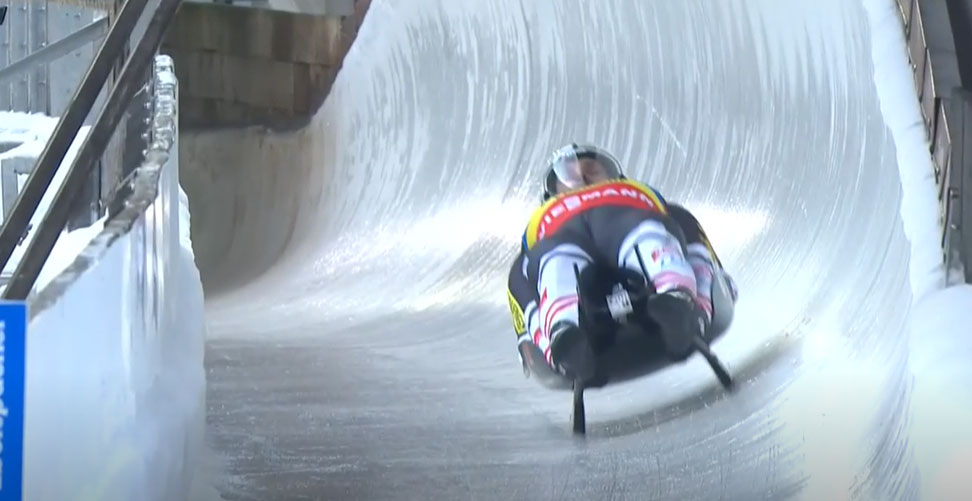 Both teams put down near identical runs in both heats, as Eggert & Benecken held a .008 advantage over the Austrians going into the second heat. Like the first run, the second run was remarkably close, but this time with Steu & Koller edging out the defending World Champions by .016 on the run to give them a victory by just .008.
The win was the third World Cup win in three attempts to start the 2020/2021 season for Steu & Koller, with two wins in the traditional two-heat races and a win in the Sprint World Cup opener, all on their home track Igls.
Eggert & Benecken won their second medal in three races with silver, while teammates Tobias Wendl & Tobias Arlt finished third, only .019 behind Steu & Koller.
The Latvian team of Andris & Juris Sics finished fourth, well ahead of Ludwig Rider & Patrick Rastner in fifth. Austrians Yannick Müller & Armin Frauscher rounded out the top six.
The United States, Canada, and China all are sitting out the first portion of the season as a result of travel restrictions relating to the COVID-19 pandemic. All should be back on tour after the holiday break.
Results:
| | | | | | | | | |
| --- | --- | --- | --- | --- | --- | --- | --- | --- |
| Pos | Names | Nation | Bib | Start 1 | Start 2 | Run 1 | Run 2 | Total |
| 1 | Steu / Koller | AUT | 16 | 5.763 | 5.806 | 41.788 | 41.824 | 1:23.612 |
| 2 | Eggert / Benecken | GER | 18 | 5.773 | 5.762 | 41.780 | 41.840 | 1:23.620 |
| 3 | Wendl / Arlt | GER | 22 | 5.800 | 5.772 | 41.828 | 41.803 | 1:23.631 |
| 4 | Sics / Sics | LAT | 14 | 5.811 | 5.818 | 41.905 | 41.855 | 1:23.760 |
| 5 | Rieder / Rastner | ITA | 17 | 5.780 | 5.750 | 41.913 | 42.015 | 1:23.928 |
| 6 | Müller / Frauscher | AUT | 9 | 5.798 | 5.816 | 41.924 | 42.031 | 1:23.955 |
| 7 | Denisev / Antonov | RUS | 15 | 5.825 | 5.823 | 42.068 | 41.901 | 1:23.969 |
| 8 | Gudramovics / Kalnins | LAT | 20 | 5.827 | 5.821 | 42.009 | 41.984 | 1:23.993 |
| 9 | Orlamünder / Gubitz | GER | 6 | 5.811 | 5.843 | 41.970 | 42.060 | 1:24.030 |
| 10 | Nagler / Malleier | ITA | 21 | 5.748 | 5.743 | 42.003 | 42.054 | 1:24.057 |
| 11 | Kashkin / Korshunov | RUS | 12 | 5.848 | 5.820 | 41.943 | 42.123 | 1:24.066 |
| 12 | Rieder / Kainzwaldner | ITA | 19 | 5.848 | 5.809 | 42.112 | 42.001 | 1:24.113 |
| 13 | Yuzhakov / Prokhorov | RUS | 7 | 5.872 | 5.833 | 42.068 | 42.053 | 1:24.121 |
| 14 | Bots / Plume | LAT | 8 | 5.777 | 5.773 | 41.942 | 42.494 | 1:24.436 |
| 15 | Chmielewski / Kowalewski | POL | 11 | 5.780 | 5.809 | 42.173 | 42.464 | 1:24.637 |
| 16 | Vavercak / Zmij | SVK | 13 | 5.827 | 5.824 | 42.342 | 42.369 | 1:24.711 |
| 17 | Stakhiv / Lysetskyi | UKR | 10 | 5.948 | 5.940 | 42.600 | 42.482 | 1:25.082 |
| 18 | Hoi / Levkovych | UKR | 3 | 5.959 | 5.965 | 42.503 | 42.589 | 1:25.092 |
| 19 | Park / Cho | KOR | 5 | 5.943 | 5.970 | 42.555 | 42.553 | 1:25.108 |
| 20 | Gatt / Schöpf | AUT | 4 | 5.855 | 5.845 | 42.430 | 43.352 | 1:25.782 |
| 21 | Vejdelek / Pekny | CZE | 2 | 5.945 | 5.957 | 42.892 | 43.017 | 1:25.909 |
| 22 | Siscanu / Oprea | MDA | 1 | 5.596 | 5.950 | 43.178 | 43.348 | 1:26.526 |