From St. Moritz, SUI
(Jan. 15, 2021) – St. Moritz is a track that is long enough where, if you make a mistake early, you have track to make up that time. Tina Hermann did just that on her way to her first gold medal of the season.
In the first heat, Hermann popped the groove and had a huge skid into the first curve. Despite that, she had an otherwise nearly flawless slide to put her in second place behind just Janine Flock going into the second run.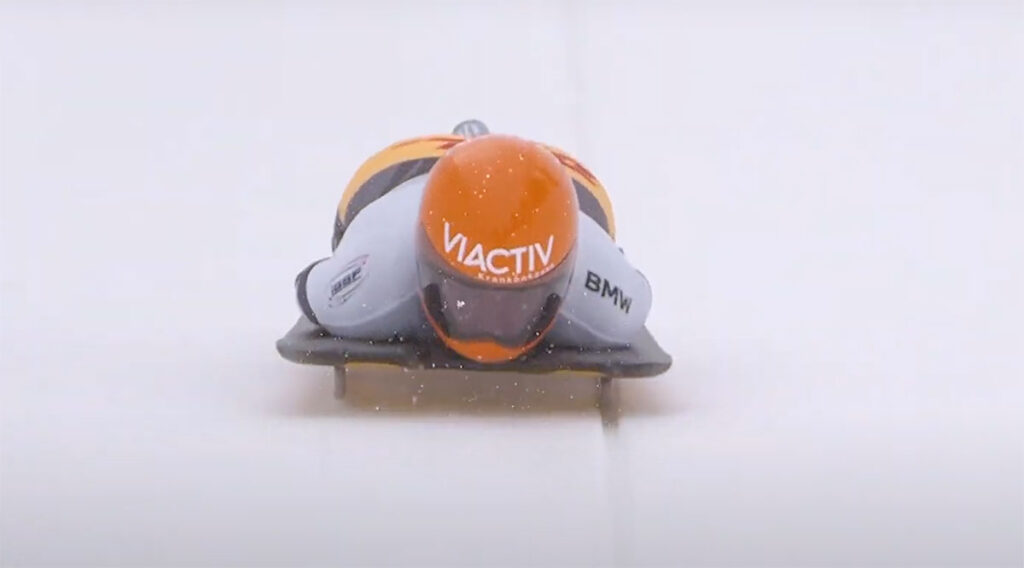 On her second run Hermann was once again nearly perfect on her slide, but this time without a mistake at the top as she opened up a huge lead on the field with only Flock to go. Flock's slide was clean, but not fast enough to match Hermann and when Flock crossed the line she was in second, .32 behind the German.
The win for Hermann was her second straight in St. Moritz and her 11th gold medal overall. Flock's silver was her sixth straight podium to start the season.
Jacqueline Lölling won her third bronze medal of the season and fourth medal overall. She didn't have the speed to contend for gold but was well ahead of anyone else behind her. Teammate Hannah Neise was .64 faster in her second run to catapult up the leaderboard from eighth in the first heat to fourth.
The United States' Katie Uhlaender came into the second run in fifth place, just .17 out of the medals. While she finished just out of the medals, her fifth place finish was her best World Cup finish since Sochi in the 2012/2013 season.
Canada's Elisabeth Maier finished in sixth place, just .05 behind Uhlaender. Anna Fernstädt finished seventh for her sixth straight top ten.
With two races to go in the IBSF World Cup season, Janine Flock leads by 90 points over Tina Hermann. Jacqueline Lölling, Kimberley Bos, and Anna Fernstädt round out the top five. Bos who was second in the World Cups standings entering the race weekend, sat out the event in St. Moritz to instead race in the European Cup race in Altenberg. Altenberg will host the 2021 World Championships.
The United States' Kendall Wesenberg didn't have her usual clean run in St. Moritz in the first heat and that left her 14th after one run. A nearly flawless second run moved her up a spot to 13th.
It was a very promising day all around for Canada. On top of Maier's sixth place finish, Jaclyn LaBerge finished 11th in her second World Cup start, only one spot behind her best ever finish in St. Moritz at any level.
Ashleigh Pittaway led the way for Great Britain with a 12th place finish. Olympic bronze medalist Laura Deas finished two spots back in a tie for 14th with Russia's Anastasia Trufanova, while Madelaine Smith rounded out the British effort in 16th.
Results:
| | | | | | | | | |
| --- | --- | --- | --- | --- | --- | --- | --- | --- |
| Pos | Name | Nation | Bib | Start 1 | Start 2 | Run 1 | Run 2 | Total |
| 1 | Tina Hermann | GER | 13 | 5.53 | 5.45 | 70.62 | 70.06 | 2:20.68 |
| 2 | Janine Flock | AUT | 9 | 5.37 | 5.35 | 70.41 | 70.59 | 2:21.00 |
| 3 | Jacqueline Lölling | GER | 4 | 5.51 | 5.50 | 70.74 | 70.80 | 2:21.54 |
| 4 | Hannah Neise | GER | 5 | 5.57 | 5.52 | 71.20 | 70.58 | 2:21.78 |
| 5 | Katie Uhlaender | USA | 16 | 5.44 | 0.54 | 70.80 | 71.04 | 2:21.84 |
| 6 | Elisabeth Maier | CAN | 8 | 5.24 | 5.29 | 70.63 | 71.26 | 2:21.89 |
| 7 | Anna Fernstädt | CZE | 12 | 5.68 | 5.60 | 71.10 | 70.82 | 2:21.92 |
| 8 | Kim Meylemans | BEL | 6 | 5.31 | 5.37 | 71.42 | 70.94 | 2:22.36 |
| 9 | Alina Tararychenkova | RUS | 2 | 5.27 | 5.34 | 71.34 | 71.45 | 2:22.79 |
| 10 | Anastasiia Tsyganova | RUS | 20 | 5.51 | 5.45 | 71.74 | 71.18 | 2:22.92 |
| 11 | Jaclyn LaBerge | CAN | 3 | 5.58 | 5.59 | 71.36 | 71.58 | 2:22.94 |
| 12 | Ashleigh Pittaway | GBR | 14 | 5.37 | 5.40 | 71.59 | 71.39 | 2:22.98 |
| 13 | Kendall Wesenberg | USA | 1 | 5.62 | 5.57 | 71.86 | 71.52 | 2:23.38 |
| 14 | Laura Deas | GBR | 11 | 5.26 | 5.28 | 71.45 | 72.14 | 2:23.59 |
| 14 | Anastasia Trufanova | RUS | 19 | 5.45 | 5.46 | 72.02 | 71.57 | 2:23.59 |
| 16 | Madelaine Smith | GBR | 15 | 5.42 | 5.47 | 72.00 | 72.02 | 2:24.02 |
| 17 | Alessandra Fumagalli | ITA | 18 | 5.32 | 5.37 | 71.96 | 72.27 | 2:24.23 |
| 18 | Alessia Crippa | ITA | 10 | 5.52 | 5.36 | 72.53 | 71.72 | 2:24.25 |
| 19 | Agathe Bessard | FRA | 7 | 5.60 | 5.66 | 71.89 | 72.99 | 2:24.88 |
| 20 | Darta Zunte | LAT | 17 | 5.45 | 5.45 | 73.69 | 72.84 | 2:26.53 |
| 21 | Lovisa Ewald | SWE | 21 | 5.56 | | 75.02 | | |