From Passeier, ITA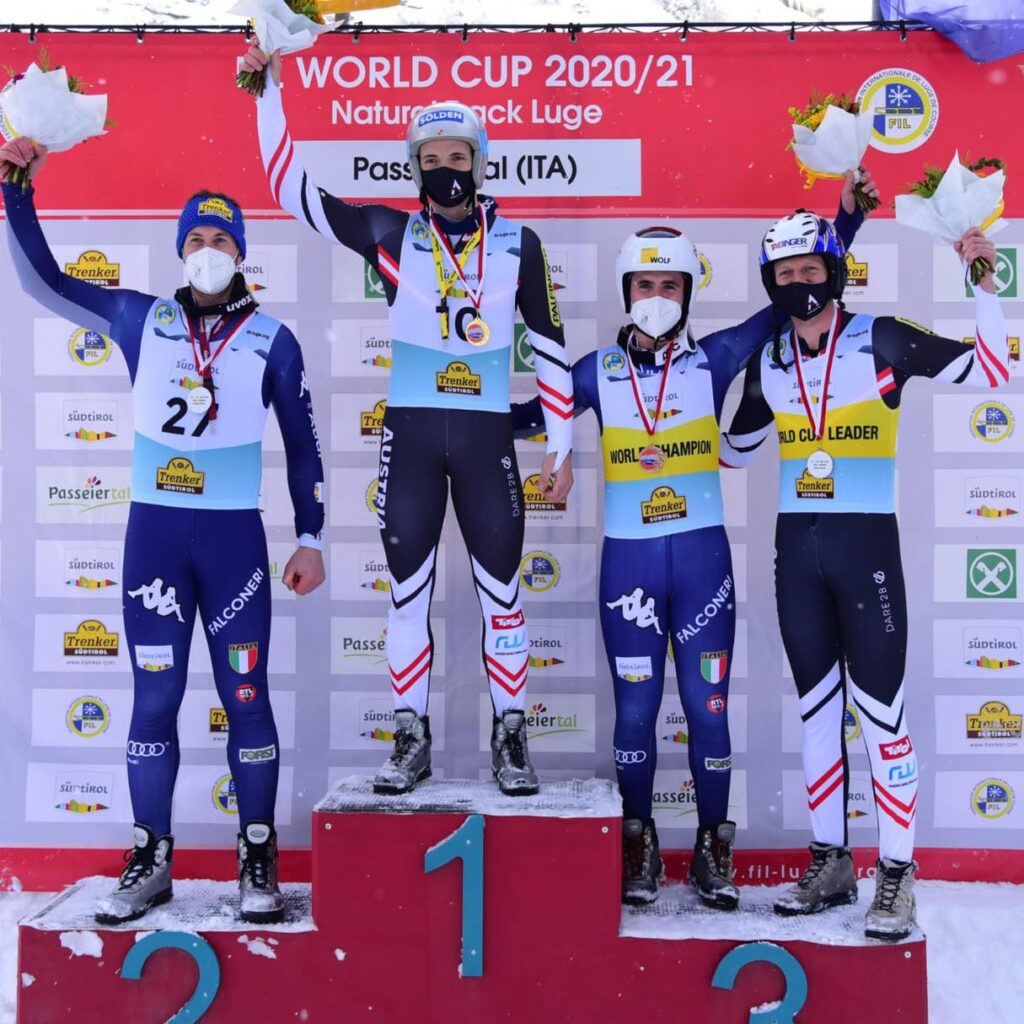 (Jan. 15, 2021) – Thomas Kammerlander missed the first two races of the FIL World Cup natural track season after testing positive for COVID. He started his 2020/2021 campaign  with a dominant win in Passeier.
The Austrian was both the quickest off the top and the quickest at the bottom, setting the two fastest times of the race on his way to a .83 second victory over Italy's Patrick Pigneter, who finished nearly a full second ahead of third. The gold for Kammerlander was his second straight dating back to last season, and his fourth straight podium. For Pigneter, the silver was his sixth over the last two seasons.
The battle for bronze came down to Alex Gruber of Italy and World Cup leader Michael Scheikl of Austria. The two men ended up tying for the final spot on the podium, with Scheikl out-sliding Gruber on the second run to even things up for bronze.
Italy and Austria crowded the rest of the field out of the top six, with Italy's Stefan Federer and Austria's Christian Schopf rounding out the top six.
Russia made their first starts in the World Cup, and Aleksandr Egorov was the top Russian in eighth.
At the halfway point of the 2020/2021 season, Michael Scheikl holds a 30 point lead over Patrick Pigneter and a 70 point lead over Alex Gruber. Christian Schopf is fourth, only 5 points out of the top three.
Results:
| | | | | | | | | |
| --- | --- | --- | --- | --- | --- | --- | --- | --- |
| Pos | Name | Nation | Bib | Start 1 | Start 2 | Run 1 | Run 2 | Total |
| 1 | Thomas Kammerlander | AUT | 10 | 10.47 | 10.38 | 55.08 | 54.97 | 1:50.05 |
| 2 | Patrick Pigneter | ITA | 27 | 10.70 | 10.68 | 55.57 | 55.31 | 1:50.88 |
| 3 | Alex Grubrer | ITA | 25 | 10.54 | 10.51 | 55.68 | 55.40 | 1:51.80 |
| 3 | Michael Scheikl | AUT | 28 | 10.56 | 10.52 | 55.74 | 55.34 | 1:51.80 |
| 5 | Stefan Federer | ITA | 24 | 10.69 | 10.62 | 56.17 | 55.75 | 1:51.92 |
| 6 | Christian Schopf | AUT | 26 | 10.55 | 10.49 | 56.50 | 55.49 | 1:51.99 |
| 7 | Fabian Achenrainer | AUT | 22 | 10.60 | 10.61 | 56.01 | 56.17 | 1:52.18 |
| 8 | Aleksandr Egorov | RUS | 5 | 10.70 | 10.63 | 56.33 | 56.26 | 1:52.59 |
| 9 | Florian Clara | ITA | 23 | 10.71 | 10.67 | 56.80 | 56.04 | 1:52.84 |
| 10 | Grigory Bukin | RUS | 9 | 10.61 | 10.56 | 57.14 | 56.11 | 1:53.25 |
| 11 | Iurii Talykh | RUS | 11 | 10.93 | 10.87 | 56.82 | 56.64 | 1:53.46 |
| 12 | Stansialv Kovshik | RUS | 8 | 10.98 | 10.89 | 57.16 | 56.75 | 1:53.91 |
| 13 | Myroslav Lenko | UKR | 20 | 10.95 | 10.90 | 59.22 | 58.68 | 1:57.90 |
| 14 | Jerome Almer | SUI | 21 | 11.37 | 11.20 | 59.36 | 59.48 | 1:58.84 |
| 15 | Ivan Lenko | UKR | 19 | 11.30 | 11.19 | 59.85 | 59.86 | 1:59.71 |
| 16 | David Rydl | CZE | 15 | 11.71 | 11.81 | 60.85 | 61.26 | 2:02.11 |
| 17 | Simon Dietz | GER | 2 | 11.59 | 11.45 | 62.43 | 60.85 | 2:03.28 |
| 18 | Szymon Jan Majdak | POL | 17 | 11.74 | 11.52 | 61.91 | 61.77 | 2:03.68 |
| 19 | Leonardo de Oliveira Silva | BRA | 13 | 11.61 | 11.22 | 62.44 | 62.43 | 2:04.87 |
| 20 | Julio Dante de Moraes | BRA | 4 | 12.27 | 12.91 | 74.32 | 70.66 | 2:24.98 |
| 21 | Mikic Lazar | SRB | 12 | 12.96 | 13.05 | 75.62 | 135.97 | 3:31.59 |