From Igls, AUT
Jan. 23, 2021 – Felix Loch continued a stellar season where he'd nearly won everything in sight with yet another win, this time to clinch the overall World Cup title.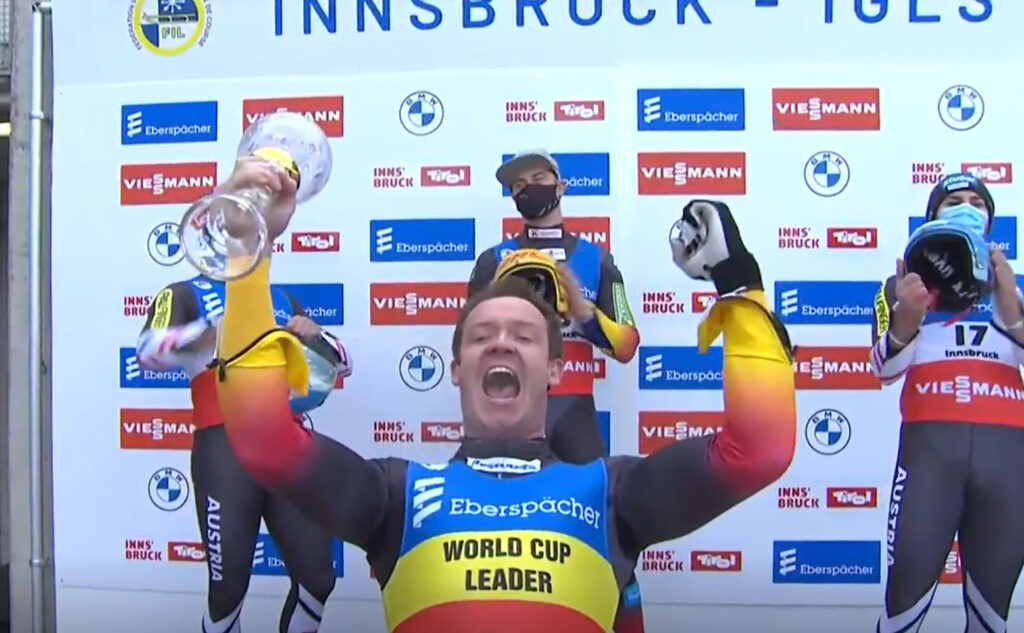 The German champion came into the second heat just .061 behind Russia's Semen Pavlichenko, in a position that was more than enough to clinch the overall title. Loch's second run was flawless, and enough to break the track record., and while Pavlichenko's slide was very good, it left him .006 behind Loch.
The gold medal for Loch was the 48th of his career. He had clinched the "Classic" World Cup title (races without the Sprints) in the previous week's race.
Pavlichenko finished in second, over two tenths ahead of Germany's Johannes Ludwig in third.
David and Nico Gleirscher finished in fourth and fifth on their home track, up from sixth and eighth respectfully, while Italy's Dominik Fischnaller rounded out the top six.
It was a tough day for the United States. Both Jonny Gustafson and Chris Mazdzer had trouble at the start of their first runs, which left them out of the top 20 going into the second run. While both athletes put down better second runs to move up, they only made it into the top 20 after a series of unfortunate mistakes by Anton Dukach (disqualified for a late start), Jonas Müller (crash) and teammate Tucker West (crash). West came into the second heat in ninth place and was all but sure of a top ten before going over.
Results:
| | | | | | | | | |
| --- | --- | --- | --- | --- | --- | --- | --- | --- |
| Pos | Name | Nation | Bib | Start 1 | Start 2 | Run 1 | Run 2 | Total |
| 1 | Felix Loch | GER | 29 | 5.399 | 5.378 | 49.952 | 49.819 | 1:39.771 |
| 2 | Semen Pavlichenko | RUS | 30 | 5.389 | 5.384 | 49.891 | 49.886 | 1:39.777 |
| 3 | Johannes Ludwig | GER | 26 | 5.377 | 5.372 | 50.001 | 49.986 | 1:39.987 |
| 4 | David Gleirscher | AUT | 19 | 5.418 | 5.414 | 50.042 | 49.979 | 1:40.021 |
| 5 | Nico Gleirscher | AUT | 17 | 5.441 | 5.407 | 50.110 | 50.008 | 1:40.118 |
| 6 | Dominik Fischnaller | ITA | 32 | 5.389 | 5.415 | 50.005 | 50.133 | 1:40.138 |
| 7 | Kevin Fischnaller | ITA | 21 | 5.413 | 5.449 | 50.058 | 50.190 | 1:40.248 |
| 8 | Max Langenhan | GER | 28 | 5.459 | 5.448 | 50.247 | 50.071 | 1:40.381 |
| 9 | Gints Berzins | LAT | 16 | 5.449 | 5.447 | 50.236 | 50.228 | 1:40.464 |
| 10 | Wolfgang Kindl | AUT | 23 | 5.470 | 5.447 | 50.274 | 50.200 | 1:40.474 |
| 11 | Roman Repilov | RUS | 27 | 5.399 | 5.388 | 50.312 | 50.192 | 1:40.504 |
| 12 | Moritz Bollmann | GER | 18 | 5.392 | 5.379 | 50.270 | 50.246 | 1:40.516 |
| 13 | Chris Eißler | GER | 15 | 5.416 | 5.418 | 50.278 | 50.302 | 1:40.580 |
| 14 | Reinhard Egger | AUT | 12 | 5.467 | 5.479 | 50.259 | 50.375 | 1:40.634 |
| 15 | Riks Rozitis | LAT | 24 | 5.505 | 5.477 | 50.394 | 50.409 | 1:40.748 |
| 16 | Arturs Darznieks | LAT | 25 | 5.456 | 5.453 | 50.342 | 50.430 | 1:40.772 |
| 17 | Pavel Repilov | RUS | 10 | 5.484 | 5.458 | 50.396 | 50.399 | 1:40.795 |
| 18 | Jonathan Gustafson | USA | 18 | 5.469 | 5.443 | 50.494 | 50.372 | 1:40.866 |
| 19 | Chris Mazdzer | USA | 22 | 5.461 | 5.434 | 50.484 | 50.386 | 1:40.870 |
| 20 | Andriy Mandziy | UKR | 11 | 5.460 | 5.448 | 50.502 | 50.445 | 1:40.947 |
| 21 | Jozef Ninis | SVK | 6 | 5.489 | 5.503 | 50.479 | 50.777 | 1:41.256 |
| 22 | Mateusz Sochowicz | POL | 7 | 5.432 | 5.463 | 50.649 | 50.883 | 1:42.532 |
| 23 | Valentin Cretu | ROU | 8 | 5.460 | 5.475 | 50.679 | 50.873 | 1:41.552 |
| 24 | Svante Kohala | SWE | 4 | 5.520 | 5.526 | 50.842 | 50.816 | 1:41.658 |
| 25 | Aleksandr Gorbatcevich | RUS | 20 | 5.425 | 5.434 | 50.384 | 51.428 | 1:41.812 |
| 26 | Kacper Tarnawski | POL | 3 | 5.493 | 5.488 | 50.882 | 51.108 | 1:41.990 |
| 27 | Mirza Nikolajev | BIH | 2 | 5.528 | 5.563 | 51.079 | 51.156 | 1:42.235 |
| 28 | Alex Gufler | ITA | 5 | 5.501 | 5.507 | 51.326 | 50.975 | 1:42.301 |
| 29 | Marian Skupek | SVK | 1 | 5.541 | 5.544 | 51.247 | 51.382 | 1:42.629 |
| DNF | Jonas Müller | AUT | 31 | 5.383 | 5.410 | 50.007 | DNF | |
| DNF | Tucker West | USA | 14 | 5.403 | 5.422 | 50.137 | DNF | |
| DSQ | Anton Dukach | UKR | 9 | 5.440 | | 50.443 | DSQ | |