From Igls, AUT
Jan. 31, 2021 – It took a while for the United States to get over to start their portion of the IBSF World Cup. Then it took a little longer for Kaillie Humphries to get on the podium, but when she did she did it in style, winning gold in Igls.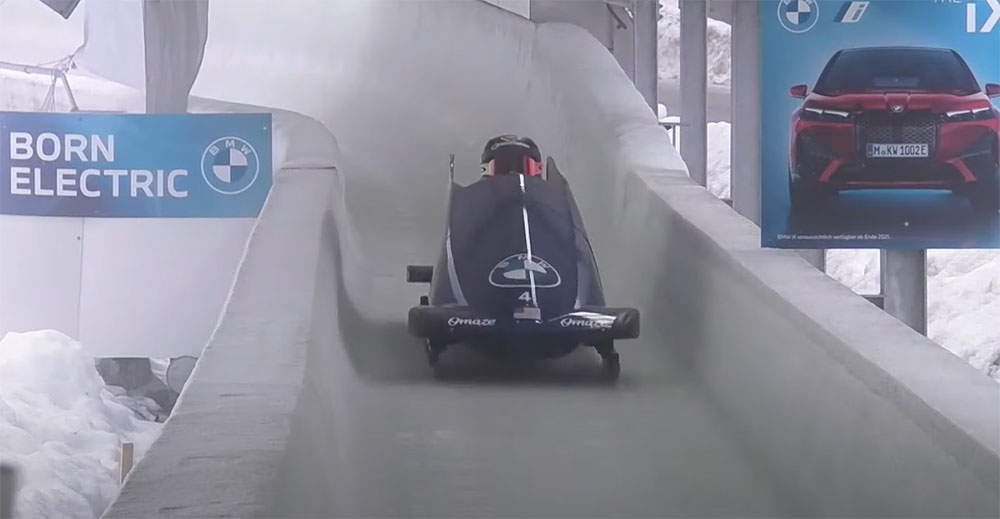 Humphries came into the second heat in third place, just .09 behind leader and teammate Elana Meyers Taylor. Her second run was the fastest of the race, to put her in the lead with only World Cup leader Kati Beierl and Meyers Taylor to go.
Beierl went first, and while she was unable to unseat the two-time Olympic gold medalist, she was able to hold on for bronze, her third of the season.
Meyers Taylor finished out the race, and carried a lead through the Kreisel curve, but only by .01. Below Kreisel Meyers Taylor was clean but Humphries had been a tick cleaner, and at the end of the run Meyers Taylor was in second by just .04.
The win was the first for Humphries on the season, and the first of her career in Igls. The silver for Meyers Taylor was her third straight medal on the season.
For Beierl, her bronze medal was her third medal and seventh top five of the season, and enough to give her Austria's first ever World Cup title in women's bobsled.
World Cup rookie Cynthia Appiah had a stellar day in Igls, setting the two fastest start times of the race alongside Dawn Richardson Wilson on her way to a fourth place finish. Teammate and fellow World Cup rookie Melissa Lotholz finished one spot back in fifth.
Germany's Kim Kalicki needed a win and some help to contend for the World Cup title, but could only muster a sixth place finish, the worst finish of her career.
Canada's Alysia Rissling finished 11th in the third Canadian sled in her third race back from a season off to recover.
Mica McNeill finished 14th in the lone British sled.
In the season points, Kati Beierl is the overall winner, 75 points ahead of Kim Kalicki. Mariama Jamanka finished the year in third, with Andreea Grecu and Laura Nolte rounding out the top five.
Results:
| | | | | | | | | |
| --- | --- | --- | --- | --- | --- | --- | --- | --- |
| Pos | Names | Nation | Bib | Start 1 | Start 2 | Run 1 | Run 2 | Total |
| 1 | Humphries / Jones | USA | 12 | 5.60 | 5.57 | 53.64 | 53.43 | 1:47.07 |
| 2 | Meyers Taylor / Kwaza | USA | 10 | 5.57 | 5.55 | 53.55 | 53.56 | 1:47.11 |
| 3 | Beierl / Onasanya | AUT | 13 | 5.59 | 5.58 | 53.56 | 53.57 | 1:47.13 |
| 4 | Appiah / Richardson Wilson | CAN | 17 | 5.54 | 5.52 | 53.67 | 53.48 | 1:47.15 |
| 5 | Lotholz / Villani | CAN | 15 | 5.60 | 5.57 | 53.76 | 53.59 | 1:47.35 |
| 6 | Kalicki / Dönicke | GER | 8 | 5.60 | 5.61 | 53.67 | 53.70 | 1:47.37 |
| 7 | Buckwitz / Kwofie | GER | 18 | 5.54 | 5.55 | 53.72 | 53.75 | 1:47.47 |
| 8 | Jamanka / Galander | GER | 11 | 5.63 | 5.61 | 53.86 | 53.74 | 1:47.60 |
| 9 | Grecu / Vlad | ROU | 9 | 5.68 | 5.66 | 53.83 | 53.81 | 1:47.64 |
| 10 | Sergeeva / Tarasova | RUS | 1 | 5.64 | 5.60 | 53.86 | 53.84 | 1:47.70 |
| 11 | Rissling / Voss | CAN | 2 | 5.74 | 5.74 | 53.90 | 53.87 | 1:47.77 |
| 12 | Chernykh / Mamedova | RUS | 4 | 5.66 | 5.67 | 53.78 | 54.04 | 1:47.82 |
| 13 | Walker / Blizzard | AUS | 7 | 5.70 | 5.72 | 53.93 | 53.97 | 1:47.90 |
| 14 | McNeill / Douglas | GBR | 6 | 5.78 | 5.80 | 54.13 | 53.96 | 1:48.09 |
| 15 | Vannieuwenhuyse / Aerts | BEL | 5 | 5.75 | 5.76 | 54.09 | 54.07 | 1:48.16 |
| 16 | Makarova / Belomestnykh | RUS | 14 | 5.67 | 5.68 | 54.17 | 54.09 | 1:48.26 |
| 17 | Andreutti / Schenk | ITA | 3 | 5.92 | 5.93 | 54.60 | 54.36 | 1:48.96 |
| DNS | Kim / Yoo | KOR | 16 | | | DNS | | DNS |