From St. Moritz, SUI
Feb. 6, 2021 – The FIL World Cup made its return to St. Moritz after a nine year hiatus, and did so in exciting fashion with a doubles team winning their first ever World Cup gold medal.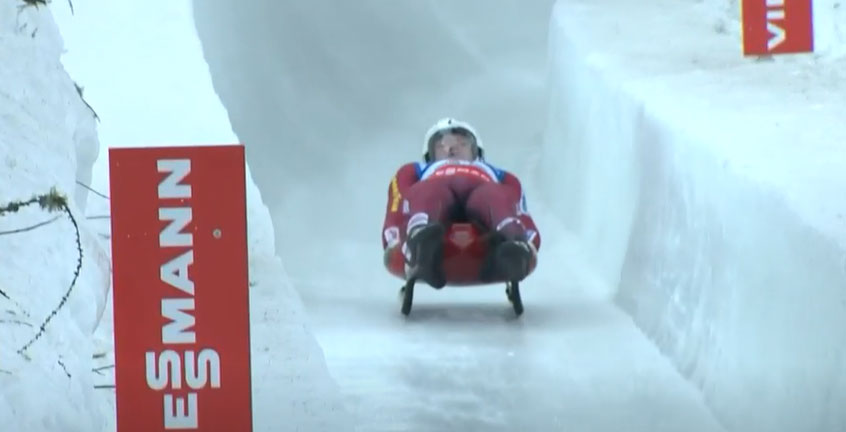 Latvians Martins Bots & Roberts Plume were the surprise leaders after the first heat, edging out World Champions Toni Eggert & Sascha Benecken for the top spot after one run, with Ludwig Rieder & Patrick Rastner and Andris & Juris Sics also in the hunt.
On the second run, Sics & Sics put down what would be the fastest run of the second heat to move into the lead with the top three to go. Neither Rieder & Rastner nor Eggert & Benecken could match Sics & Sics' pace, with the Latvians holding onto the top spot with just their teammtes to go.
Bots & Plume showed none of their inexperience on their second run. They put down the second fastest run of the heat, enough to give them their first ever FIL World Cup gold medal in their first full season on tour as part of a Latvia one-two.
Sics & Sics finished their excellent season with a second place run, well ahead of Rieder & Rastner in third.
Germany finished fourth and fifth, with Eggert & Benecken beating out teammates Tobias Wendl & Tobias Arlt. Wendl & Arlt moved up from eighth in the first heat to the top five.
Ivan Nagler & Fabian Malleier rounded out the top six.
Austrians Thomas Steu & Lorenz Koller finished seventh in the race, but had already clinched the season-long title. Andris & Juris Sics finished the season in second overall, four points ahead of Toni Eggert & Sascha Benecken in third.
Americans Chris Mazdzer & Jayson Terdiman finished their partial World Cup season with a season-best ninth place finish.
Results:
| | | | | | | | | |
| --- | --- | --- | --- | --- | --- | --- | --- | --- |
| Pos | Names | Nation | Bib | Start 1 | Start 2 | Run 1 | Run 2 | Total |
| 1 | Bots / Plume | LAT | 24 | 3.283 | 3.283 | 54.050 | 54.224 | 1:48.274 |
| 2 | Sics / Sics | LAT | 22 | 3.297 | 3.331 | 54.170 | 54.168 | 1:48.338 |
| 3 | Rieder / Rastner | ITA | 21 | 3.255 | 3.302 | 54.148 | 54.333 | 1:48.481 |
| 4 | Eggert / Benecken | GER | 23 | 3.193 | 3.236 | 54.123 | 54.445 | 1:48.568 |
| 5 | Wendl / Arlt | GER | 19 | 3.255 | 5.265 | 54.410 | 54.320 | 1:48.730 |
| 6 | Nagler / Malleier | ITA | 16 | 3.225 | 3.251 | 54.309 | 54.449 | 1:48.758 |
| 7 | Steu / Koller | AUT | 20 | 3.317 | 3.324 | 54.348 | 54.458 | 1:48.806 |
| 8 | Rieder / Kainzwaldner | ITA | 18 | 3.285 | 3.273 | 54.397 | 54.428 | 1:48.825 |
| 9 | Mazdzer / Terdiman | USA | 11 | 3.417 | 3.423 | 54.489 | 54.664 | 1:49.153 |
| 10 | Gudramovics / Kalnins | LAT | 15 | 3.363 | 3.368 | 54.467 | 54.715 | 1:49.182 |
| 11 | Kashkin / Korshunov | RUS | 17 | 3.453 | 3.454 | 54.584 | 54.694 | 1:49.278 |
| 12 | Geueke / Gamm | GER | 13 | 3.485 | 3.350 | 54.626 | 54.655 | 1:49.281 |
| 13 | Denisev / Antonov | RUS | 10 | 3.378 | 3.411 | 54.608 | 54.686 | 1:49.294 |
| 14 | Gatt / Schöpf | AUT | 9 | 3.361 | 3.357 | 54.591 | 54.705 | 1:49.296 |
| 15 | Müller / Frauscher | AUT | 14 | 3.367 | 3.398 | 54.695 | 54.706 | 1:49.401 |
| 16 | Vavercak / Zmij | SVK | 12 | 3.355 | 3.390 | 54.739 | 54.799 | 1:49.538 |
| 17 | Chmielewski / Kowalewski | POL | 7 | 3.326 | 3.322 | 54.972 | 54.823 | 1:49.795 |
| 18 | Park / Cho | KOR | 8 | 3.440 | 3.425 | 55.099 | 55.065 | 1:50.164 |
| 19 | Gitlan / Serban | ROU | 6 | 3.380 | 3.345 | 55.158 | 55.127 | 1:50.285 |
| 20 | Stakhiv / Lysetskyi | UKR | 5 | 3.556 | 3.580 | 55.578 | 55.553 | 1:51.131 |
| 21 | Hoi / Levkovych | UKR | 4 | 3.603 | 3.520 | 55.922 | 55.504 | 1:51.426 |
| 22 | Handaric / Ailenei | ROU | 3 | 3.516 | 3.522 | 56.046 | 56.464 | 1:52.510 |
| 23 | Siscanu / Oprea | MDA | 1 | 3.520 | 3.605 | 56.197 | 56.418 | 1:52.615 |
| 24 | Mykyievych / Babura | UKR | 2 | 3.643 | 3.649 | 56.947 | 56.224 | 1:53.171 |