From Altenberg, GER
Feb. 12, 2021 – Germany's Tina Hermann won her fourth IBSF World Championship on Friday, coming from well behind to take gold.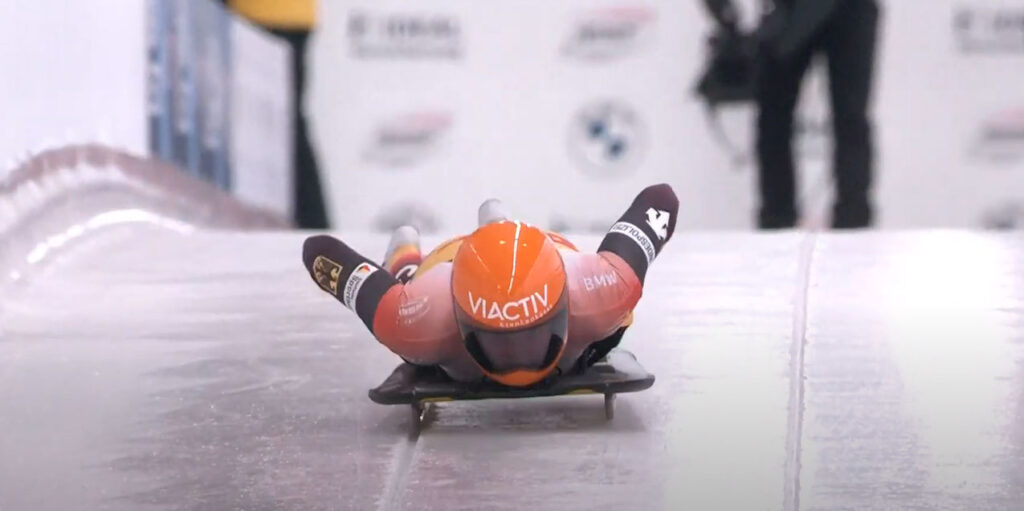 Hermann's first run of the race was relatively disastrous, an 11th place effort that seemingly left her out of the medals almost immediately. But Hermann came back strong; in the second heat she had the quickest run by over .3 to put her into third overnight. Her third run kept her close to leader and teammate Jacqueline Lölling, with only .17 to make up. On Hermann's final trip down she was once again nearly perfect, again setting a time that was a half second quicker than anyone else to that point.
So the pressure was on for Jacqueline Lölling, the 2017 world champion and three-time silver medalist, and while Lölling was quick, she was no match for Hermann, who beat Lölling by .28 in the heat and by .11 in the race to take her third straight world championship title and fourth overall. Hermann had the fastest downtime in each of the final three heats.
Lölling had the second quickest run in all four heats to win her third IBSF World Championship silver medal. She also has one gold (2017 Königssee) to go with her silvers.
The battle for bronze was even tighter for the fight for gold, where after the third heat there was a pack of women vying for third. Elena Nikitina had a disastrous third heat to fall out of contention for gold, and that combined with some clean and quick slides by Katie Uhlaender, Alina Tararychenkova, Sophia Griebel and Hannah Neise meant there were five women battling for bronze. On the fourth run, Nikitina managed to hold her spot, but only by .02. Griebel and Tararychenkova came into the fourth heat tied for fifth, and both moved up into a tie for fourth ahead of the United States' Katie Uhlaender, who finished sixth, just .23 out of third.
The sixth place for Uhlaender was her best World Championships showing since her gold medal in the 2012 event in Lake Placid. After the race she said that the 2021 World Championships would be her last.
Kendall Wesenberg struggled to find her rhythm and any real speed in Altenberg. The American finished 19th after being up as high as 15th in the first heat. Teammate Sara Roderick finished 24th in just her second senior-level skeleton race.
Canada's Jane Channell tied her 2020 World Championships finish with an eighth place effort. Channell lingered around the medal discussion all weekend and had the third quickest start in each of the four heats.
After a successful return to action after taking a year off on maternity leave, Elisabeth Maier struggled to find speed in the first two heats. Her second two heats were much better, and she finished in 18th.
Ashleigh Pittaway was the top-finishing athlete for Great Britain in 14th place. Olympic bronze medalist Laura Deas finished one spot behind her, moving up from 18th with two really strong runs in the final two heats. Brogan Crowley rounded out the British effort in 23rd.
World Cup champion Janine Flock never seemed to be able to find her form in Altenberg and finished 16th.
Results:
| | | | | | | | | |
| --- | --- | --- | --- | --- | --- | --- | --- | --- |
| Pos | Name | Nation | Bib | Run 1 | Run 2 | Run 3 | Run 4 | Total |
| 1 | Tina Hermann | GER | 5 | 58.96 | 58.02 | 57.96 | 58.03 | 3:52.97 |
| 2 | Jacqueline Lölling | GER | 7 | 58.39 | 58.35 | 58.03 | 58.31 | 3:53.08 |
| 3 | Elena Nikitina | BFR | 8 | 58.32 | 58.53 | 59.03 | 58.77 | 3:54.65 |
| 4 | Alina Tararychenkova | BFR | 23 | 58.80 | 58.69 | 58.65 | 58.53 | 3:54.67 |
| 4 | Sophia Griebel | GER | 24 | 58.80 | 58.92 | 58.42 | 58.53 | 3:54.67 |
| 6 | Katie Uhlaender | USA | 3 | 58.62 | 58.83 | 58.60 | 58.83 | 3:54.88 |
| 7 | Hannah Neise | GER | 11 | 58.52 | 59.34 | 58.35 | 58.70 | 3:54.91 |
| 8 | Jane Channell | CAN | 1 | 58.86 | 58.96 | 58.48 | 58.65 | 3:54.95 |
| 9 | Kim Meylemans | BEL | 9 | 59.12 | 58.97 | 58.75 | 58.81 | 3:55.65 |
| 10 | Anna Fernstädt | CZE | 10 | 58.90 | 58.89 | 58.76 | 59.12 | 3:55.67 |
| 11 | Kimberley Bos | NED | 6 | 59.10 | 59.62 | 58.55 | 58.61 | 3:55.88 |
| 12 | Valentina Margaglio | ITA | 13 | 58.91 | 59.08 | 58.77 | 59.17 | 3:55.93 |
| 13 | Yulia Kanakina | BFR | 15 | 58.87 | 59.33 | 59.01 | 59.16 | 3:56.37 |
| 14 | Ashleigh Pittaway | GBR | 18 | 59.12 | 59.12 | 59.00 | 59.21 | 3:56.45 |
| 15 | Laura Deas | GBR | 12 | 60.00 | 59.45 | 58.58 | 58.73 | 3:56.76 |
| 16 | Janine Flock | AUT | 4 | 59.72 | 59.27 | 58.97 | 59.08 | 3:57.04 |
| 17 | Nicole Silveira | BRA | 22 | 60.08 | 59.28 | 59.19 | 59.18 | 3:57.73 |
| 18 | Elisabeth Maier | CAN | 14 | 59.77 | 59.91 | 59.08 | 59.10 | 3:57.86 |
| 19 | Kendall Wesenberg | USA | 21 | 59.46 | 59.89 | 59.07 | 59.46 | 3:57.88 |
| 20 | Endija Terauda | LAT | 16 | 59.98 | 59.85 | 59.41 | 59.75 | 3:58.99 |
| 20 | Agathe Bessard | FRA | 20 | 60.09 | 59.60 | 59.72 | | 2:59.41 |
| 22 | Alessia Crippa | ITA | 17 | 59.50 | 60.39 | 59.65 | | 2:59.54 |
| 23 | Brogan Crowley | GBR | 19 | 60.27 | 60.20 | 59.70 | | 3:00.17 |
| 24 | Sara Roderick | USA | 2 | 60.77 | 60.36 | 60.09 | | 3:01.22 |