From Altenberg, GER
Feb. 13, 2021 – The International Bobsleigh & Skeleton Federation held their second "Skeleton Mixed Team Relay" championship in Altenberg, and for the second straight year it was Germany taking the gold medal.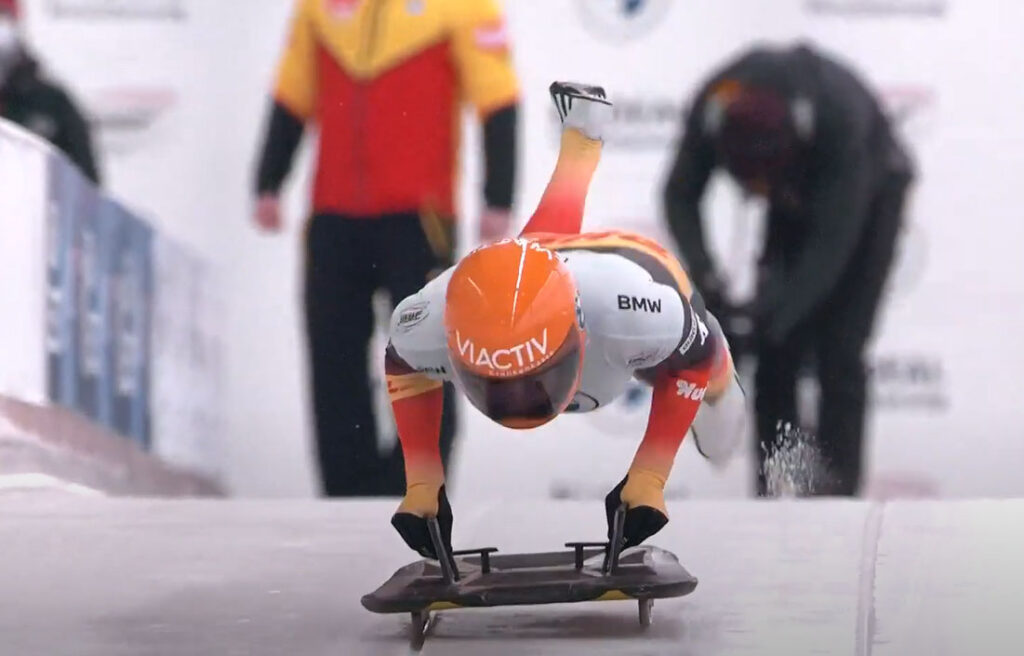 In the 2020 edition, the German duo of Jacqueline Lölling & Alexander Gassner held off their singles world championship-winning teammates Tina Hermann & Christopher Grotheer. This year the tables were turned, with Hermann and Grotheer beating out the field for their second gold medals in as many days.
Hermann set the fast time for the women, and while Grotheer only had the fourth quickest run for the men, Hermann's advantage was enough to give them the gold, .14 ahead of Lölling & Gassner in second.
Elena Nikitina & Alexander Tretiakov finished third, just .01 behind Lölling & Gassner. Tretiakov had the quickest slide for the men.
For the second time in as many years, Great Britain's Matt Weston finished fourth in the mixed team event, this time sliding with Laura Deas. Dead had what was one of her best slides of the weekend, and Weston made up for a disastrous third heat in the men's competition to finish just out of the medals.
Alina Tararychenkova & Evgeniy Rukosuev finished fifth, while World Cup champion Janine Flock & Florian Auer finished sixth as the lone Austrian team.
Great Britain's second team, made up of Ashleigh Pittaway & Marcus Wyatt finished just outside of the top six in seventh place, while the Canadian duo of Elisabeth Maier & Kyle Murray finished 10th.
The Canadian team of Jane Channell & Mark Lynch were a late scratch, while the United States did not enter teams in the team event, opting instead to head home early to train for their team trials later in the winter.
Results:
| | | | | | | | | |
| --- | --- | --- | --- | --- | --- | --- | --- | --- |
| Pos | Names | Nation | Bib | W Start | M Start | Run W | Run M | Total |
| 1 | Hermann / Grotheer | GER I | 11 | 5.83 | 5.15 | 58.40 | 57.01 | 1:55.41 |
| 2 | Lölling / Gassner | GER II | 12 | 5.94 | 5.10 | 58.62 | 56.93 | 1:55.55 |
| 3 | Nikitina / Tretiakov | BFR I | 9 | 5.41 | 5.02 | 58.64 | 56.92 | 1:55.56 |
| 4 | Deas / Weston | GBR I | 8 | 5.54 | 5.02 | 58.99 | 56.99 | 1:55.98 |
| 5 | Tararychenkova / Rukosuev | BFR II | 2 | 5.71 | 5.16 | 58.81 | 57.40 | 1:56.21 |
| 6 | Flock / Auer | AUT | 10 | 5.76 | 5.28 | 59.15 | 58.84 | 1:56.99 |
| 7 | Pittaway / Wyatt | GBR II | 7 | 5.80 | 4.98 | 59.78 | 57.31 | 1:57.09 |
| 8 | Margaglio / Bagnis | ITA I | 5 | 5.41 | 5.14 | 59.67 | 57.52 | 1:57.19 |
| 9 | Crippa / Gaspari | ITA II | 6 | 5.71 | 5.19 | 60.25 | 57.04 | 1:57.29 |
| 10 | Maier / Murray | CAN II | 1 | 5.60 | 5.39 | 59.74 | 58.74 | 1:58.48 |
| 11 | Meylemans / Freeling | BEL | 4 | 5.59 | 5.45 | 59.58 | 60.04 | 1:59.62 |
| 12 | Channell / Lynch | CAN I | 3 | | | DNS | | DNS |