PARK CITY, Utah (Nov. 3, 2015)– Twelve athletes were named to the 2016-2017 USA Skeleton National Team this morning after points were tallied following the fourth and final selection race in Park City, Utah. Selections began with two competitions in Lake Placid, N.Y. last week and continued on the 2002 Olympic track in Utah this week as athletes battled it out for a coveted spot on the World Cup and Intercontinental Cup tours.
Matt Antoine (Prairie du Chien, Wis.) swept the men's skeleton trials to earn his spot at the helm of the World Cup squad. Nathan Crumpton (Colorado Springs, Colo.) and Kyle Tress (Ewing, N.J.) will join the 2014 Olympic bronze medalist on tour this season.
Annie O'Shea (Port Jefferson Station, N.Y.) earned a bye through trials after finishing fourth in world standings last season, and she'll be joined on the women's World Cup team by three-time Olympian Katie Uhlaender (Breckenridge, Colo.) and Kendall Wesenberg (Modesto, Calif.).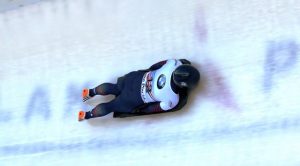 The World Cup tour kicks off Dec. 2-3 in Whistler, Canada and continues on home ice in Lake Placid, N.Y. Dec. 16-17 before the circuit breaks for the holiday. World Cup action moves to Europe after the break with races in Altenberg and Winterberg, Germany before heading to the all-natural ice in St. Moritz, Switzerland. The tour then returns to Germany in Koenigssee before heading to Igls, Austria and then 2017 World Championships in Sochi, Russia. The season will conclude with the eighth and final World Cup of the season on the 2018 Olympic track in Pyeongchang, South Korea.
Greg West (Springfield, Mo.), Stephen Garbett (Parker, Colo.) and Kyle Brown (Concord, N.H.) also earned positions on the men's national team and will be competing on the Intercontinental Cup. Savannah Graybill (Denver, Pa.), Megan Henry (Roxbury, Conn.) and Veronica Day (Vienna, Va.) will represent Team USA on the women's national team racing the Intercontinental Cup tour.
The Intercontinental Cup tour will make four stops on tour, racing twice at each location. The tour kicks off in Igls before moving on to Koenigsse and Calgary, Canada before finishing up on home ice in Lake Placid.