PARK CITY, Utah (Nov. 4, 2015)- Twenty-two athletes were announced to the 2016-2017 USA Bobsled National Team roster today. Athletes competed in a series of races in Lake Placid, N.Y. and Park City, Utah to vie for a spot in one of three sleds per discipline this season.
Elana Meyers Taylor (Douglasville, Ga.) had a bye through trials after placing third at World Championships last season. The two-time Olympic medalist still had a strong showing at team trials, winning two of the four races. Jamie Greubel Poser (Newtown, Pa.) won the other two team trials races to earn one of the two open women's pilots spots. Greubel Poser teamed with Aja Evans (Chicago, Ill.) to win the 2014 Olympic bronze, and returns after a strong season on the World Cup tour last year in which she won six medals.
Brittany Reinbolt (Searcy, Ark.) earned her first national team berth as a pilot. Reinbolt previously competed on the national team as a push athlete, but made the switch to driving following the 2012-2013 season. She earned two medals on the North American Cup circuit last season, and reached the podium four times on the North American Cup in 2014-2015.
Two Olympic push athletes, Evans and Lolo Jones (Des Moines, Iowa), lead a stacked group on the women's side. Lauren Gibbs (Los Angeles, Calif.), who pushed with Meyers Taylor for the World Championships bronze last season, returns for her third season on the national team, while Kehri Jones(Killeen, Texas) is back for a second year after a standout rookie season. Rookie Briauna Jones(Summerville, S.C.) rounds out the field of push athletes selected to the women's team.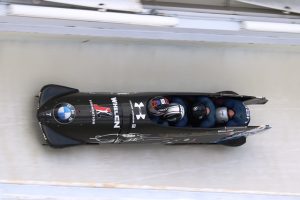 Codie Bascue (Whitehall, N.Y.), Steven Holcomb (Park City, Utah) and Justin Olsen (San Antonio, Texas) earned the three open pilot spots on the men's team. The 22-year-old Bascue swept the four USA Bobsled National Team Trials races to earn his third consecutive national team berth. Meanwhile, Holcomb, the five-time World Champion and three-time Olympic medalist, returns to the team after a 2015-2016 season plagued with injuries. Holcomb said during team trials that he feels "stronger than [he] has been in a long time."
Olsen, who already has an Olympic gold medal as a push athlete, earned his first national team berth as a driver in just his second season competing in the pilot's seat. He earned two medals while racing on the North American and European Cups last season.
The selection process yielded a field packed with returning push athletes. Carlo Valdes (Newport Beach, Calif.), Jimmy Reed (Garmisch, Germany), Adrian Adams (Reidsville, N.C.)  and Sam Michener (Portland, Ore.) return for their third seasons on the national team. Evan Weinstock (Las Vegas, Nev.), Sam McGuffie (Cypress, Texas), Nathan Gilsleider (Claremore, Okla.), Austin Landis (Nashville, Tenn.) and Frank Del Duca (Bethel, Me.) each have one season on the national team under their belts and re-earned their spots. The returners will be joined by Luis Moreira(Somerville, Mass.) and Christopher Kinney (Stockbridge, Ga.), who earn their first berths onto the national team.
The World Cup tour kicks off Dec. 2-3 in Whistler, Canada and continues on home ice in Lake Placid, N.Y. Dec. 16-17 before the circuit breaks for the holiday. World Cup action moves to Europe after the break with races in Altenberg and Winterberg, Germany before heading to the all-natural ice in St. Moritz, Switzerland. The tour then returns to Germany in Koenigssee before heading to Igls, Austria and then 2017 World Championships in Sochi, Russia. The season will conclude with the eighth and final World Cup of the season on the 2018 Olympic track in PyeongChang, South Korea.