From Lake Placid, USA
Like the men, the American women defended home ice in Lake Placid, with Jamie Greubel Poser and Elana Meyers Taylor battling it out for gold.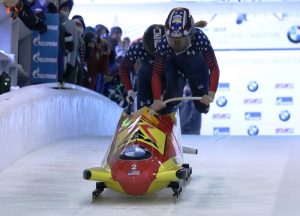 In the first heat, Greubel Poser set a track record with a 55.81 to set the pace, ahead of Meyers Taylor by .14. In the second run, Meyers Taylor put the heat on Greubel Poser, but Greubel Poser came back strong, tying Meyers Taylor's second run to take gold ahead of her teammate.
Kallie Humphries finished third for Canada with the third fastest runs in both heats, while American Brittany Reinbolt finished a career best fourth. Alysia Rissling of Canada finished fifth, making it an all-North American top five. Austrian Christina Hengster was the only European in the top six in sixth.
Christine de Bruin finished eighth in the third Canadian effort, while British slider Mica McNeill crashed in her second run, finishing 14th.
Results:
| | | | | | | | | |
| --- | --- | --- | --- | --- | --- | --- | --- | --- |
| Pos | Name | Nation | Bib | Start 1 | Start 2 | Run 1 | Run 2 | Total |
| 1 | Greubel Poser / Evans | USA | 10 | 5.44 | 5.46 | 55.81 | 56.21 | 1:52.02 |
| 2 | Meyers Taylor / L. Jones | USA | 14 | 5.48 | 5.48 | 55.95 | 56.21 | 1:52.16 |
| 3 | Humphries / Appiah | CAN | 5 | 5.52 | 5.52 | 56.40 | 56.65 | 1:53.05 |
| 4 | Reinbolt / Gibbs | USA | 8 | 5.56 | 5.57 | 56.81 | 56.72 | 1:53.53 |
| 5 | Rissling / Thibault | CAN | 4 | 5.69 | 5.69 | 56.64 | 57.09 | 1:53.57 |
| 6 | Hengster / Dekker | AUT | 13 | 5.72 | 5.72 | 56.95 | 56.93 | 1:53.88 |
| 7 | Rodionova / Shokshueva | RUS | 11 | 5.72 | 5.69 | 56.94 | 57.15 | 1:54.09 |
| 8 | de Bruin / Medeiros | CAN | 3 | 5.74 | 5.73 | 57.08 | 57.33 | 1:54.41 |
| 9 | Sergeeva / Kohcherzhova | RUS | 9 | 5.64 | 5.63 | 57.16 | 57.48 | 1:54.64 |
| 10 | Kim / Kim | KOR | 6 | 5.91 | 5.90 | 57.18 | 57.58 | 1:54.76 |
| 11 | Grecu / Halai | ROU | 1 | 5.74 | 5.76 | 57.72 | 57.64 | 1:55.36 |
| 12 | Lee / Shin | KOR | 7 | 6.04 | 6.04 | 57.45 | 58.00 | 1:55.45 |
| 13 | Constantin / Vild | ROU | 2 | 5.83 | 5.87 | 57.72 | 57.91 | 1:55.63 |
| 14 | McNeill / Moore | GBR | 12 | 5.76 | 5.76 | 56.92 | 67.27 | 2:04.19 |