From Lake Placid, USA
Steven Holcomb is a hard man to beat in Lake Placid. He once again showed why, putting down the two fastest runs in the two-man competition on his way to yet another gold medal.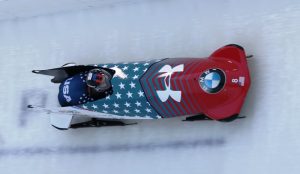 Holcomb came into the second heat in front of a dogpile of athletes, with Justin Olsen, Chris Spring, Alexander Kasjanov, Justin Kripps, and Rico Peter all within a quarter second of his time. As he has so many times in the past, Holcomb was nearly perfect on his drive down, piloting his BMW sled to victory ahead of Canadians Justin Kripps and Chris Spring, who finished .01 apart in second and third.
Yunjong Won showed the form he had last year with a good fourth place run on the strength of a third-fastest second run. Alexander Kasjanov finished fifth, while Swiss slider Rico Peter finished just behind the Russian in sixth.
American Justin Olsen put down the two fastest pushes in the competition, and appeared to be on his way to a potential medal after coming down in second place after the first run. Olsen struggled on his second run, though, and had to settle for an eighth place finish. Teammate Codie Bascue finished two spots behind in tenth.
Nick Poloniato finished 13th in the third Canadian sled, while Lamin Deen finished in 15th for Great Britain.
Results:
| | | | | | | | | |
| --- | --- | --- | --- | --- | --- | --- | --- | --- |
| Pos | Name | Nation | Bib | Start 1 | Start 2 | Run 1 | Run 2 | Total |
| 1 | Holcomb / McGuffie | USA | 13 | 5.21 | 5.20 | 54.66 | 54.81 | 1:49.47 |
| 2 | Kripps / Lumsden | CAN | 15 | 5.16 | 5.17 | 54.87 | 54.87 | 1:49.74 |
| 3 | Spring / Brown | CAN | 11 | 5.16 | 5.15 | 54.80 | 54.95 | 1:49.75 |
| 4 | Won / Seo | KOR | 9 | 5.13 | 5.13 | 54.95 | 54.94 | 1:49.89 |
| 5 | Kasjanov / Pushkarev | RUS | 10 | 5.25 | 5.23 | 54.81 | 55.13 | 1:49.94 |
| 6 | Peter / van der Zijde | SUI | 8 | 5.19 | 5.18 | 54.90 | 55.14 | 1:50.04 |
| 7 | Kim/ Jun | KOR | 14 | 5.18 | 5.19 | 55.06 | 54.99 | 1:50.05 |
| 8 | Olsen / Weinstock | USA | 6 | 5.09 | 5.07 | 54.79 | 55.29 | 1:50.08 |
| 9 | Stulnev / Kondratenko | RUS | 7 | 5.24 | 5.23 | 55.07 | 55.04 | 1:50.11 |
| 10 | Bascue / Adams | USA | 12 | 5.17 | 5.22 | 55.11 | 55.04 | 1:50.15 |
| 11 | Andrianov / Malykh | RUS | 4 | 5.23 | 5.23 | 55.00 | 55.22 | 1:50.22 |
| 12 | Maier / Sammer | AUT | 1 | 5.14 | 5.13 | 55.12 | 55.48 | 1:50.60 |
| 13 | Poloniato / Plug | CAN | 16 | 5.30 | 5.26 | 55.42 | 55.32 | 1:50.73 |
| 14 | Rinaldi / Vain | MON | 2 | 5.24 | 5.24 | 55.19 | 55.62 | 1:50.81 |
| 15 | Deen / Simpson | GBR | 3 | 5.27 | 5.27 | 55.21 | 55.69 | 1:50.90 |
| 16 | Costerg / Castell | FRA | 19 | 5.32 | 5.29 | 55.73 | 55.52 | 1:51.25 |
| 17 | de Bruin /  Veenker | NED | 5 | 5.33 | 5.38 | 55.58 | 55.77 | 1:51.35 |
| 18 | Mata / Nichols | AUT | 17 | 5.40 | 5.44 | 55.95 | 56.00 | 1:51.95 |
| 19 | Bindilatti / Martins | BRA | 18 | 5.39 | 5.43 | 56.57 | 56.29 | 1:52.86 |