From Lake Placid, USA
The weather in Lake Placid has been a mixed bag of "insanely cold", "snowy and windy", and "occasionally kind of nice out". That middle mix of snow and wind played havoc with the bulk of the women's skeleton field, save for one slider.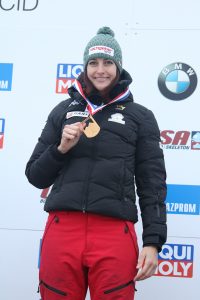 Janine Flock of Austria was the first woman out of the gate today, and she made her presense known with a new track record (54.84). As the remainder of the field came down in a moderate snow mixed with heavy wind, it was clear that the weather would make things difficult for some of the favorites. Americans Annie O'Shea, Kendall Wesenberg, and former track record holder Savannah Graybill all struggled to find speed in the snow and wind, as did many who started in the middle of the pack.
One woman who didn't struggle was Lizzy Yarnold, who put down a quick time of her own in the first run, trailing Flock by a mere tenth of a second going into the second run. The British Olympic champion couldn't keep pace with Flock in the second run, however, and Flock cruised to victory. Yarnold finished second, while Whistler start record older Mimi Rahneva took home her first World Cup bronze medal.
Germans Anna Fernstädt and Jacqueline Lölling finished fourth and fifth, while Annie O'Shea finished sixth after a strong second run.
Both Kendall Wesenberg and Savannah Graybill and struggled in the poor conditions, finishing 13th and 15th for the United States, while Whistler winner Elisabeth Vathje finished eighth and teammate Jane Channell finished 16th for Canada.
Laura Deas finished tied with Tina Hermann for tenth to put both British sleds in the top ten.
Results:
| | | | | | | | | |
| --- | --- | --- | --- | --- | --- | --- | --- | --- |
| Pos | Name | Nation | Bib | Start 1 | Start 2 | Run 1 | Run 2 | Total |
| 1 | Janine Flock | AUT | 1 | 5.46 | 5.40 | 54.84 | 54.93 | 1:49.77 |
| 2 | Lizzy Yarnold | GBR | 7 | 5.37 | 5.32 | 54.94 | 55.64 | 1:50.58 |
| 3 | Mirela Rahneva | CAN | 9 | 5.30 | 5.26 | 55.39 | 55.53 | 1:50.92 |
| 4 | Anna Fernstädt | GER | 6 | 5.61 | 5.72 | 55.17 | 55.79 | 1:50.96 |
| 5 | Jacuqueline Lölling | GER | 15 | 5.74 | 5.70 | 55.60 | 55.37 | 1:50.97 |
| 6 | Annie O'Shea | USA | 14 | 5.49 | 5.32 | 55.81 | 55.39 | 1:51.20 |
| 7 | Lelde Priedulena | LAT | 12 | 5.54 | 5.38 | 55.77 | 55.62 | 1:51.39 |
| 8 | Elisabeth Vathje | CAN | 10 | 5.46 | 5.39 | 56.05 | 55.39 | 1:51.44 |
| 9 | Maria Orlova | RUS | 16 | 5.44 | 5.35 | 56.03 | 55.48 | 1:51.51 |
| 10 | Tina Hermann | GER | 8 | 5.56 | 5.49 | 55.86 | 55.67 | 1:51.53 |
| 10 | Laura Deas | GBR | 13 | 5.53 | 5.26 | 56.08 | 55.45 | 1:51.53 |
| 12 | Kimberley Bos | NED | 17 | 5.55 | 5.48 | 56.07 | 55.61 | 1:51.68 |
| 13 | Kendall Wesenberg | USA | 13 | 5.54 | 5.50 | 55.81 | 55.93 | 1:51.74 |
| 14 | Marina Gilardoni | SUI | 18 | 5.39 | 5.22 | 56.01 | 55.80 | 1:51.81 |
| 15 | Savannah Graybill | USA | 11 | 5.73 | 5.64 | 56.05 | 55.79 | 1:51.84 |
| 16 | Jane Channell | CAN | 4 | 5.23 | 5.23 | 55.76 | 56.12 | 1:51.88 |
| 17 | Jaclyn Narracott | AUS | 24 | 5.51 | 5.58 | 56.20 | 55.77 | 1:51.97 |
| 18 | Elena Nikitina | RUS | 21 | 5.29 | 5.27 | 56.44 | 55.96 | 1:52.40 |
| 19 | Takako Oguchi | JPN | 19 | 5.61 | 5.57 | 56.41 | 56.18 | 1:52.59 |
| 20 | Yulia Kanakina | RUS | 3 | 5.28 | 5.20 | 56.17 | 56.71 | 1:52.88 |
| 21 | Joska le Conte | NED | 20 | 5.60 | | 56.68 | | |
| 21 | Kim Meylemans | BEL | 25 | 5.57 | | 56.68 | | |
| 23 | Rayoung Mun | KOR | 22 | 5.71 | | 56.81 | | |
| 24 | Katie Tannenbauum | ISV | 5 | 5.82 | | 57.38 | | |
| 25 | Maria Montejano | ESP | 2 | 5.58 | | 58.28 | | |