From Lake Placid, USA
Rico Peter was the man to beat in Lake Placid, and despite a hard charge by a gold medal favorite, the Swiss pilot came out on top.
Peter came into the second run just a hair ahead of Yonjong Won of Korea and a pack of other sliders, including two Americans: Codie Bascue and Steven Holcomb.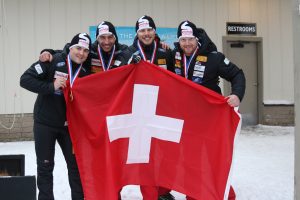 Steven Holcomb seemed on the brink of making one of the type of comebacks that he's made in the past: He'd leapfrogged the Korean, and his teammate,  and had edged Chris Spring to move into the lead with just Peter to go. Peter had a bumpy run for him, but as the Swiss pilot has shown, that doesn't always matter to him.
Peter's time was the best of the heat, finishing .39 ahead of Holcomb for gold. Holcomb's final edge over Spring for silver was .01, with Spring taking bronze.
Despite not finishing in the medals, Codie Bascue finished with a career best in the IBSF World Cup with a fourth place finish, just ahead of Won, with Lamin Deen of Great Britain finishing sixth on the strength of the second run's biggest push.
Justin Olsen finished 12th, just ahead of American teammate Elana Meyers Taylor in 13th. Justin Kripps of Canada finished ninth, while Nick Poloniato ended up with a DSQ after losing a man in a second run crash.
Results:
| | | | | | | | | |
| --- | --- | --- | --- | --- | --- | --- | --- | --- |
| Pos | Name | Nation | Bib | Start 1 | Start 2 | Run 1 | Run 2 | Total |
| 1 | Peter / van der Zijde / Friedli / Amrhein | SUI | 9 | 5.06 | 5.05 | 54.11 | 54.20 | 1:48.31 |
| 2 | Holcomb / Valdes / Reed / McGuffie | USA | 11 | 5.09 | 5.08 | 54.22 | 54.48 | 1:48.70 |
| 3 | Spring / Stones / Brown / Giguere | CAN | 15 | 5.04 | 5.05 | 54.25 | 54.46 | 1:48.71 |
| 4 | Bascue / Del Duca / Adams / Michener | USA | 2 | 5.06 | 5.09 | 54.15 | 54.61 | 1:48.76 |
| 5 | Won / Kim / Jun / Oh | KOR | 1 | 5.09 | 5.07 | 54.12 | 54.68 | 1:48.80 |
| 6 | Deen / Lewis-Francis / Matthews / Gilling | GBR | 8 | 5.11 | 5.04 | 54.27 | 54.62 | 1:48.89 |
| 7 | Stulnev / Kondratenko / Huzin / Koshelev | RUS | 7 | 5.05 | 5.04 | 54.23 | 54.71 | 1:48.94 |
| 8 | Kasjanov / Zaitsev / Pushkarev / Belugin | RUS | 6 | 5.09 | 5.08 | 54.26 | 54.72 | 1:48.98 |
| 9 | Kripps / Lumsden / Kirkpatrick / Coakwell | CAN | 14 | 5.09 | 5.08 | 54.42 | 54.65 | 1:49.07 |
| 10 | Maier / Laussegger / Sammer / Moldovan | AUT | 12 | 5.06 | 5.09 | 54.44 | 54.79 | 1:49.23 |
| 11 | Costerg / Castell / Hauterville / Boutherin | FRA | 5 | 5.19 | 5.17 | 54.40 | 55.02 | 1:49.42 |
| 12 | Olsen / Landis / Moreira / Weinstock | USA | 16 | 5.02 | 5.04 | 54.70 | 55.01 | 1:49.71 |
| 13 | Meyers Taylor / Harrison / Taylor / Abdul-Saboor | USA | 18 | 5.10 | 5.13 | 54.81 | 54.97 | 1:49.78 |
| 14 | Bindilatti / Martins / Parreiras / da Silva | BRA | 4 | 5.17 | 5.20 | 54.57 | 55.22 | 1:49.79 |
| 15 | de Bruin / Mensink / Boonpetch / Veenker | NED | 3 | 5.34 | 5.34 | 55.27 | 55.47 | 1:50.74 |
| 16 | Andrianov / Gaitukevich / Gnezdilov / Sysoev | RUS | 10 | 5.09 | 5.22 | 64.80 | 54.98 | 1:59.78 |
| DNF | Poloniato / Sunderland / Plug / MacDougall | CAN | 13 | 5.06 | 5.13 | 56.00 | DNF | |
| DNS | Humphries / Lee / Lotholz / Appiah | CAN | 17 | | | DNS | | |