(July 22, 2017)  American push athlete Steve Langton has accomplished just about everything there is to do in the sport of bobsledding. He's won World Cup events, he's won World Championships (two and four man in 2012), and he's won Olympic medals (bronze in two and four man in Sochi).
After the 2014 Olympic Games, Langton (like many others) decided it was time to step away from the sport and move on with his life and professional career. It was in January of 2017 that Langton got bit by the "bobsled bug" again.
"The decision to come back wasn't a long time coming. When I walked away in 2014, my heart was full and I'd accomplished everything I'd set out to accomplish. That last week in January, I woke up one morning and said "Holy crap, I really want to do this!"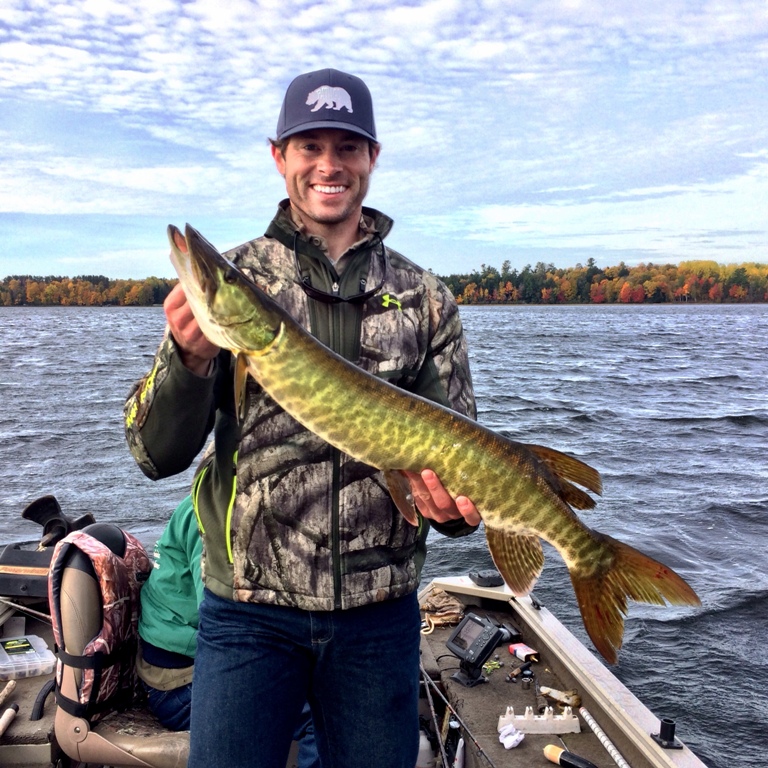 Prior to coming back into the USA Bobsled & Skeleton fold, Langton had been keeping his competitive fire at bay with a very different sport: Fishing.
"I grew up fishing, and the way I fish it takes lots of time. I haven't gotten a line wet since I started training, but in the past on the weekends and sometimes during the week I started fishing for muskie."
He gets the love of fishing, in part, from his father.
"I've been fishing my whole life. We've got a lake house in New Hampshire, and do a lot of largemouth and trout fishing. My dad probably fishes 300 days out of the year, a lot of which from a kayak. As soon as he can get his boat in the water, he's out there."
And while he wasn't competing in fishing tournaments, he was still fanning the competitive flames battling muskie.
"It's not competitive in the sense that you're competing against someone else, but it's tremendously challenging, to the point they call muskie "the fish of a thousand casts" And that's how I've always been, I can spend eight hours on the water and see nothing, but when you do hook into one it's incredibly rewarding. I think that's why I appreciate fishing for them more so than a lot of other fish."
While the fishing kept Langton challenged, when he made the decision to come back it was time to go. The only problem was that there seemingly wasn't enough time in the day.
"I had to drive an hour north to work, putting in my 8 or 9 hours. Then it was an hour and a half to the gym, which is a little west of where I was living. Working out, then get dinner on the way home, 45 minute drive home and I'd be to bed by midnight, then start again 5 ½ hours later. In hindsight, I really have no idea how I did that."
Part of the process involved the help of his employer, Kohler, where he's worked as a market analyst since the beginning of 2016.
"It speaks volumes of Kohler that they even considered letting me do this. It's not a 'remote job' by any stretch. When I initially proposed what I was looking to do, I remember my direct boss (channel manager Jody Haversack) and director (Russ Ruelle) saying "We're not worried that you'll get your work done, we're worried that you won't have time to work out"."
Moving to Lake Placid and the Olympic Training Center has made things marginally easier for Langton. No longer is he having to eat both breakfast in dinner behind the wheel of his car while commuting. That said, the days are still long.
"I run out of hours in the day every time I'm not working out I'm filling in with time in front of the computer, and likewise when I'm not working I'm squeezing in my workouts. There's meetings I have to be a part of every week, so I schedule my workouts around those. It's a lot of late nights, even now, at least a couple nights a week I'm up until 1 or 2 pumping stuff out, plus some times on the weekends. Not so much because I have to, but because I want to be in a place where I feel like I'm contributing."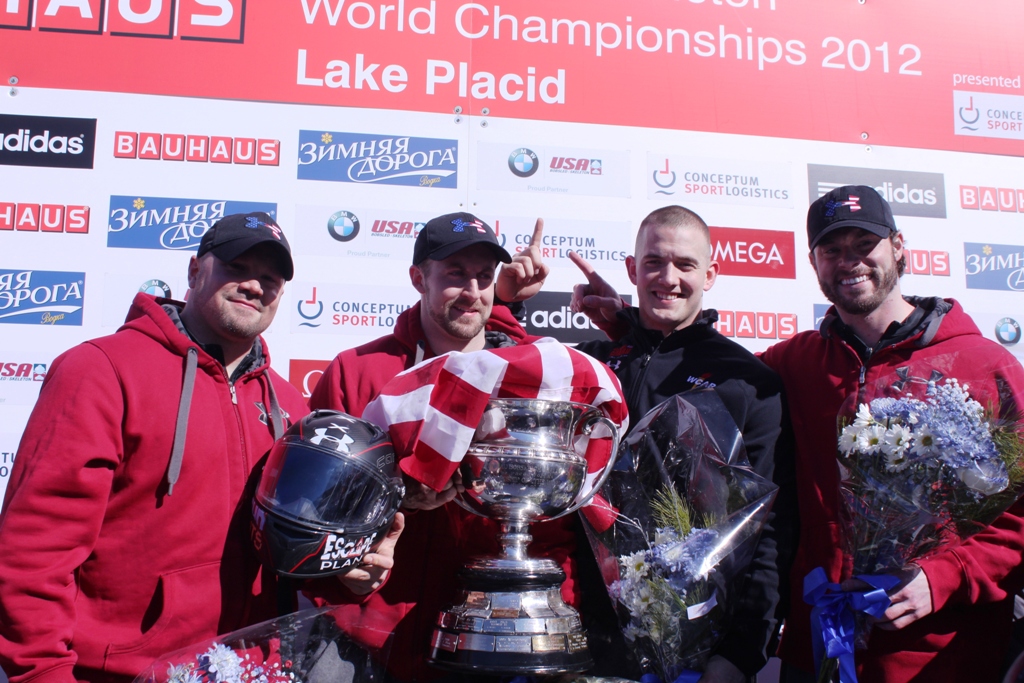 The training early on was tough. Despite having kept relatively active during his "retired years", spending some time in the gym, cycling, hiking, and fishing, Langton hadn't spent very much time working on the strength things that make a bobsledder go fast.
I was front-squatting 60 kilos (132 lbs) my first week back, and it's nothing weight. I usually skip over that for warmups, but I felt like someone was throwing steak knives into my forearms. I vividly remember that workout saying 'Holy hell this is going to be a lot harder than I expected'"
With all of this work, Langton expects to be back in the Olympics for a third time. The two previous trips were very different experiences.
"When I look back, at my first Olympics in Vancouver I didn't know what to expect. My first thought was 'I didn't work hard enough'. Four years later we'd had a lot of success and I remember walking in and we were so focused, I definitely didn't take any time to appreciate what was going on. We had one goal to win a medal."
So what does Langton hope to do this time?
"This time around, my goal is to win all the medals, but on top of that I think it'll be the best one yet in the sense that I've done what I'm setting out to do and I've been there before. I will make sure to take the time to appreciate how amazing it is."