(August 17, 2017)  –  There are some things that you can always count on during a luge season, and toward the top of that list is Emily Sweeney smiling at the end of a run. That said, over the past few seasons it's been harder than it's looked for the Suffield, Connecticut native.
Despite having a shot at the Olympics in both 2010 and 2014, Sweeney just missed the cut and was on the outside looking in. And after missing the Sochi Olympics, Sweeney decided that she needed a change.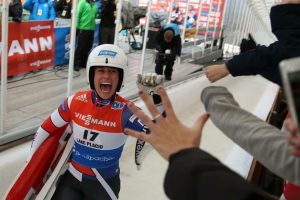 "I was kind of in a bad place and said "What am I doing wrong?" By the book, I wasn't doing anything wrong, but it just wasn't working out."
At that point, Sweeney got advice from the same place everyone goes for their training advice: the hair salon
"My hairdresser actually told me 'Hey, I have this guy, it's kind of a different gym and you should check him out.' So we talked and I tried it out, and it's a very different kind of training and it's really worked out."
"The trainer there used to work for USA Gymnastics, so the training I do there is rings, parallel bars, a high bar. It's a lot of gymnastic-based training and I'm working more on my core."
The big change in training helped Sweeney make a jump to a very successful 2015/2016 campaign, finishing eighth overall with a silver medal in Lake Placid. Things seemed to be moving in the right direction but then trouble struck.
A wrist injury happened in March, and while it didn't seem like a big deal at first, Sweeney eventually realized there was a pretty big problem.
"The first day I didn't notice that my wrist hurt, I thought it was just my fingers. There was a series of 'rest, therapy, rest' and thinking it was going to get better, and it just didn't," Sweeney said.
The wrist injury ended up needing surgery. The question was, when to do it?
Finally Sweeney decided on surgery toward the end of August, knowing that having it worked on would likely set her back for the 2016/2017 season.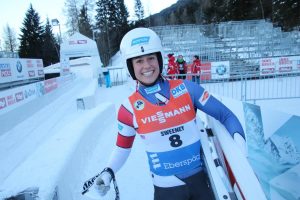 "I did the surgery then because they told me that I could put it in a splint for eight weeks and it might get better, or I could have the surgery either now or at the end of the season. I'd already rested it for a while, so I knew the splint wouldn't be an option for me. So I said "I'll sacrifice the 2016/2017 season for the Olympic year. I Just wanted it done, and didn't want to be dealing with it this year."
All but giving up on strong results in a sport that relies on wrists and shoulders to get a good start, Sweeney was surprised by a season that saw her win a silver medal in both the full World Cup and Sprint World Cup events in Park City. On top of that, Sweeney scored two more fourth place finishes on a season that was supposed to be a bit of a wash.
"I had a much more successful season than I expected it to be. I didn't expect to be where I was the year before, let alone surpassing that."
Even though she's feeling better, there's still the challenge of rehabbing an injury from over a year prior.
"I have some good days and bad days, and have to pay attention to recover a lot closer than I'd normally have to. I can go hard on Monday, and it's a bit sore the next day, but by Thursday I need a break."
Despite the challenges, Sweeney is feeling good about the coming Olympic year.
"You never know what to expect in an Olympic year. After 2010 I wasn't bitter about it at the time, but as time went by I became more emotional about that experience and I think it played a part in 2014. I've learned a lot through each experience, and I think that I'm not always comfortable with my standings in the US right now, but I AM more comfortable with a better mindset of coming into this year."
Most importantly, Sweeney will continue to smile well into the Olympic season around the corner.