Everyone has hobbies, even world class athletes. Some folks draw, some write, and in Olympic medalist Matt Antoine's case, some do massive home renovations.
Our story begins after Antoine won the bronze medal in the 2014 Winter Olympics in Sochi. The medal was the culmination of what was a successful 2013/2014 campaign, with Antoine only finishing outside the top six once (Calgary, 7th). During that season Antoine brought home three medals (gold in Lake Placid, bronze in both Park City and St. Moritz) and finished third in the world behind the Dukurs brothers Martin and Tomass.
Antoine was sliding better than he ever had, but knew that if he wanted to keep contending, he was going to have to get faster at the top. It was at that point he decided to make a change.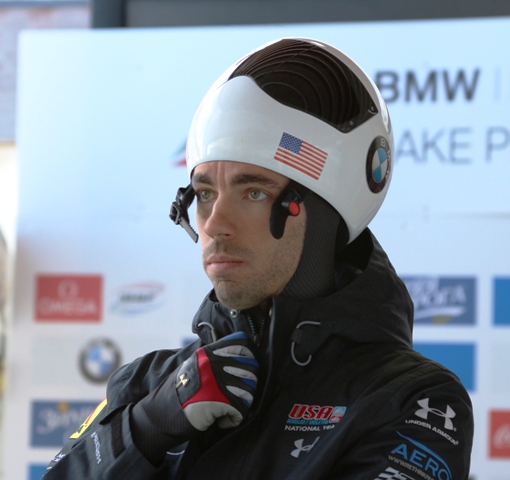 "In the 2014 games, I was one of the top five or six athletes at the top. So I was definitely competitive, but I need to find that little extra to really rise to the top," Antoine said. "The start has a lot higher premium now than it did even 5 or 10 years ago. If you're not one of the top athletes, you're not putting yourself in position to be successful."
So Antoine decided to make a move to a new coach and a new environment. Both were in Arizona.
"I moved down here to work with a different trainer, get a new environment, and a new perspective on everything. I'd been at the training center (in Colorado Springs) but it was getting a little stale there. I up and decided to move to Phoenix," Antoine said.
While in Phoenix, Antoine looked around for a place to live and quickly realized that home ownership would be the way to go.
"Originally I didn't want to buy a house because I didn't know how long I'd be here for. When I looked at rent prices I figured I'd pay less owning one. So I called my mom up, I'd never been to Phoenix, told her I was going to make this move so I'd buy a plane ticket for her and let's go look at some houses. We came down for 3 days, and by the time I'd left I put an offer in."
Antoine had relocated, now in full, to Phoenix to work with a new trainer and expected to see results. Those results never came though, and Antoine was slower at the start in his races than he'd been in the years leading up to Sochi. Frustration set in.
"I was way too far behind at the start. You can't always win it there, but you can definitely set yourself back. I wasn't putting myself into position to be successful."
He made the decision to go back to the trainer who'd helped him with his success leading up to 2014, strength coach Jon Carlock. With the knowledge Antoine had gained with what didn't work for him, he and Carlock set along a path to get him stronger than ever.
"After things didn't work I went back with Jon, and have been with him for a couple of years now. Even in his program we've found things that work well with him and what didn't work with the other trainers, and have reworked things so they're still a lot different than they were leading up to 2014. It's been a lot of learning over the last three years, but as I tell people: You can be terrible for three years as long as the fourth year is fantastic."
Despite getting back with his strength coach, Antoine saw no reason to leave what had turned into quite the fixer upper. The plan all along had been to find something that needed some work and make it his own.
"I always had the intention of buying property that needed work. I wanted to be able to build some equity, but also wanted to build a space that was kind of my space and my vision. Those were the only houses I looked at, ones that needed work. When I walked into this one I saw a lot of potential, and when I walked in I knew it was the one."
Thankfully, much like the Olympics, this was a challenge that he had been training for years for.
"I'd had a bit of experience. My parents had renovated a lot of houses when I was younger, I picked up a few things here or there while they were doing that. Living at the training center I spent probably too much time watching HGTV, stockpiling knowledge and itching to get into a house where I could do it myself."
Among the variety of projects that Antoine has undertaken is what had become a semi-painful kitchen renovation, which at least in the short term seemed like more trouble than it might be worth.
"For around a month I didn't have a sink, or a dishwasher, the stove was just kind of sitting in the middle of the kitchen. That was a tough one to live through. There'd be mornings I'd look in my kitchen and think 'man, what have I done?'"
Despite the laundry list of inside projects, the outside is where Antoine felt like his work would make the most impact.
"This is a house that had a lot of potential for that, but when I first got here it was mostly dirt, weeds, some rocks, and that was it. I had to get the living space inside set before I could move to the outdoor space, but that was the big thing I wanted to work on."
And despite all of the family and friends who have been through the house, the one opinion that's mattered most about the back yard is that of his dog, Dixie.

"Dixie loves the yard! The yard was more for her in mind. When there was dirt she wasn't too excited about going out but now that there's grass she loves going out there, laying in the grass, rolling around, taking in all the sun. It's a space she really enjoys!"
So as Matt Antoine fights the daily challenges of training for the 2018 Olympics and another spot on the men's skeleton podium, he will continue to fight the challenges of getting a home in Arizona just how he wants it.
*All home renovation photos are courtesy Matt Antoine