From Lake Placid, USA
(Nov. 9, 2017) Janine Flock loves the Lake Placid sliding track, to the point that she came into the 2017/2018 IBSF World Cup opener as the track record holder. She left the track both as the record holder and a gold medalist.
The Austrian broke the track record on her first run by a full .15 of a second on her first run, and carried a .31 lead into her second run. That second run wasn't nearly as quick, but despite a ninth fastest run Flock was able to hold on to take gold.
Canadian Elisabeth Vathje was consistent both in her starts and her trips down Mt. Van Hoevenberg, and was rewarded with a silver medal. Defending Olympic champion Lizzy Yarnold finished third after coming into the second run in fifth place.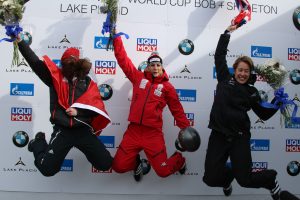 Elena Nikitina of Russia broke Marina Gilardoni's former start (5.19) record with a 5.07 in the first run and then broke that start record with a 5.03 in her second trip down. That second trip was sloppy though, and the Russian dropped from second to fourth place.
British slider Laura Deas finished fifth after an eighth place first run, while Jane Channell set the fast time in the second heat to move up from 13th place to sixth.
It was a tough day for the Americans, with Katie Uhlaender being the only American in the top ten with a ninth place finish. Savannah Graybill finished 11th, while Kendall Wesenberg finished 14th.
Mimi Rahneva finished seventh to round out the Canadian effort, while Ashleigh Pittaway made her World Cup debut in 21st.
Results:
| | | | | | | | | |
| --- | --- | --- | --- | --- | --- | --- | --- | --- |
| Pos | Name | Nation | Bib | Start 1 | Start 2 | Run 1 | Run 2 | Total |
| 1 | Janine Flock | AUT | 6 | 5.42 | 5.35 | 54.69 | 55.44 | 1:50.13 |
| 2 | Elisabeth Vathje | CAN | 13 | 5.24 | 5.25 | 55.10 | 55.29 | 1:50.39 |
| 3 | Lizzy Yarnold | GBR | 9 | 5.31 | 5.22 | 55.35 | 55.11 | 1:50.46 |
| 4 | Elena Nikitina | RUS | 15 | 5.07 | 5.03 | 55.00 | 55.48 | 1:50.48 |
| 5 | Laura Deas | GBR | 4 | 5.22 | 5.19 | 55.43 | 55.26 | 1:50.69 |
| 6 | Jane Channell | CAN | 10 | 5.22 | 5.20 | 55.64 | 55.09 | 1:50.73 |
| 7 | Mirela Rahneva | CAN | 11 | 5.27 | 5.18 | 55.39 | 55.35 | 1:50.74 |
| 8 | Jacqueling Lölling | GER | 8 | 5.57 | 5.52 | 55.17 | 55.58 | 1:50.75 |
| 9 | Katie Uhlaender | USA | 19 | 5.32 | 5.30 | 55.41 | 55.40 | 1:50.81 |
| 10 | Tina Hermann | GER | 12 | 5.47 | 5.45 | 55.46 | 55.51 | 1:50.97 |
| 11 | Savannah Graybill | USA | 17 | 5.53 | 5.54 | 55.59 | 55.58 | 1:51.17 |
| 12 | Kim Meylemans | BEL | 16 | 5.34 | 5.32 | 55.52 | 55.68 | 1:51.20 |
| 12 | Kimberley Bos | NED | 7 | 5.33 | 5.29 | 55.82 | 55.38 | 1:51.20 |
| 14 | Kendall Wesenberg | USA | 14 | 5.44 | 5.44 | 55.90 | 55.43 | 1:51.33 |
| 15 | Yulia Kanakina | RUS | 18 | 5.19 | 5.13 | 55.95 | 55.66 | 1:51.61 |
| 16 | Lelde Priedulena | LAT | 5 | 5.31 | 5.31 | 55.48 | 56.15 | 1:51.63 |
| 17 | Jaclyn Narracott | AUS | 21 | 5.42 | 5.44 | 55.75 | 56.07 | 1:51.82 |
| 18 | Nozomi Komuro | JPN | 25 | 5.39 | 5.46 | 56.04 | 55.81 | 1:51.85 |
| 19 | Marina Gilardoni | SUI | 20 | 5.38 | 5.36 | 55.90 | 56.12 | 1:52.02 |
| 20 | Takako Oguchi | JPN | 3 | 5.48 | 5.43 | 56.04 | 56.27 | 1:52.31 |
| 21 | Ashleigh Pittaway | GBR | 1 | 5.67 | | 56.17 | | |
| 22 | Renata Khuzina | RUS | 24 | 5.25 | | 56.20 | | |
| 23 | Sophia Griebel | GER | 23 | 5.40 | | 56.26 | | |
| 24 | Marina Montejano | ESP | 26 | 5.52 | | 56.28 | | |
| 25 | Joska le Conte | NED | 22 | 5.41 | | 56.33 | | |
| 26 | Maya Pedersen | NOR | 2 | 5.60 | | 56.94 | | |